Any hockey fan will tell you that it's absolutely devastating when one's team loses a key player during an important stretch of the regular season – and that's precisely the situation that Islanders fans found themselves in on Monday when they learned that Kyle Okposo will miss six to eight weeks with an upper body injury.
Having scored 14 goals and 30 assists in 46 games for New York this season, Okposo was white-hot for the Islanders before the All-Star break as he had posted 12 points (6G, 6A) in his last ten games played. Seeing as how Okposo was starting to bust out in terms of goals scored, it makes the loss of the right winger sting that much harder.
With panic the name of the game for some in Islanders Country, there have undoubtedly been countless armchair-GM scenarios that have been concocted in an attempt to rationalize being without Okposo for up to two months. While losing an impact player such as Okposo could send any team's season into a tailspin, the Islanders haven't let tough times get the best of them this season – and while some may feel as though a trade is imminent, that shouldn't be reason enough to think that Garth Snow might change up his deadline plans.
The Guessing Game Begins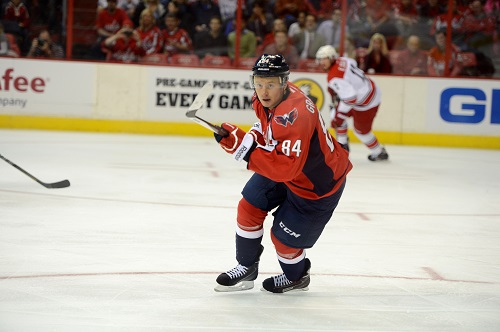 Although it has been reported that Mikhail Grabovski will take Okposo's spot on the top line alongside John Tavares, Islanders fans know that a player like Okposo is more or less irreplaceable. This is not to say that Grabovski isn't a capable player or fill-in, but the intangibles and chemistry that Okposo brings to the first line will be hard to mimic – especially on the fly.
Losing Okposo will definitely be a blow to the Islanders, but for a team that has proven to be resilient all season-long thus far, it will be another test of New York's maturity and patience.
One theme that has been constant with the '14-'15 New York Islanders is the team's ability to overcome adversity by sticking up for one another – and not just simply in a physical sense. Whether it has been a player being lost to injury or a player mired in a bit of a slump, various parts of New York's lineup have picked up the slack when the team has needed a boost, which sort of softens the blow of Okposo's injury.
When looking at Okposo's potential replacement – Grabovski – one might not be wowed by the forward's peripheral statistics (38 GP, 6G, 8A), but his two-way play certainly speaks for itself. Known for balancing his offensive and defensive acumen, Grabovski won't shy away from making plays that are beneficial to his team – even if that means sacrificing his own offensive contributions.
However, Islanders fans shouldn't forget the fact that Grabovski managed to tally 35 points (13G, 22A) in 58 games played for the Capitals last year, so it's not as though the forward can't carve a niche for himself on Tavares' line while Okposo recovers. Keeping Grabovski's abilities in mind, it must also be noted that the forward did see the sharpest drop in his production when he was with the Maple Leafs and was given too many defensive zone starts while being employed against other teams' top lines.
There is no doubt that Jack Capuano will try to avoid the same mistakes that Randy Carlyle made with Grabovski, but it is yet to be seen how New York's head coach will utilize his two-way forward on a top-line deployment. The simple truth is that nobody knows how well or how bad Grabovski – or any other forward for that matter – will perform alongside John Tavares. Of course, Tavares has been endowed with so much hockey talent and IQ that he has the ability to make a pylon look good, but for now, there is no telling who will be the perfect fit to replace Okposo from within the organizational ranks.
Going Outside Of The Organization?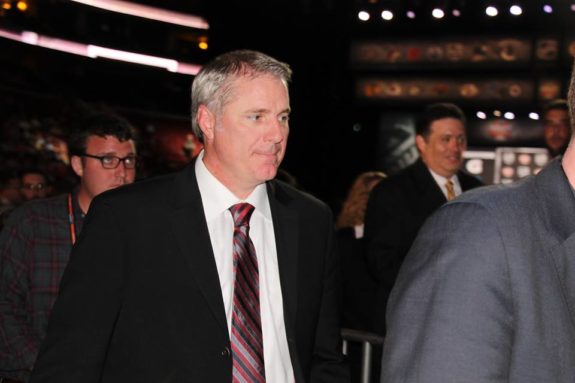 Ever since taking over as General Manager of the New York Islanders, Garth Snow has had an interesting track record on deadline day. Starting with the acquisitions of Ryan Smyth and Richard Zednik in 2007, Snow showed that he was not afraid to maneuver on deadline day and make a big splash at the right price if the opportunity did present itself.
Facing a good amount of pressure at last year's deadline, Snow was forced to deal Thomas Vanek to the Montreal Canadiens in a trade that was viewed by many as being extremely lopsided and in the opposing team's favor.
Despite the overwhelming perception that the Islanders were fleeced for a marquis player such as Vanek, Snow showed his savvy when he was able to deal Andrew MacDonald for a 2014 third-rounder, a 2015 second-rounder, and Matt Mangene. Capitalizing on the fact that defensemen were a hot commodity during last year's trade deadline, Snow secured assets for his team's future while dealing away a player that was most likely going to bolt Long Island during the 2014 free agency period.
While the Isles' playoff fortunes were looking bleak at the time of Snow's 2014 deadline deals, one must also remember that New York was playing without John Tavares at the time of the trades – and Snow certainly didn't hit the panic button in an effort to hastily replace his most productive offensive player via the trade market.
Simply put, Snow doesn't go into deadline day looking to make a deal just for the sake of making one. Instead, the GM tries to exploit the market by pinpointing what other teams are looking for and what commodities he has at his disposal that could potentially net the Islanders a gain without sacrificing key elements from the team's pipeline.
This isn't to say that Snow won't go out and make any deals on deadline day, but fans that are expecting the Isles' GM to make a blockbuster deal for a top-line forward for John Tavares might be severely disappointed.
Trade Targets Or Costly Rentals?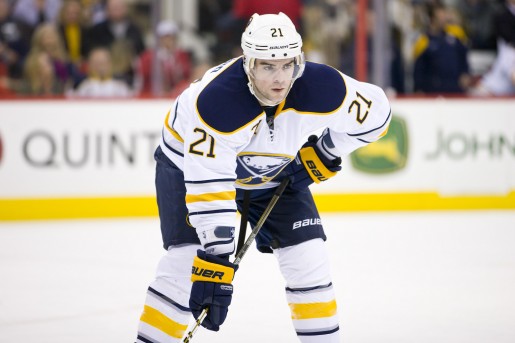 Although it is unlikely that Snow pulls off a high-caliber trade on deadline day, there is always room to speculate what New York's GM could possibly do on March 2, 2015.
Looking at the group of forwards that might be available on deadline day, a couple of names stand out amongst the rest. Having acquired Johnny Boychuk and Nick Leddy before the start of the '14-'15 NHL season, the Islanders will most likely not be looking to upgrade their defensive units as their three pairings have been functioning at a pretty efficient level.
When it comes to offense, however, players such as Chris Stewart, Jaromir Jagr, and Drew Stafford pop up as potential names that might tickle the Isles' interests.
Despite the fact that Stewart is having a lackluster season with Buffalo thus far (6G, 9A, -23), his value lies in the fact that he is a strong and physical winger that – much like Okposo – could win battles against opponents based off of his strength. If the Islanders are sorely missing Okposo's presence a month from now, Stewart certainly wouldn't be a bad option to look at as he could bring some moderate offensive production, play a grinding and hard-nosed game that New York identifies with, and could come at a relatively low cost in the form of a mid-round draft pick.
On the other hand, individuals such as Jagr and Stafford will probably take more to obtain because of their higher status. Jagr's offensive exploits and veteran experience speak for itself – and there's no doubt that the 42-year old winger could use his knowhow to better the Islanders – but the cost for what could essentially be an older rental player might be too high for Snow, and an intra-divisional trade that could benefit a metro-area rival might be the furthest thing from Lou Lamoriello's mind.
Last, but certainly not least, Drew Stafford will likely be the most coveted of the three right wingers on deadline day. Another two-way forward, Stafford will garner lots of interest on deadline day – and could be the player that comes closest to reproducing Okposo's offensive and defensive contributions – but the assets required to pry the longtime Sabre from Buffalo might be too much for Snow's liking.
All in all, there are a few options for Snow that will be available come deadline day, but the cost associated with these commodities is yet to be seen, and a bidding war is probably the last thing that New York's GM wants to engage in at such a crucial point in the season. Only time will tell what the Islanders will do on deadline day, but if history is any indicator, then Snow will likely stand pat unless there is a deal that could benefit his team at a cost-efficient price.
Would It Hurt To Be Idle?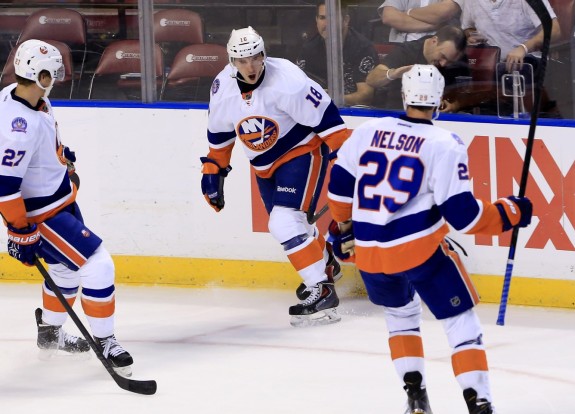 With the way that the New York Islanders have been playing this season, it certainly wouldn't hurt to try to work things out internally and remain idle on March 2nd.
Having Josh Bailey perform better as of late has definitely been a help to the Islanders, and with the team receiving secondary scoring from a plethora of individuals there are a number of players that could slot in alongside Tavares and Bailey and make Okposo's loss less glaring. For the time being, Mikhail Grabovski will audition on Tavares' line, but it's anyone's guess as to how well he will play with one of the game's elite play-makers.
Brock Nelson, Ryan Strome, and Anders Lee have all earned their keep with the Islanders this season, and it's certainly not out of the realm of possibility that any of the three forwards could potentially be shuffled into the top-line mix. However, despite their successful showings, Islanders fans should expect Jack Capuano to exhaust all of his resources with his older players before plugging one of his youngsters into the Tavares line.
Barring any more devastating injuries, the New York Islanders and Garth Snow are seemingly headed toward a trade deadline day that they haven't experienced in a while. For the first time in a long time, Snow will likely be in a position where his team isn't scratching and clawing to eek out one of the last remaining playoff spots. Instead, the Islanders have positioned themselves quite nicely for the stretch run, and have thus alleviated some of the pressure from Snow's shoulders.
Since he has a number of plug-and-play options at his disposal, Capuano will be tasked with shuffling his lineups yet again this season, but that's not such a bad thing considering how well players have matched up on different assignments this season.
Losing Okposo with 36 games left to play in the '14-'15 regular season will be a major hurdle for the Islanders to overcome, but the beauty of Garth Snow's rebuild is finally coming to light. Playing with a functional group of forwards spread across four balanced lines, the Isles' newfound depth has allowed them to remain calm and attempt to find a solution from within their organization rather than betting the farm on a patchwork solution.