"Maybe it was his best 3 games I watched, but I said, 'This guy is going to be the best in the world one day,' "
That quote is from Jaromir Jagr (courtesy of Tom Gulitti), praising then-rookie Valeri Nichushkin on the games that Jagr has watched him play.
While Nichushkin certainly has a long way to go to live up to those lofty expectations, those who have watched him play this season have seen flashes of it. He is similar to Jagr in the way that he uses his big frame to shield opponents from the puck and maintain possession of it along the boards. There might not be a better player in Dallas at doing that.
There were conflicting reports leading up to the trade deadline that Nichushkin may be on the trading block as a piece to acquire a top-defenseman. Thankfully for Stars fans, nothing of the sort transpired. If he was on the trading block, however, he will be a player to watch for in the summer. General manager Jim Nill has made his big moves in the offseason and Nichushkin will be due a new contract.
Hopefully for the Stars, he remains in Dallas.
The Stars Will Need Nichushkin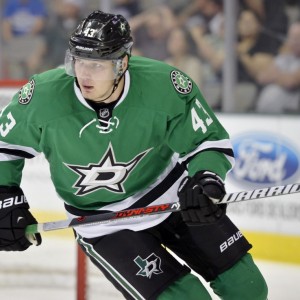 Look to Chicago and see what the Blackhawks have done in the past seven years. To consistently win in the NHL, teams need players on cheaper contracts to step up and fill roles in the top-six. The Stars are not quite there yet as guys like Jamie Benn and Tyler Seguin haven't signed their "big money" deals, but they will be soon. When players like Patrick Sharp and Jason Spezza have moved on, Nichushkin will need to be the guy to fill that void.
He looks like he is on his way to doing so, slowly but surely.
The Benn and Sharp contracts end after next season. Sharp will likely be moving on or taking a pay cut while Benn will get a massive amount of money thrown his way. The Stars will be looking to Nichushkin to fill Sharp's role in the top-six.
Heading in the Right Direction
The underlying numbers on Nichushkin are pretty strong, especially when you consider the 3481 (best approximation) line-mates he has played with this season. At even-strength, Nichushkin has spent 14.73% of his ice-time with Mattias Janmark and Jason Spezza. That group has been an excellent combination. According to puckalytics.com, that trio has posted a 53.8 CorsiFor% at even strength. They have also scored seven goals in just over 114 minutes of ice-time together while only giving up two.
The issue is that Nichushkin gets moved around the lineup quite frequently by head coach Lindy Ruff. Now Ruff likes to "Ruffle" his lines a ton as it is but it seems as though Nichushkin has even a shorter shelf-life on a line than most of his teammates. He has just over 800 minutes of even-strength play this season and the 114-minute-combo with Spezza and Janmark is his most frequent line.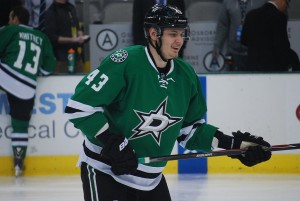 His next most-frequent line-mates are Tyler Seguin and Jamie Benn, a line Nichushkin saw great success with in his rookie season. They've played just over 100 minutes together this season and have scored five goals while giving up three. They have a CorsiFor% of 53.7. Another solid line that Nichushkin contributes to.
No matter what line he finds himself on, Nichushkin creates a ton of scoring opportunities for he and his line-mates. Nichushkin has 61 individual high-danger scoring chances at even strength this season. That ties him with Spezza for fourth on the Stars. He is just four chances behind Patrick Sharp and ten chances behind Seguin despite getting over two fewer minutes of ice-time per game than those players.
The problem with Nichushkin is he is often unable to finish those chances.
Needs a Finisher's Touch
As Stars' color commentator Daryl "Razor" Reaugh likes to say, "those who elevate, accumulate!"
Nichushkin seems to have a rough time elevating the puck when around the net, something you need to do to be a top goal scorer. Goalies cover the bottom of the net so well in today's NHL it makes it difficult to sustain goal-scoring if you can't elevate the puck.
Those who have paid attention to Nichushkin knows that he has it in him. It just hasn't been there consistently since he broke into the league. He gets so many quality chances that if he can learn how to consistently finish, Jagr's opinion might become much closer to the truth.
Don't Quit on Him
The Stars simply cannot give up on the young star. While offering him in a trade for a top-defenseman might make sense in the short-term, it would be an astronomical mistake in the long-term.
Even without consistently finishing the play, Nichushkin is one of the top scorers at even-strength on the team. He has 24 points during 5v5 play this season. That is just two points back of Sharp and Klingberg, three back of Spezza and twelve back of Benn and Seguin.
You have to remind yourself that he essentially missed an entire season last year, a crucial year for his development. It might take him a little longer than expected, but Nichushkin looks like something special still.
He has his issues like everyone else but when you watch him with the puck, you know there is something there.
Thank you for reading. You can follow me on Twitter at @jordan_dix. Feel free to tweet at me or comment below with your thoughts on Val Nichushkin or anything hockey.