The Stanley Cup has been awarded, the NHL draft is fast approaching, and the Free Agent Frenzy of July 1 is just around the corner. The NHL offseason is officially here.
Questions and unknowns regarding the summer surround the Rangers as decisions loom large in the days ahead. Here are just a few of the do's and don'ts for the Rangers' 2015 offseason.
Don't Trade Talbot for Too Little
Despite having written not long ago that the Rangers should think twice before trading Talbot, dealing the backup netminder this summer, whether it be before, on, or after the NHL draft, is something which appears to be inevitable. One thing that must be avoided, however, is trading Talbot away for too little. Based on recent reports, it seems as though Glen Sather is making sure that doesn't happen.
Last week the Oilers were rumored to be willing to part ways with the 16th overall pick in Saturday's upcoming draft in order to acquire Talbot. That deal of course never went through, and earlier this week it was reported that the Rangers declined a trade offer that would've brought two second round picks to New York in exchange for the Ranger backup netminder.
NYR continue to mull over multiple offers for Cam Talbot. Keeping him remains an option, but strong interest makes that unlikely. #TSN

— Darren Dreger (@DarrenDreger) June 24, 2015
Again though, no dice on a deal. If there's any takeaway from that rumor – if it's indeed true – it's that Glen Sather not only recognizes the value of Talbot to the team, but he will also not make a rash decision just to get a deal done, thus bettering the chances that if a trade involving Talbot does come to fruition, it brings the best possible return back to Broadway.
Do Shop a Top-Line Faceoff Winning Center
Some will get up in arms over this, but I'll stand by my claim that the Rangers could use a true, big-time top line center. The Blueshirts need a center who doesn't just put up points, but can win faceoffs.
Now I know, here's when everyone shouts about how unimportant faceoffs are. Well let me just say that I hear you, and I don't really care, because the Rangers were brutal in faceoffs at 46.7 percent (third-worst in the league) this season and they need to be better, plain and simple.
But even without faceoffs, why should the Rangers look into acquiring another center? Well, because Kevin Hayes is not a natural at the position, and neither Derick Brassard nor Derek Stepan are true number one centers in the NHL (yet…).
Now there's no question that both Brassard and Stepan are extremely good players who up their level of play come playoff time. In fact that may be their best quality as a duo, but the fact still remains that when you think about top centers in the NHL, you think Toews, Giroux, Tavares, Thornton, Crosby, and perhaps even Bergeron.
I'm sorry, but Stepan and Brassard are not those guys. Can they be at some point down the road? It's possible. As it stands right now though, they aren't, and with the Championship window still open, the Rangers should at the very least shop around to see what it would take in order to work out a deal to bring in a moderately big time center.
With the free agent market for centers being rather thin, this may require a trade, and perhaps if Talbot's on his way out anyway, him packaged with someone else could command the right center to help the Rangers out in that area.
What that package would look like and who the return would be is anybody's guess, but given Sather's track record in trades, I'd bet the return would be pretty solid for the Rangers.
At the end of the day, this is by no stretch a dire need for the team, but it's something that if shopped and acquired correctly could benefit the Rangers in a big way. Ultimately though, I'm just happy to be the one speculating and not the one making the final calls.
Don't Give Away More First Round Draft Picks
Oh, wait…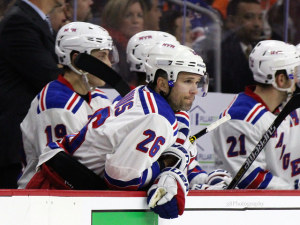 The good news is that the Rangers won't have any trouble avoiding this one because, well, they don't have any more to give away.
Until 2017 that is.
Do Pick up a Quality Backup Goaltender
For the sake of sanity and avoiding repetition, let's just say we all know how good Talbot was this past season, and let's also assume that he gets traded sooner than later.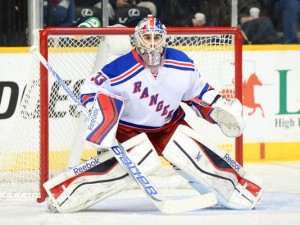 When that happens, the Blueshirts will be in need of a new backup goaltender, and given the way Talbot performed over the past two campaigns, they should be happy to get any number two who can even come close to his level.
20-year-old Mackenzie Skapski could be that guy, but beyond the fact that he is still just 20, he also recently underwent surgery and will more than likely be unavailable for the beginning of next season. And so here are the Rangers, most likely in need of someone to backup Henrik Lundqvist.
While this acquisition should in theory come cheap, cheap should not mean low quality. The backup goaltender position is one which is often overlooked and undervalued in importance. If watching what Talbot did in the absence of Lundqvist last season doesn't highlight that point, I'm not sure what would, and as the King continues to age, it will become more and more important that he gets the proper rest in order to be in top form for the playoffs.
A reliable backup is key in making that possible.
Do Retain the RFA's
This summer, Derek Stepan, Carl Hagelin, JT Miller and Jesper Fast are all Restricted Free Agents. With somewhere in the vicinity of $11.9 million to work with, Glen Sather must find a way to get each of these forwards a new contract, as they are vitally important to the future of the organization.
All four of those players proved their worth this past season, and the Rangers must find a way to retain them, particularly Miller – who took large strides forward, finally earning a full-time roster spot this year- and Stepan, who while not quite an elite top-line center, is well on his way to becoming one.
In all reality, taking care of these RFA's will be Sather's number one priority this summer. These are all young, up and coming forwards. They must remain in blue, and it's up to management to make that happen.
Little Room to Wiggle
The Rangers have 15 players from last season under contract moving forward to next season. With the salary cap rising to $71.4 million, that leaves the Rangers with not a whole lot of wiggle room beyond re-signing RFA's Stepan, Hagelin, Miller, and Fast.
With so much of last season's roster retained, it would seem that this offseason should be more of an in-house summer of retention for Glen Sather. Could a Talbot trade be in the works, potentially forcing the Rangers to go out and find a new backup goaltender? Absolutely. Would a faceoff winning centerman behoove the team? I'd say so.
But when push comes to shove, drastic changes aren't needed in New York. Glen Sather could create some ripples with trades and signings, but as far as I'm concerned those should remain ripples, nothing more.