Heading into the 2017 offseason, St. Louis Blues fans weren't expecting much from general manager Doug Armstrong. Fifty years of mediocrity in the form of zero Stanley Cup wins will wear on a fanbase, after all.
For the second straight season, the team that eliminated them in the postseason represented the Western Conference in the Cup Final, a spectacle the Blues haven't appeared in since 1970. But, this past campaign proved to be significant in several ways for St. Louis.
Head coach Mike Yeo ushered in as a bright, new voice for the Blues roster, goaltender Jake Allen delivered an elite performance in the playoffs and defenseman Alex Pietrangelo led valiantly in his first season as team captain. Nonetheless, a second-round exit handed out by the Nashville Predators left the organization wondering what could be done to propel the team into a legitimate contender.
A few days after winger David Perron was picked up by the Vegas Golden Knights in the expansion draft, Armstrong and his staff were on a mission at the NHL Entry Draft in Chicago in late June.
Acquiring Schenn for Lehtera
After selecting London Knights playmaker Robert Thomas with the 20th overall pick, the Blues were back on the clock thanks to the Washington Capitals, who sent them the 27th pick in the trade for defenseman Kevin Shattenkirk back in February.
However, NHL commissioner Gary Bettman approached the podium instead of the Blues scouting department, signaling a trade had been completed. St. Louis had acquired forward Brayden Schenn from the Philadelphia Flyers in exchange for pick No. 27, Jori Lehtera and a conditional pick in 2018.
The move brought Blues fans much delight as Lehtera's $4.7 million cap hit came off the books. The Finnish center scored a mere seven goals in 64 games last season, failing to hit 40 points for the second straight season. Lehtera notched 44 points in his rookie campaign back in 2014-15. Adding Schenn (who is coming off of back-to-back seasons with 25 goals or more) was an immediate upgrade to the Blues' top six.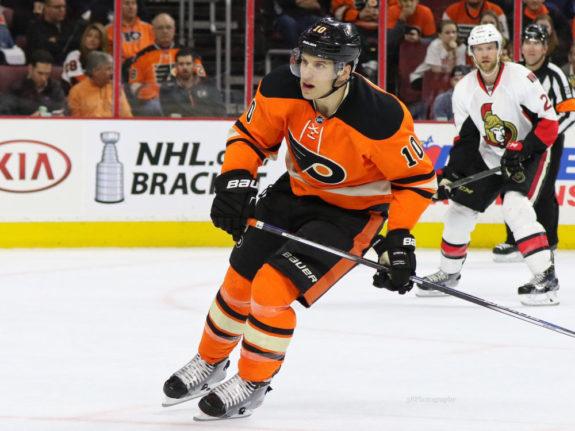 Schenn is projected to play on the team's top power-play unit come October, an area the Blues hope to improve on as they struggled tremendously last postseason. St. Louis was 2-for-30 with the man-advantage, a 6.7 percent success rate. Schenn amassed 45 (17 goals, 28 assists) of his 55 points last season on the power-play.
Armstrong believes Yeo will likely pair him with forwards Robby Fabbri or Vladimir Tarasenko to reignite his production at even strength. As for the 25-year-old's postseason numbers, Schenn has 14 points in 24 career playoff appearances.
Blues fans assumed their team was done for the night after the trade, but Armstrong pulled the trigger on another deal before pick No. 31, occupied by the Pittsburgh Penguins.
Trading Reaves/Drafting Kostin
While Jori Lehtera was far from a fan favorite, the next player Armstrong dished out from his roster certainly was. Bettman stepped up to the stage to announce another trade involving the Blues, who sent Ryan Reaves and pick No. 51 to the Penguins for pick No. 31 and 23-year-old Oskar Sundqvist. Reaves, who spent 12 years in the Blues organization after being drafted in 2005 by St. Louis, was heading east.
Blues fans were shocked to see Reaves go, as he had been a longstanding leader off the ice and a protector on it. The rest of the hockey world was puzzled by this deal due to Penguins GM Jim Rutherford's passion for signing an enforcer, a player type he had not utilized on his roster during his team's back-to-back Stanley Cup runs.
Despite this criticism, Rutherford defended his judgement, via the Pittsburgh Post-Gazette:
"When you want to get the guy that's the best at doing what he does, then you have to pay a price," Rutherford said. "Regardless of what we paid, we're very happy to have him."
When asked about losing Reaves, Armstrong took time to reflect on how much he meant to the organization and the city:
Armstrong: "I don't think we have a Ryan Reaves replacement internally & I'm not sure there's a Reaves replacement externally." #stlblues

— Lou Korac (@lkorac10) June 24, 2017
Before both GMs spoke to the media, however, St. Louis had to make their selection at pick No. 31.
Selecting Kostin
The Blues drafted 18-year-old Russian winger Klim Kostin out of Dynamo Moscow of the Kontinental Hockey League with the last pick of the first round. His 2016-17 season ended early in January after undergoing shoulder surgery, yet he remained high in early prospect rankings.
Kostin was ranked No. 1 by Central Scouting among all European skaters; many said he would have been drafted much higher had he avoided injury. Kostin's availability made Armstrong comfortable with agreeing to the deal, especially since they had shipped off pick No. 27 30 minutes earlier. It wasn't the first time the Blues traded up to draft a high-profile Russian in the first round.
The Penza, RUS native has drawn comparisons to Alex Ovechkin, Evgeni Malkin and even Vladimir Tarasenko due to his combination of strength and speed. He can turn into the steal of the draft if he grows his game to the professional level. Another quality of Kostin of interest to Armstrong was his willingness to play in North America instead of staying in Russia next season. He was released from his contract by Dynamo Moscow due to the team's financial troubles and signed an entry-level contract with the Blues on July 5.
He is scheduled to play in the NHL Prospects Tournament in Traverse City, MI in early September. Barring a jaw-dropping camp and preseason, Kostin will start next season in the American Hockey League with the Chicago Wolves.
Locking Up Parayko
During the free agent frenzy on July 1, Armstrong made it clear no external splashes would be made. The Blues added an ensemble of bottom-six forwards, including the likes of Chris Thorburn, Beau Bennett, and Sundqvist (who was an RFA when acquired from Pittsburgh).
The Blues GM's number-one priority was internal: re-signing defenseman Colton Parayko. As a third-round pick in 2012, Parayko quickly grew into an integral part of the core in St. Louis after two seasons of consistent play. He turned in consecutive 30-plus point campaigns and shut down the opposition's top lines game in and game out. The 6-foot-6 blueliner's stability on the back end enabled Armstrong to trade Kevin Shattenkirk before the trade deadline.
Parayko then assumed the right side of the number-two defense pairing and never looked back. He was one of the stronger players for St. Louis in the postseason, breaking up plays in the Blues zone and transitioning up ice with precision. With only 13 regular-season goals to his name in 160 games, his offensive numbers need to improve down the line. Nevertheless, the Blues will certainly take Parayko's competitive level and defensive prowess at 24 years of age.
He filed for salary arbitration earlier this month and scheduled a hearing on July 20. Right before Armstrong and Parayko met for the hearing, contract terms had been agreed on. Number 55 had signed with the Blues for five years and $27.5 million (an AAV of $5.5 million). He is now the second-highest paid defenseman on the team, behind Pietrangelo. Anything under $6.5 million per year had to have been music Armstrong's ears, considering how he wanted to end the offseason with a secure level of cap space. The Blues currently have over $3 million available and re-signed one of the top young players in the NHL long-term.
Yesterday we agreed to terms. Today, we made it official. https://t.co/7BRDTuF6SP #stlblues pic.twitter.com/0RJcqf4oLl

— St. Louis Blues (@StLouisBlues) July 21, 2017
A (Arm) Strong Summer in St. Louis
Each player from the St. Louis Blues roster lost in the 2017 offseason had their own area of importance. Perron provided secondary regular-season scoring. Despite his offensive shortcomings, Lehtera won valuable faceoffs at certain times in the year. Most of all, Reaves was arguably the heart and soul of the roster; his absence will be the hardest to replace, as Armstrong noted.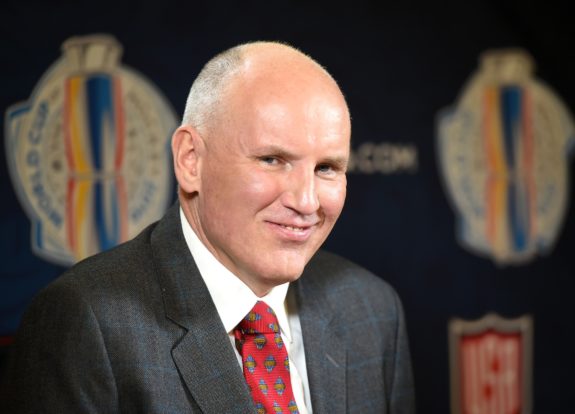 All things considered, St. Louis elevated their offense and cemented their defense for the next few years. They became younger and faster with the moves they made. The credit needs to go to Doug Armstrong. He acquired a top-six center in Schenn without dipping into the Blues' prospect pool or retaining salary.
His scouting department sought out Thomas and Kostin in the first round, who can both blossom into NHL-caliber forwards with the right development and training. Sundqvist, Thorburn, and Bennett will all get their opportunities with the new club, but the impact needs to come sooner rather than later if they expect to solidify a spot on the roster.
Five years of Parayko for $5.5 million per year in the prime of his career is all that needs to be said. Armstrong knocked that deal out of the park and then some, given the two-way value and future potential of the Canadian defenseman.
After spending the past few years as a passive general manager, Armstrong delivered for the Blues organization with an aggressive mentality.