Struggling to Score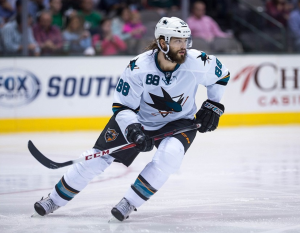 The San Jose Sharks finished the 2013-14 regular season as the sixth best team in goals for at even strength divided by goals against with a 1.17 mark. This season, they have plummeted, stumbled and face-planted down to 24th in the league at just 0.92. All of the star players from a year ago who contributed to the high octane offense are back this season. So why has the offense fallen apart? It's simple, GM Doug Wilson's offseason decision to move Brent Burns back to defense has been a colossal mistake.
If you look at Burns' goal total from the blue-line this year, 10 goals in 39 games looks really good. However, three have come via the power-play. Last season Burns the forward scored 20 even strength goals in 69 games. He is only on pace to score 12 even strength goals this year come his 69th game. That is eight fewer even strength goals. Many fans want to point out the need for offense from the blue-line but that is a silly narrative. Goals don't count more from a defenseman. Goals are goals, they all count the same and Burns at forward turns the Sharks from a two line scoring team into a three line scoring team.
6th in Goals For Last Year
Last season, the Sharks were on fire out of the gate with rookie sensation Tomas Hertl, Joe Thornton and Burns on the top line and Joe Pavelski centering the third line. Before the Hertl injury, with Burns in the lineup at forward the Sharks opened the season 13-0-1, averaging a ridiculously dominant 4.42 goals per game over that stretch. This season, with Burns not scoring and playing defense, Hertl has come down back to earth. The 21-year-old Czech sparkled with 12 even strength tallies in 37 games last year. Thus far this season in 39 games he only has six tallies at even strength. Doing the math, based off games played, overall the Sharks are missing a combined 10 even strength goals from Hertl and Burns right now. In their last 14 games this season the Sharks are averaging just 2.71 goals per game. That is good for middle of the pack 16th in the league, whereas last year they finished sixth overall in goals per game at 2.92.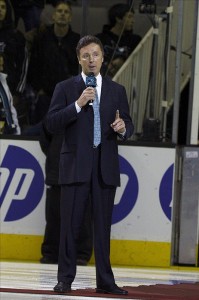 Doug Wilson needs to come out and admit moving Burns back to defense was a mistake. With the exception of a few good games after feeling out his new partner Brenden Dillon, Burns has simply not been a good defenseman. His minus-8 rating is the worst on the team, and if you don't like comparing plus/minus with teammates, well Burns' goals for percentage at even strength is second to last on the Sharks, above only fourth line center Andrew Desjardins, at 42.6 percent. Even though Burns' Corsi-for percentage has improved over time, he is still far below 50% goals for and that is a huge problem. As a forward last season, fans would be excited when Burns took the ice at even strength. Last year Burns was an absolute beast man out there, as the Sharks scored nearly 64% of the goals with him on the ice while five aside. The Sharks decision to move Burns back to defense has lowered his goals for percentage by 20%. You want to talk about the Sharks shooting themselves in the dorsal fin, this move has been nothing but terrible and they seem too stubborn to admit they were wrong. San Francisco 49ers fans are coming down hard on their front office for the Jim Harbaugh dismissal, Sharks fans should come down equally as hard on the Sharks front office for their absurd mishandling of Burns.
Sharks Don't Score With Burns on D
This isn't to say Burns isn't capable of being a good defenseman, he had a very good year on the blue-line in his first season with the Sharks. That was in 2011-12 and he had a goals for percentage of 54.8% at even strength. However, even with a good year from Burns on the blue-line, and a great year from Dan Boyle that season, those Sharks could not score. They were top heavy at forward, finishing 13th in the league in goals for at just 2.67 per game. As the Associated Press' Josh Dubow pointed out to me earlier this season, the Sharks have never been a good scoring team with Burns as a defenseman. They struggled to score with him as a defenseman in 2011-12 and they struggled the first half of the lockout shortened season in 2013 until his mid-season change to forward sparked the offense, balanced the forward lines and the Sharks took off. Then last season, a full year of Burns at forward and the Sharks crushed the competition. Even after Hertl went down with injury and Pavelski was bumped up, the Burns, Thornton, Pavelski line was so good they were able to carry the team in the regular season. Unfortunately, the Sharks didn't realize that come playoffs, an overloaded top line is not going to continue to be that productive. Instead of keeping a now healthy Hertl on the top line and Pavelski at third line center, a combination that built them a 3-0 lead against the Kings, they flip flopped the lines and lost four straight.
If you start watching the Sharks on a regular basis, it doesn't take long to realize that Burns is a high-risk, high-reward type player. He has an offensive driven mind set, and that type of player is best utilized at the forward position where two natural defenseman (Burns is a natural forward) can back him up defensively. The Sharks are not that far away from being the same team last year that went 13-0-1 and built a 3-0 lead against the eventual Stanley Cup champions. Only a couple tweaks could make this team a real contender again. However, their current stubborn attitude has dropped them into the bottom seven teams in even strength scoring and that is nowhere close to being good enough to win the Stanley Cup.
Andrew has been credentialed to cover the Sharks since 2010 and the 49ers since 2012. He graduated with his BA in Broadcast Electronic Communication Arts in 2013 from San Francisco State University.