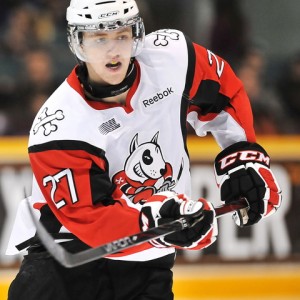 Fans of the Toronto Maple Leafs throughout the world of hockey all remember the famous Phil Kessel trade that went down between the Boston Bruins and the Leafs in September of 2009. At the time, the biggest names to be moved in that trade were, of course, Kessel and Tyler Seguin.
Whether Kessel has lived up to expectations in Toronto is debatable, though coming sixth in league scoring this past season was very impressive.
It was obvious the day the transaction occurred that Kessel and Seguin were the star players, however, since then, the first round pick Boston received in 2011 has made quite the name for himself.
Born in Toronto, Ontario (yes, it's true), Dougie Hamilton emerged as an absolute star in the Ontario Hockey League this season. Dougie and his older brother, Freddie, a San Jose Sharks prospect, have both played for the Niagara IceDogs as long as they've been playing major junior hockey. It became clear early on in their OHL careers that Dougie was the star in the making.
At six-foot-five, 195 pounds, Dougie is a towering force on the blueline. With the IceDogs playing in the Gatorade Garden City Complex, the league's smallest arena, Hamilton appears to be a giant when matched up against smaller skilled forwards from opposing teams.
"Dougie's the best junior defenceman I've ever coached," said IceDogs head coach Marty Williamson in an interview with the National Post. "I think you could be looking at a Norris Trophy-type guy, a guy that has a 15-, 20-year career ahead of him. He's going to be a wonderful pro."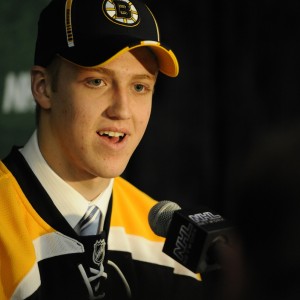 While it's an easy prediction to make about such a young player, and one who hasn't even played a game of professional hockey yet, Hamilton seems to have the best chance of all players expected to join the Bruins lineup in the near future. And that could be a lot sooner than people think.
Hamilton was selected ninth overall in the 2011 NHL Entry Draft, and while at the time it didn't sound like too much of a steal, Boston may have gotten themselves exactly that with their top ten pick.
"He's a man amongst boys in our league," Knights assistant coach/general manager Misha Donskov said in the same interview with the National Post. "In my opinion, he's a player who is as close to being NHL-ready as anyone in the OHL. He's an all-star."
This past season, Hamilton was named the OHL's Defenceman of the Year, after posting 72 points in 50 games played for Niagara. Just recently, he was able to expand that award, as he was name the CHL Defenceman of the Year as well. His play in the first half of the season was good enough to earn himself a spot on Canada's World Junior Championship roster at Christmastime, and he certainly returned to his stellar play when he came back from Alberta.
Hamilton has clearly showed that he can dominate at the major junior level. The next big test for him will be to try to make the Bruins' opening day lineup come next season. Many experts believe he has a very good chance at doing so, however, it will be a substantial adjustment moving up to the bigger, faster, and stronger National Hockey League.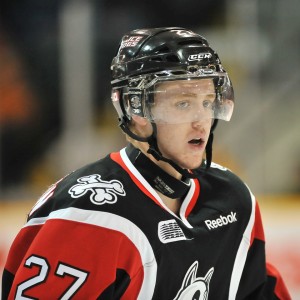 "The strength of his game is two-way play and he definitely put up big numbers in juniors this season, but when you make that step to the next level, first and foremost you have to be good defensively," Bruins assistant general manager Jim Benning said in an ESPN article. "When we drafted him he was a really good skater for his size and he could handle the puck real good. But this year he was more physical. He got stronger over the summer and played with an edge. That was good to see him incorporate that into his game as well."
With the all-around depth of the Boston Bruins, chances are, if Hamilton were to make the team, he would probably be the sixth or seventh defenseman. It's undeniable that Hamilton would learn a great amount under the tutelage of perennial Norris Trophy candidate, Zdeno Chara.
As is the case with any hot-shot prospect, there are many who believe Hamilton would be better off playing another year in the OHL. Since it's either Boston or Niagara, IceDogs fans still have a solid shot at seeing Hamilton play in St. Catharines next season.
Regardless of where he plays next year, there's no denying that Hamilton has a great chance at being a perennial Norris Trophy candidate himself someday.
________________________________________________
Follow me on Twitter: @DavidOConnor95    "Like" my page on Facebook: David O'Connor
David O'Connor is a managing editor with the Sunbelt Hockey Journal. His writing has been on the Los Angeles Times' website, among other places. O'Connor also does some scouting work for the local Junior B hockey club. Please feel free to contact him at davidoconnorhockey@gmail.com.