For the first time in 16 years, the University of North Dakota is college hockey's National Champion. After 16 seasons, UND finally secured that elusive eighth national title. With their eighth title, The Fighting Hawks are second only to Michigan who owns nine national titles
Over the course of the last 15 years, UND had been to the NCAA's Frozen Four eight times, starting in 2001, 2005, 2006, 2007, 2008, 2011, 2014 and 2015 only to come up short with each trip. This year's senior class was making their third-straight visit to the Frozen Four; they were hoping the third time would be a charm. It was.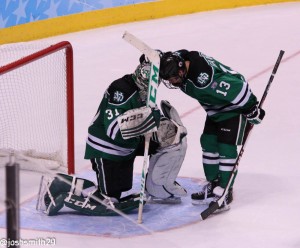 "It's a special night not only for us but for all the people that have put work into the program, all the guys that have played before us, all the coaches that came before us, and anyone that's helped build this program up to where it is now. It's not just for this team, it's for all those people," senior forward Drake Caggiula said. "It's for all those fans. It's a 16-year drought, but it's finally coming back to North Dakota. And it's a special feeling, not just for our team, but it's a special feeling for everyone that follows our team."
For the first time in 16 years, UND will not be looking for answers or be asking what went wrong. They will now be defending a national title instead of saying, "Wait till next year."
Caggiula Leads North Dakota over Quinnipiac
Securing that eighth title was no simple task. Standing in UND's way was the Denver Pioneers and the Quinnipiac Bobcats. Both teams entered the Frozen Four smoking hot. The Bobcats 31-3-7 owned college hockey's best record and had only lost three times. The Pioneers were an offensive juggernaut led by the famed Pacific Rim Line. Coincidence or not, in both games, UND managed to put both teams away in the third period. They found an extra gear, gutted it out, and surged to the top of the college hockey mountain.
"During the intermission we talked about keeping the foot on the gas," Caggiula said. "We came out and I think we put the gas full throttle there. We wanted to get the next goal. We wanted to push back and make it as hard for them as possible. We got two early goals there. From there we just kept rolling and rolling. We had the momentum all in our favor and we just — we executed our game plan to perfection there."
If I had to guess, UND fans will be talking about the 2016 Frozen Four's Most Outstanding Player Caggiula, 20 years from now. Caggiula is UND's newest rock star.
Prediction Comes True
Back in October, North Dakota was playing Bemidji State in a two-game non-conference series and I was watching the game in the press box with Scott Williams of Lake Public Television, and he said, "UND will win a title with Brad Berry as head coach." He didn't hesitate. This was after watching UND play two games early in the season. Obviously, I filed it away in my memory bank. He was also the first person that I texted after UND won it all. I asked him if he remembers what he had said at the beginning of the season. He said, "Yep, I told you that Berry would win a national championship."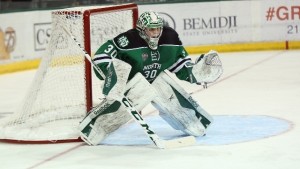 At the time, I was kind of puzzled, UND was going through some injury problems and had lost their starting goalie Cam Johnson to a lower-body injury. During Johnson's absence, UND had to rely on a third-string walk-on goalie Matt Hrynkiw. While Johnson was on the shelf, the junior goalie from Saskatoon, Saskatchewan, would go on to win nine games. Hrynkiw ended up being a Godsend. He held down the fort until Johnson returned. If it wasn't for Hrynkiw, who knows what would've happened to UND.
Berry Finally Pushes UND Over the Top
Coach Berry is the first rookie coach to win an NCAA title in his first season. It's kind of remarkable since former head coach Dave Hakstol wasn't able to win a national title in 11 seasons behind the UND bench. Berry was finally able to push UND over the top in his first season. That said, UND fans shouldn't forget that coach Hakstol laid the groundwork for this past season's team
From day one, this team was on a mission. From the start, they've been focused on one thing, winning an NCAA title. Think about this: 60 teams started the season with the goal of winning an NCAA title. Only one team will end their season with that important win. On Saturday night, the 2015-16 UND hockey team finally did that. They accomplished the one thing that eluded the team for 16 years, an NCAA title. They'd finally closed the deal.
UND Was a Special Team
How special was this team? They were at the top of the NCAA in a lot of offensive and defensive categories. All season long, UND had some of the best possession numbers in the country. UND started the season with 11 freshmen, and was also one of the youngest teams in the NCAA. UND was ranked seventh nationally in offense and second overall in defense.
In the NCAA playoffs, UND outscored their opponents 20-7. That's impressive based on who they played. Their path to the national title went through some tough teams with great players: Northeastern, Michigan, Denver and finally Quinnipiac. No one can say that UND had an easy game.