The University of North Dakota Fighting Hawks hockey team enjoys playing against the University of Denver Pioneers. It's one of the most exciting series to watch in the National Collegiate Hockey Conference.
If you're unfamiliar the history of the North Dakota and Denver series, all you have to do is watch the hours of youtube.com videos. It's college hockey's version of the Hatfield and McCoy feud.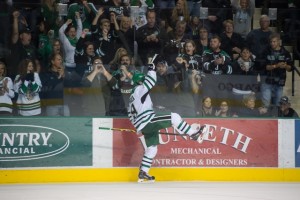 Recently, I caught up with Fighting Hawks senior forward Drake Caggiula. I asked Caggiula what makes the series with the Pioneers special? Caggiula, like his teammates, relishes the series with the Pioneers.
"I think just the way our styles clash," Caggiula said. "They're a super offensive team and they play hard and we play a similar style.  When the two of us come together, it just becomes a fast paced series with a lot of checking. There's also a lot of stuff after the whistle.
"Whether, it's guys chirping back and forth, or guys yelling from bench-to-bench. Even with Hakstol and Gwozdecky getting into it and stuff like that. Every game there's some sort of heated battle or fight that goes on after the whistle, or even during the play. It's a lot of fun. It creates a great environment. The fans are always rowdy for it and the rivalry dates back for many, many years. It's' a tradition… (we want) to keep it that way."
Since the WCHA split into three separate leagues, three seasons ago, the Pioneers have become the Fighting Hawks top rival. The Fighting Hawks players look forward to this series every year. The fans love the matchup and get amped up for the series, too.
"It's something you look forward to," Caggiula said. "Obviously, throughout the season you just prepare for the task at hand. I know when Monday comes; the week you're playing Denver, it's a lot more exciting. It's a big rivalry."
Caggiula continued, "It's so much fun to play against them. You just get excited for those heated rivals that pop up during the season.  It's one of those weekends where its's going to be a lot of bumps and bruises after the weekend, but it's going to be well worth if you get the wins."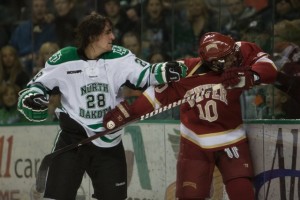 Because this is a rivalry series, the players have to temper their emotions or pay the price. The Pioneers have great special teams, and the Fighting Hawks players can't afford to lose their cool and take needless, selfish penalties. The players need to be careful to keep their emotions in check especially after the whistle. And that's not always easy.
"Certainly after the whistle, Caggiula said. "I know sometimes you're going to have to take a punch after the whistle, because if you throw one back either you're getting a penalty, or both guys are getting a penalty.
"You don't want to get into that kind of battle with them. They're a great skating team if they get it to four on four there's a lot of open ice for them, and they create a lot of offense. So, you have to play on that edge, you have to find that edge and not go over it. That's something our team has been lacking lately. We've been taking some dumb penalties lately."
There's one thing for certain, the UND fans and their players enjoy the yearly series against the Pioneers.