This past Saturday night, the University of North Dakota honored their senior class. Through four seasons, this class has gone 104-42-16 (.691) and has been to two Frozen Four and won two National Collegiate Hockey Conference Penrose Cups.
One of the leaders of this senior class has been forward Drake Caggiula. Caggiula is the "C" of the famed CBS Line that includes Brock Boeser and Nick Schmaltz.
Caggiula: Exciting Player Makes for Exciting Games
Caggiula is a very popular with the fans and in four seasons, the Whitby, Ontario, native has given the UND fans a lot to cheer about. This much we know: Caggiula is a human highlight reel.
Over the past four seasons, Caggiula has scored 55 goals and 115 points. Quite a few of Cagguila's tallies have been worthy of being on ESPN's SportsCenter.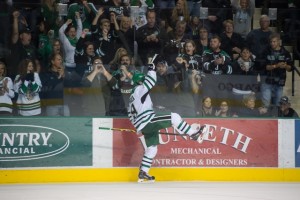 Back in January, Caggiula actually scored a highlight-reel shorthanded goal against the UAH Chargers that made the No. 1 play of the day on SportsCenter.
Yeah, that happened.
"It's a once in a blue moon kind of thing," Caggiula said. "Sometimes they go in off your face and sometimes they're like that, and you don't complain either way."
Breaking it down further, over the past two seasons, Caggiula has picked up his game and has averaged just over a point per game, scoring 36 goals and 75 points in 73 games.
This season, Caggiula has already surpassed last season's point total (18g-21a—39pts), and has 11 multi-point games. Caggiula is second on the team in scoring and probably would be higher if he hadn't missed five games (four to injury and one game due to a league-imposed suspension).
Last fall, Caggiula was picked for NCHC 2015 Preseason All–Conference Team and so far, he's lived up to those expectations. Currently, Caggulia is ranked sixth in the conference in scoring.
Caggiula is a very talented, electrifying player that can change the game in a matter of seconds. Every time he steps on the ice, the opposition needs to be aware of what he's doing.
Caggiula is also very hard to cover because he's so elusive and slippery. Just when you think you have him, he slips by and buries the puck in the back of the net.
"I just tried to read their feet – whatever way they're facing," Caggiula said. "If I can get them to open up their feet and get their feet planted, it's hard to change direction once their feet are facing the boards, instead of keeping them faced up the ice.
"Anytime you can get the d-man to turn his body to face the boards one way or another, it's easy to change the angle. You can't cross over that way too much. It's something I try to do and I work on it in practice."
Caggiula Never Ceases to Amaze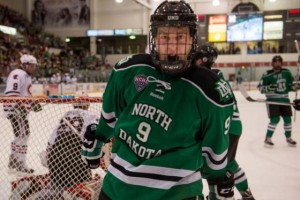 If I've yet to hit all the clichés, here're a few more. Attend any postgame press conference and his teammates and coaching staff will all say the same thing. Caggiula is a game changer – a 200-foot player that plays the game the right way. He doesn't take any shortcuts.
He's also good at pulling fans out of their seats. If you don't believe me, all you have to do is go on YouTube and search for Drake Caggiula. There are hours of highlight goals to pick through.
Flashy goals aside, Caggiula is a very modest player and has taken it all in stride. Caggiula is always quick to credit his teammates for his success on the ice.
Cagguila continued: "Guys helped me out, too. It's not like I did it all on my own. Stecher made a good play off the glass. Every time there's been a good play from someone else to allow me to do that. So, I can't take all of the credit."
Caggiula never ceases to amaze his head coach.
"He keeps one-upping himself all of the time," UND head coach Brad Berry said. "He's a dynamic player. He makes plays and you can call that a game-breaking play. Again, he's a competitive guy that took the team on his back on that play."
Eric is a 1996, 1999 graduate of the University of North Dakota. Eric covers the University of North Dakota Hockey and Division I college hockey. Eric is the Contributing Editor for Inside Hockey.