Ducks' Lindholm Seeking Long-Term Deal
Anaheim Ducks defenseman Hampus Lindholm is one of only a handful of remaining restricted free agents that are unsigned with just weeks to go before the start of the NHL regular season.
For the Ducks, however, inking Lindholm to a new deal may come at a steep price.
Lindholm, the Buffalo Sabres' Rasmus Ristolainen and the Jets' Jacob Trouba are each young, talented defensemen who are RFAs and seeking long-term deals. Lindholm, 22, is potentially looking for at least an eight-year deal worth more than $48 million, according to TSN's Bob McKenzie.
The deal seems reasonable, as defenseman Aaron Ekblad signed an eight-year, $60 million deal with the Florida Panthers earlier this summer. The Ducks have just over $7.5 million in remaining cap space, according to Capfriendly.com, and still need to re-sign Linhdolm and RFA forward Rickard Rakel.
The Ducks are reportedly in talks with an Eastern Conference team to trade a "significant contract" in order to free up salary cap space for RFAs, according to comments made by Pierre McGuire to TSN's Blake Price.
While names of players who earn "significant contracts" have not been thrown about at this time, a look at the Ducks' roster reveals some of the team's most expensive deals. While forwards like Ryan Getzlaf ($8.25 million per year through 2020-21) and Corey Perry ($8.625 million per year through 2020-21) seem less likely to be moved, the team's third-highest earning forward, Ryan Kesler, may be a player considered. Kesler, 32, is set to earn $6.875 million per year through 2021-22.
Given the Ducks reported interest in moving a significant contract, it looks like the team has every intention of keeping Lindholm and Rakell— and for good reason.
Blues' Schwartz to Miss at Least Four Weeks
St. Louis Blues forward Jaden Schwartz will miss at least four weeks with a left elbow injury, the team announced on Friday.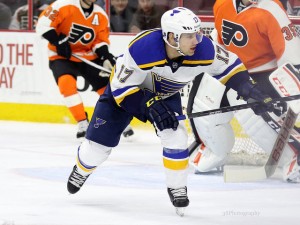 The injury occurred during a practice at the team's training camp on Thursday and is a blow to the Blues' offense to start the season. The Blues lost forwards David Backes, Troy Brouwer and Steve Ott this summer after being eliminated by the San Jose Sharks in the 2016 Western Conference Final.
Schwartz, 24, signed a five-year, $26.75 million contract extension after becoming a restricted free agent on July 1. At the time, Blues general manager Doug Armstrong called Schwartz an important player for the team now and in the future.
While Schwartz's elbow injury is an unfortunate setback to start 2016-17, he has shown an ability to bounce back from an injury and perform at a high level.
In 2015-16, Schwartz missed 49 games with a fractured left ankle but tallied 22 points in 33 regular-season games. He added four goals and 10 assists in 20 postseason games, helping the team its first Western Conference Final since 2001.
Babcock: World Cup is a 'Sign of Things to Come in Toronto'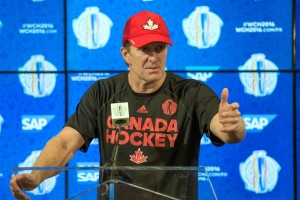 Shortly after Team Canada's thrilling 2-1 victory over Team Europe to win the 2016 World Cup of Hockey on Thursday, Canada's head coach Mike Babcock had some encouraging words for Toronto Maple Leafs fans.
"You know, I've got to tell you, I'm thrilled to be here in Toronto, to win this in Toronto," Babcock said, according to TSN's Frank Seravalli. "This is just a sign of what's going to happen here in Toronto, just so you know. This is a special thing to do for Canada, and now we've got to do it in Toronto."
Babcock and the Maple Leafs will seek to improve upon last season's 30th place finish— a performance that ultimately gave them the chance to draft forward Auston Matthews first overall in the 2016 NHL Entry Draft.
With a World Cup victory under his belt, Babcock is now the only coach in history to win a Stanley Cup, Olympic gold medal, World Cup, World Championship and World Junior Championship.
Babcock and the Maple Leafs will open the 2016-17 regular season against the Ottawa Senators on Oct. 15.
Hitchcock Hints at Potential Return Next Season
Despite saying that the 2016-17 season would be his last, St. Louis Blues head coach Ken Hitchcock has hinted at a return in 2017-18, based upon comments he reportedly made to TSN's Darren Dreger.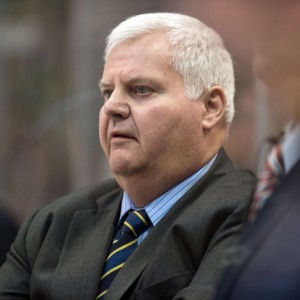 "That (coming back) is possible, but that's in May or June and that's a long time off and you know I just don't think at this time … I don't think it's fair to do that," Hitchcock said.
"I'm going to coach like crazy and I want to see how I feel and if I feel different then I will let somebody know. Other than that, I feel like I want to pour it all in now and then take stock at a different time."
At age 64, Hitchcock will be coaching his 20th NHL season in 2016-17 and will look to build upon the success the Blues had this past season.
However, Hitchcock's potential return next season would not be with the Blues, acccording to TSN's Bob McKenzie on Friday. When Mike Yeo was hired as associate coach this past June, Blues GM Doug Armstrong explained that the plan was for Yeo to take over coaching duties after 2016-17.
Odds & Ends
— Unrestricted free agent defenseman Christian Ehrhoff is reportedly headed to the Boston Bruins on a professional tryout (PTO), according to TSN's Bob McKenzie. Ehrhoff was a member of Team Europe at the World Cup.
— The New York Islanders have made some cuts to the team's training camp roster, according to announcements by the team on Friday. Josh Winquist has been released from his PTO. Loic Leduc, Carter Verhaeghe and Kyle Schempp have been transferred to Bridgeport in the American Hockey League. Bracken Kearns and Ben Holmstrom have been placed on waivers.