TSN Insider Darren Dreger appeared on Ottawa's TSN 1200 Wednesday, reporting that Ken Holland of the Detroit Red Wings spoke with Winnipeg Jets GM Kevin Cheveldayoff during the summer regarding defenseman Jacob Trouba.
"I know that Cheveldayoff received several offers during the summer. I know that one came from Detroit. I'm told that it involved two of their higher-level forwards, and Holland wasn't willing or able to stomach that. As much as the Detroit Red Wings need defense, they can't move out multiple pieces of scoring, otherwise they fill one hole and dig another," Dreger said.
https://twitter.com/NicholsOnHockey/status/781232131578040320
Perhaps knowing Winnipeg was asking for two forwards was a reason Holland went out and signed forwards Frans Nielsen, Thomas Vanek and Steve Ott on the opening day of free agency. With the three newcomers, Detroit now has 15 forwards under one-way contracts for the 2016-17 season.
Higher-Level Forwards
Holland put himself in a position to overpay for defensive help, where potentially trading two forwards would still allow coach Jeff Blashill to ice 12 NHL-caliber forwards excluding waiver-exempt Anthony Mantha and Andreas Athanasiou.
In regards to the "higher-level forwards," fans, analysts and even Dreger are left guessing. Taking the the words for what they are, those two names likely come from a list including Dylan Larkin, Tomas Tatar, Gustav Nyquist, Justin Abdelkader, Mantha and Athanasiou.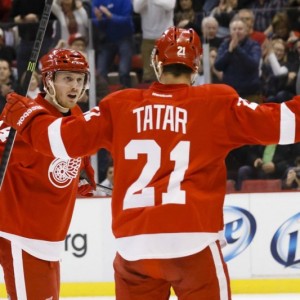 Sorting through the aforementioned list, we'll start with Larkin and quickly end there because he is an untouchable asset. Summer rumors linking Detroit to defensive upgrades usually involved one of Tatar and Nyquist, each of which disappointed after strong 2014-15 seasons.
Tatar's offseason training was a recurring topic at the World Cup of Hockey and showed as much with strong play for Team Europe.
Abdelkader plays an important role in Detroit, bringing a mix of physicality and goal-scoring to an otherwise smaller, skill-first Red Wings team.
Mantha, the Red Wings' first-round pick in 2013, saw limited NHL action last season, tallying two goals and three points to go with a minus-6 rating in 10 games. It was ultimately his lack of defense that ended his first stint of NHL action.
Athanasiou became a fan favorite last season, using his blazing speed and smooth hands to score 9 goals and 14 points in 37 games.
I'll leave the speculation to you as to which two Cheveldayoff asked for in a potential Trouba exchange.
Filling the Defensive Hole
Whether it's Trouba or another defenseman, Detroit is likely to surrender a combination of two on the list above. Other potential assets include draft picks, Brendan Smith and one of Ryan Sproul or Xavier Ouellet. Sproul and Ouellet are 23-year-old defensemen on one-way contracts looking to break into the NHL full-time this season.
[Related: Who Will Be Wings' Extra Defenseman?]
Trouba, 22, is a Michigan native and a right-shot defenseman, two things Detroit has come to cherish. The ninth overall pick in 2012, Trouba has strong possession numbers, plays gritty and blocks shots.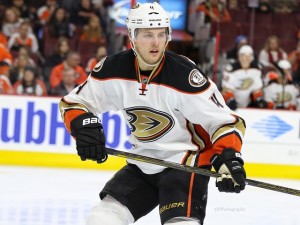 While his offense hasn't blossomed the way a ninth overall pick should, a change of scenery and more responsibility could naturally progress his scoring.
Other rumors on defense include Kevin Shattenkirk of the St. Louis Blues and Cam Fowler of the Anaheim Ducks. Shattenkirk, 27, is a right-shot, high-scoring, powerplay quarterback who moves the puck in the right direction.
Fowler, 24, is also a Michigan native and is also left-handed. However, when it comes to upgrading the defense, Fowler's overall game does just that and may also come in cheaper than Trouba and Shattenkirk.
Which assets would you give up to land one of these three defensemen? Comment below.