Ryan Sproul has his work cut out for him to show the Detroit Red Wings why he deserves to make the opening night roster ahead of Xavier Ouellet.
Sproul, 23, was drafted 55th overall in 2011 and has been a strong offensive defenseman for the Grand Rapids Griffins over the past three seasons, accumulating 28 goals and 91 points through 213 games.
Ouellet, also 23, was drafted seven spots ahead of Sproul in the same year and has 30 NHL games on his resume, 29 more than Sproul.
Ouellet hasn't been the point-producer Sproul has been for the Griffins, chipping in just nine goals and 62 points in 183 AHL games, but Ouellet has separated himself through strong, smart defensive play. Former coach Mike Babcock acknowledged Ouellet as someone who "plays like a veteran."
The Seventh Spot
As of the start of training camp, the defensive pairs are likely as follows:

The Red Wings have three AHL defensemen as options this season in Sproul, Ouellet and Nick Jensen.
At 26, Jensen's NHL call-up has yet to happen. Even with limited options, the Wings are likely to expose him to waivers, leaving the last spot a two dog fight.
The spot appears to be Ouellet's to lose. Ouellet's NHL experience and defensive wherewithal trump Sproul's assets of being a 6-foot-3, right-handed, offensive defender.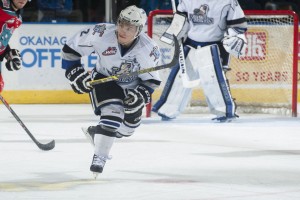 There are, however, some dark horse candidates. Prospects including Robbie Russo and Joe Hicketts could make things interesting.
Last year, Jeff Blashill showed that veterans are no longer favored over young talent by announcing that rookie Dylan Larkin would join the team out of camp. We all saw how that played out. This season, Blashill could brush business aside and once again take the best player over the waiver-exempt and move forward with the best team he can.
The Dark Horse Duo
The thing about dark horse candidates is that they don't make the team as an extra skater. With a team having the option to freely send players back and forth between the AHL and NHL, dark horse players would see full-time NHL action and not sit as a seventh option.
The following defensemen will likely start the season in the AHL and will need to play their way onto the club. However, a strong training camp could see them catapult their way into a regular spot.
Originally drafted by the New York Islanders in the fourth round of the 2011 NHL draft, Russo, 23, signed with Detroit last summer and joined the Griffins for the 2015-16 season. As a rookie, Russo scored 39 points in 71 games and led the AHL with a plus-40 rating.
His offensive game was equally strong as his defensive game and he could force Blashill to make some hard choices regarding his blueline at the end of training camp.
Hicketts, 20, went undrafted in 2014 and was brought in by Detroit for the annual Prospects Tournament in Traverse City later that year. Hicketts signed an entry-level contract with Detroit after a strong tournament.
At just 5-foot-8, Hicketts makes up for his lack of size with strong offensive instincts and a high hockey IQ. He posted back-to-back, 60-plus point campaigns for the Victoria Royals after signing with the Red Wings. Hicketts' totals are 125 points over 121 games to go alongside a plus-55 rating. He will join the Grand Rapids full-time this coming season and could play his way into an NHL call-up soon.
Other Blue Line Factors
The largest factors determining who will fill Detroit's seventh defensive spot is the team's recent chunk of injuries, as well as potential trades.
Due to recent injuries to Henrik Zetterberg, Niklas Kronwall, Tomas Jurco and Teemu Pulkkinen, more roster spots may be up for grabs if any of these players start the season on injured reserve.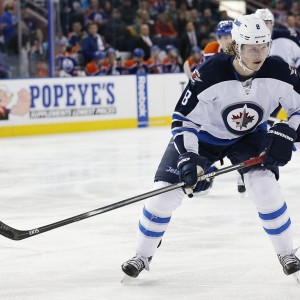 That would allow Blashill to avoid exposing either Ouellet or Sproul to waivers while keeping eight defensemen on the roster. That would help management defer decisions until players return from the IR, or if Holland works out a deal with another club.
In regards to deals with another team, rumors have swirled over Detroit potentially trading for one of Kevin Shattenkirk, Cam Fowler or most recently Jacob Trouba.
[Related: Jacob Trouba Requests Trade Out of Winnipeg]
Trouba, a Rochester, Mich. native, stated that he will practice and condition in Detroit until the Winnipeg Jets trade his rights.
Holland showed he can still work magic by trading away Pavel Datsyuk's contract at the draft. Should he be able to land Trouba, a top-four or even top-pair defender in Detroit, the Red Wings will have finally completed a much-needed upgrade to their blue line.