With all the excitement that has surrounded the 2016 World Cup of Hockey, the underdogs in Team Europe have surprised everyone and advanced to the best-of-three final series, where they will face perennial favorite Team Canada. Inspiring small hockey countries like Mexico and Georgia, Europe has become the toast of Toronto. As much as ESPN pundits Barry Melrose and Kevin Weekes want to exaggerate that they are shocking the world, we must remember that Europe also consists of regular NHL players, although two are still looking for NHL teams.
However, we must not undervalue what these guys from eight different countries have done. While other players can at least say they are playing for their country, these Europeans were the leftovers from little known Slovenia or countries better known for their wine (France). Ralph Krueger has done an absolutely outstanding job getting these guys to buy in, something even he has been impressed with. But what exactly has driven this ship to the final?
#1: Jaroslav Halak
Quite frankly, you have to have a hot goalie in these types of tournaments in order to do anything, especially if you aren't expected to win. After four games Halak has posted a 3-1-0 record with a 1.96 GAA and .947 save percentage. Even after suffering a 4-1 defeat at the hands of the Canadiens, Halak still looked good with saves like these:
Going into the finals, Halak will once again have to stand on his head in order to suppress Team Canada's offensive juggernaut. Luckily for him, his defense has been rock solid, leading to point number two.
#2: Defense
Scoring only seven times in three games, including three in your opener, does not usually go well for any team. However, when you have given up six goals in that same span, including four in one game, you can make up for a few blunders. Playing with two guys who have yet to sign a contract for the upcoming season in Dennis Seidenberg and Christian Ehrhoff, the Europeans have put up a blanket along their own blue-line.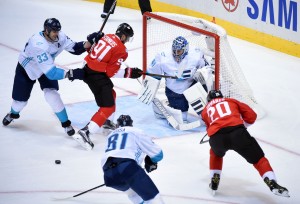 Call them boring, call them stingy, they won't care. With Roman Josi and Zdeno Chara leading the way, the European backend has played surprisingly well considering they were embarrassed by those kids from North America.
Let us not forget about the forwards either. Often an underrated part of a team's defense is the support gained from the boys up front. With well-respected two-way players in Anze Kopitar, Frans Nielsen, Marian Hossa, Jannik Hansen, the defense has gotten plenty of help getting the puck up and out of the zone.
#3: Ralph Krueger
The former Edmonton Oiler bench boss and Southampton F.C. chairman is the man leading the charge for Team Europe. Curtis Rush of the New York Times wrote a great article on the contrasting styles of Mike Babcock and Krueger.
To put it simply, the Europeans tried to come over and play a "European style" of hockey. Essentially, while North Americans tend to dump-and-chase due to the smaller ice surface, Europeans like to play a puck possession game on the larger ice surface. However, Krueger's Europeans failed miserably against Team North America, being outscored 11-4 in two exhibition games. Scrapping that philosophy, Krueger switched to a more defensive, patient game and it has obviously paid dividends.
Does Krueger have two more wins up his sleeve? Going up against Team Canada is certainly a much more difficult challenge than USA or Sweden. Then again, he did beat them with two NHL players on his Swiss national team and almost one more time with them.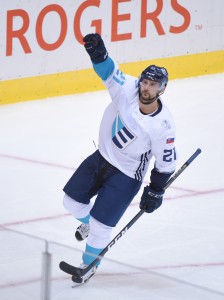 #4: Timely Scoring
Taking the easy way out, this might seem obvious. But then again, not everyone can execute when the time calls for it.
In game one against Team USA, Europe eased their nerves and put even more pressure on the Americans with Marian Gaborik's tally at 4:19 of the opening frame. Against the Czechs, Mats Zuccarello broke a 1-1 stalemate with a marker 2:19 into the final period before Leon Draisaitl ended the game in overtime.
Semi-final action brought even more timely scoring with Gaborik again converting towards the end of the second period before Tomas Tatar opened the third with a goal 12 seconds in the period. Putting pressure on teams by scoring early allows Europe to play their patient, defensive style and rely on their structured system to shut people down. If they have to play from behind, Europe will not fair well at all against Canada. And then, Tatar's epic OT winner:
Naturally, getting goals in OT like this always help your cause:
https://www.youtube.com/watch?v=LAB_sP-w0PU
Team Europe may not be the most exciting hockey team to watch, but who cares? Behind a strong defense and even stronger goalie, Ralph Krueger has this team buying into what he is selling and hoping for two more wins to win the 2016 World Cup of Hockey. Fans of this team will be watching and hoping for another miracle.
As always, for all your WCH needs, visit THW's main page.
---
The Hockey Writers coverage of the World Cup of Hockey 2016 is being brought to you by PrimeSport, the official Fan Travel & Hospitality Package Partner of the World Cup of Hockey 2016.