During his four seasons with the Pittsburgh Penguins, Beau Bennett experienced the highest of highs and lowest of lows. Now, he joins the New Jersey Devils looking for a fresh start. A first-round pick of the Pens in 2010 (20th overall), Bennett has played in only 129 NHL games due to various injuries and ailments over his career but did get to play in Game five of last year's Stanley Cup Final and departs Pittsburgh with a Stanley Cup ring.
Current Devils GM Ray Shero drafted Bennett when he was the Penguins GM and acquired the Gardena, California native from his former employers at the 2016 NHL Draft for a third-round pick. Besides the Shero connection, the 24-year-old also knows coach John Hynes (from Wilkes-Barre/Scranton) and defenseman Ben Lovejoy, a teammate of Bennett's in Pittsburgh who signed with New Jersey as a free agent this past summer.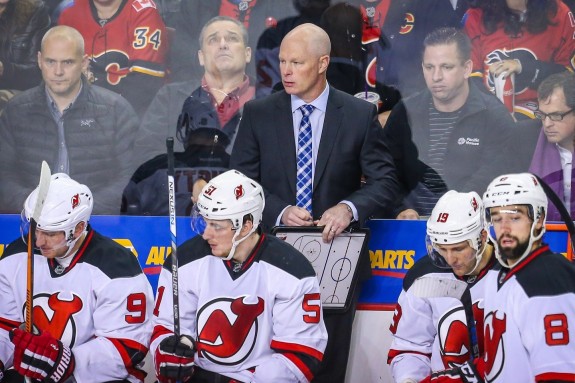 Beau's a guy that has some offensive talent, offensive instincts, he has good hockey sense. I thought you saw that in some parts tonight. We're looking for him, this is a good opportunity for Beau; he had a tough segment his last couple of years with injuries. So here's a guy that has a lot of talent, has a lot of potential and now it really has to be performance based for him. We know what type of player he is and what type of person he is – which is why we signed him to the contract (one-year/one-way, $725,000); now collectively – he and the coaches – we have to try to get him to play his best. – John Hynes
Following the Devils first preseason game, a 2-0 victory over the Philadelphia Flyers, The Hockey Writers spoke with Beau Bennett after making his debut in red and black to find out more about his first trade experience, and his sense of humor about his health — or lack thereof — among other topics.
I would have made this North America team if I was younger and better at hockey

— Beau Bennett (@BeauBennett19) September 19, 2016
The Hockey Writers: Tonight was your first game, albeit a preseason one, with your new team; how'd you feel out there?
Beau Bennett: Well, I took a penalty ten seconds in (grins), so not the way you want to start but, it's odd jumping right into games. There's no way to emulate that other than playing preseason games so, we had a lot of chances and we just have to bury them some more.
*Bennett played 14:59 (2:42 on the PP), had two shots on goal and four penalty minutes.*
THW: You did have a semi-breakaway at one point, what do you remember about that?
BB: Yeah, I was coming out of the (penalty) box and I just kind of picked it up and took it down there. I think it was my first breakaway in four years so I would've liked to have scored that. Preseason is all about making plays, feeling the puck and trying to get your timing back. I think as the game went on we got a little bit better but it'll take a few games.
The Devils would like a few of these from Beau Bennett this season:
https://www.youtube.com/watch?v=ziJayVm-5XY
THW: Other than the obvious connections that you have with some people in the organization is there anyone else that you knew beforehand?
BB: I knew a couple of the guys just from growing up and playing against them and whatnot. Everyone is really friendly so it didn't take long to just fit in and, the hockey world is such a small world; everyone knows someone who you know back home and it's easy to talk that way. It was an easy transition for myself.
THW: What did you do during your day with the Stanley Cup this summer?
BB: I took it to my local rink where I grew up playing and showed it to everyone that wanted to come see it. I took it to the beach with friends and from there went to my family's house for a barbecue. Then took it to the bar actually, and had a good night (smiles).
Hoisting it like a champion @penguins #stanleycup tour begins with Beau Bennett in California. @NHL @HockeyHallFame pic.twitter.com/iIJ53N8C3W

— Philip Pritchard (@keeperofthecup) July 1, 2016
THW: When the trade happened, were you shocked or did you think it might happen after so many injury-plagued years?
BB: (laughs) Sometimes change is good, for both parties involved. I loved my time in Pittsburgh. They treated me well, even through all the turmoil I went through. They stuck with me until the end and capped it off with a Stanley Cup win. It would have been nice to contribute more and be healthier throughout but, no ill will toward them at all. I kind of knew it was coming; I kind of hoped it was coming, you know? Sometimes you need a change to get that fun back in the game and awaken your will to come to the rink.
THW: Is this the perfect situation for you with Shero, Hynes and assistant coach Alain Nasreddine here, who all know you from your Pittsburgh days?
BB: Yeah it's nice to know that there are people who know how I play and you're not coming in trying to impress too much; I just play my game. In Pittsburgh, it's really fast tempo and it's all about speed. I'm sure you guys can tell I'm more of a methodical, slow-the-play-down, type of player; I've brought pace into my game and that started with Hynesey actually. I wasn't a very fast player and then he got a hold of me in Wilkes-Barre and changed how I played. It's kind of stuck with me and I have to keep building it up.
Devils trade the 77th pick to Pittsburgh for for Beau Bennett, then take Brandon Gignac with the 80th pick (the pick acquired from Ottawa)

— Chris Ryan (@ChrisRyan_NJ) June 25, 2016
THW: When you got traded, how did you find out? Did they call you or were you watching the draft?
BB: No, I was sleeping. It was 8:00 am in California. Billy Guerin (Penguins assistant to the GM) called me and said 'you've been traded, thanks for your time.' I said thanks and went back to sleep I think (laughs). Seriously, it was Saturday morning. I told my girlfriend and she was up and all frantic; and I was just like alright, we'll talk about this later (and went back to sleep). I was happy that it was here (New Jersey) to be honest, it's a good transition for me. I'm just looking forward to the regular season and showing what I got.
Thank you Pittsburgh! pic.twitter.com/MOy5s1KK0C

— Beau Bennett (@BeauBennett19) June 30, 2016
THW: You obviously have a little bit of a sense of humor, we follow you on social media, can you talk a little bit about some of the fun you've had with some of the things fans have said to you?
Someone tweeted this at me…I think the world needs to see it. pic.twitter.com/2KiDoUtRhc

— Beau Bennett (@BeauBennett19) July 19, 2016
BB: Anytime when people badmouth you, you kind of just have to take it with a grain of salt. Everything that's been said, I've already read it so it's nothing new. I'd be more upset if someone was badmouthing or saying I was a bad guy or I treated them poorly. That would hurt me to the core. But to make fun of my injuries and if I suck at hockey – it's all good, it's all good fun. It's kind of fun to play that way and interact with fans that way."