Another season is in the books for the Arizona Coyotes, and that means it's time to look back on the year that was. We'll start by taking a look at Dave Tippett's forward group – Arizona used 22 forwards over the course of the 2016-17 season, but we'll focus only on those who played significant roles with the club.
Trending Up
There were quite a few forwards that enjoyed solid seasons for the Coyotes in 2016-17, and we'll start with the man who surprised nearly everyone by leading the team in goals, assists, and points after coming back to the desert over the offseason.
Radim Vrbata
When Radim Vrbata came back to the Coyotes over the summer on an incentive-laden one-year contract, expectations for him likely were not extraordinarily high in the Coyotes' front office. Vrbata was a shell of his former self during the 2015-16 season as he struggled with injuries and recorded just 27 points in 63 contests with the Vancouver Canucks.
It appeared as if Vrbata's best days were behind him, but it turned out that all he needed to once again be successful on the ice was to come back home to Arizona. The 35-year-old got off to a quick start with three goals and two assists through his first five games and was able to have consistent success throughout the year en route a 20-goal, 55-point comeback season with the Coyotes.
Our 2016-2017 MVP goes to Radim Vrbata!

Congrats Vrby! We're glad you're home. pic.twitter.com/BuCYkS5PUR

— Arizona Coyotes (@ArizonaCoyotes) April 9, 2017
Look for Vrbata to have a chance to lead the Coyotes in goals, assists, and points yet again next season.
Max Domi
After his electric rookie campaign in 2015-16, expectations for Max Domi in 2016-17 were very high. And although he missed nearly two months due to a hand injury he suffered on Dec. 8, Domi lived up to the hype, as he turned in yet another solid season for the Coyotes with nine goals and 29 assists in 59 games.
Max Domi avoided a sophomore slump, but what he didn't avoid was a lengthy stint on the sideline because of injury.https://t.co/ZSqaMCGrHy

— Arizona Coyotes (@ArizonaCoyotes) April 19, 2017
Had Domi not been injured in December, he easily could have been the Coyotes' leading scorer this season. Look for him to take another big step forward in 2017-18 as he continues to develop his offensive game.
Alexander Burmistrov
Prior to being claimed by the Coyotes off of waivers on Jan. 2, Alexander Burmistrov was in the midst of one of his toughest seasons as a professional. Through 23 games with the Winnipeg Jets, Burmistrov had just two assists and was playing just 11:02 per night.
However, in Arizona, Burmistrov was able to quickly turn things around and reestablish himself as a solid NHL forward. He recorded six points in his first six games with the Coyotes and finished the season with five goals and nine assists in 26 games in the desert despite missing a large chunk of time due to a concussion he suffered back on Feb. 28 in Boston.
Burmistrov keeps making a case to be back with the Coyotes next season. Five goals, nine assists and 14 points in 25 games with Arizona now.

— Luke Lapinski (@LukeLapinski) April 7, 2017
Although he's a pending restricted free agent, don't be surprised to see Burmistrov back in Arizona next season.
Brendan Perlini
When Brendan Perlini made his NHL debut on Dec. 5 against the Columbus Blue Jackets, he immediately won over Coyotes fans with his solid wrist shot, outstanding speed, and high level of skill. Indeed, Perlini used his abilities to put up 14 goals and seven assists in 57 NHL games this season.
Brendan Perlini buries the rebound of Shane Doan's initial shot, giving him 14 goals and Doan an assist in his fin… never mind. 2-1

— Craig Morgan (@CraigSMorgan) April 9, 2017
Perlini had an outstanding rookie season with the Coyotes and should be a dangerous offensive player in the NHL for many years to come.
Christian Dvorak
Christian Dvorak's rookie season was nothing short of outstanding in Arizona. Dvorak got off to a bit of a slow start with just 13 points through his first 45 career games, but he really turned things on in the second half, as he picked up 11 goals and nine assists in the final 33 games of the season to finish as the leading scorer among all Coyotes' centermen with 33 points in 78 games.
The rising stock of Christian Dvorak as a legitimate top six center — in all facets — make John Chayka's offensive rebuild a bit easier

— Brownie Points (@FrozenRubber) April 1, 2017
In addition to his offensive output, Dvorak was also the only Coyote to finish the season with a positive plus/minus statistic. Dvorak has all the tools to be a solid two-way center for years to come and will be a player to keep an eye on in Arizona next season.
Tobias Rieder
For the third consecutive year, Tobias Rieder proved yet again that he's one of Arizona's most versatile and valuable players. Not only did he finish fifth on the team in scoring with 16 goals and 18 assists in 80 games, he was also one of the Coyotes' best penalty killers as he led all forwards in shorthanded time on ice with 2:21 per game.
https://twitter.com/FanRagNHL/status/840947996330086400
Rieder has increased his goals output in each of his three seasons as a professional, and it wouldn't come as a surprise at all to see him reach the 20-goal plateau for the first time next season.
Holding Steady
While many Coyotes forwards had solid seasons, a few will need to be better in 2017-18.
Anthony Duclair
We'll begin with Anthony Duclair. A month ago, Duclair easily would have found himself quite a bit further down the page in the "trending down" section. At the time, the 21-year-old winger had scored just three goals through his first 54 games of the season and faced an uncertain future in Arizona due to his hugely disappointing and unproductive sophomore season.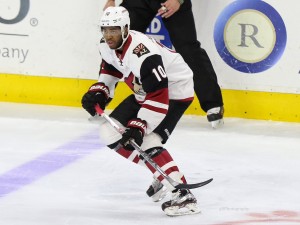 However, Duclair was able to bounce back; during the final few weeks of the season, Duclair was reunited with his good friend Max Domi on one of Arizona's top lines and flourished as a result. He scored the eventual game-winner on Apr. 2 against the Los Angeles Kings and scored yet another clutch goal in Dallas on Apr. 4 as he sent the game to overtime with a late third-period goal. Although he had an extremely tough season, Duclair looked like his old self during the final few games and likely has regained the trust of head coach Dave Tippett and general manager John Chayka as a result.
Brad Richardson
In a perfect world, Brad Richardson would have enjoyed the best season of his career in 2016-17. The 32-year-old centerman had picked up five goals and four assists through his first 16 games of the season and was on pace to absolutely shatter his previous career highs in goals, assists, and points. However, Richardson's promising season was cut short on Nov. 17 when his right tibia and fibula were both fractured in a collision with Vancouver Canucks defenseman Nikita Tryamkin at Rogers Arena.
Coyotes announce that C Brad Richardson will not play again this season. Had surgery yesterday to remove "hardware" from right leg.

— Craig Morgan (@CraigSMorgan) April 1, 2017
Richardson missed the rest of the year as he rehabbed from his injuries, but he should be ready to go again when training camp begins in September.
Jordan Martinook
The 2016-17 season was largely a tale of two halves for sophomore forward Jordan Martinook. During the first 17 games, Martinook recorded five points and five assists and was one of Arizona's best forwards by a large margin. Shortly thereafter, though, Martinook was pressed into duty as a center due to the Coyotes' lack of depth at the position and began to struggle offensively as a result of his increased defensive responsibilities, as he finished with just 15 points over the final 60 games of the season.
Although he struggled to produce offensively as the season wound down, Martinook more than made up for it by being one of the Coyotes' best defensive players. The 24-year-old led all Coyotes forwards in blocked shots with 68 and finished second behind only Tobias Rieder in shorthanded time on ice among forwards as well. In addition, Martinook also was serviceable in the faceoff circle despite being a natural winger, as he won 44.4% of the 1,037 faceoffs he took.
Congrats @Martyman17! You earned it. pic.twitter.com/3GC2tomhZ4

— Arizona Coyotes (@ArizonaCoyotes) April 9, 2017
With Richardson, Burmistrov, Dvorak, and Dylan Strome looking like Arizona's top four centers for next season, look for Martinook to move back to the wing and continue developing his offensive game in 2017-18.
Lawson Crouse
After being a point-per-game player in the Ontario Hockey League over the past few seasons, Lawson Crouse made the Coyotes' opening night roster in 2016-17 as a 19-year-old and immediately established himself as one of the team's toughest and most physical players.
"@LawCrouse is a man child." – @TysonNash

Tyson sits down with The Sheriff in this week's 5 Minutes in the Box: pic.twitter.com/SZH9HAUpuk

— Arizona Coyotes (@ArizonaCoyotes) March 23, 2017
However, as physical as he was, Crouse struggled mightily on the offensive end of the ice, as he recorded just five goals and seven assists in 72 games. These numbers are nothing to sneeze at from a 19-year-old, but one has to imagine that Crouse, who was the #11 overall pick in 2015, has the potential to become more than the fourth-liner he was in 2016-17. The Coyotes need to develop the offensive part of Crouse's game over the course of the next few seasons in order for him to reach his full potential as a scoring power forward.
Trending Down
Although quite a few players had solid years in Arizona, a handful of forwards had seasons they likely will want to forget.
Jamie McGinn
We'll kick things off with Jamie McGinn – when he was signed by the Coyotes to a three-year, $10 million contract last summer, it was expected that the 28-year-old would be able to build on the 22 goals he scored during the 2015-16 season and become a dependable offensive option in Arizona's lineup. However, things didn't quite turn out that way, as McGinn recorded just nine goals and eight assists in 72 games this season while also finishing as a minus-23, which was the worst among all Coyotes forwards.
http://gty.im/632041030
McGinn was one of Arizona's more physical players, as he finished third among forwards with 116 hits, but he was brought in over the offseason to score goals and failed to do so for much of the season. Overall, McGinn was arguably one of the most disappointing forwards in Arizona during the 2016-17 season, and it's very likely that he could be left unprotected by the Coyotes when the expansion draft comes around in June as a result.
Shane Doan
As much as it pains us to put Captain Coyote in this category, his play over the course of the season left us no choice; after scoring 28 goals during his magical 2015-16 season, Doan's goal output fell by a huge margin as he scored just six times and failed to reach double-digit goals for the first time since the 1998-99 season.
Doan had no shortage of scoring chances throughout the season, but the Captain couldn't buy a goal all year as chance after chance went by the wayside for the 21-year NHL veteran. However, it's likely that a shortage of puck luck had a lot to do with Doan's struggles more than anything, as his shooting percentage of 4.2% was well below his career average of 10.2%.
.@craigsmorgan: Change is coming this offseason, and if Shane Doan retires, it will be dramatic change https://t.co/CfYZzVBETn

— 98.7 Arizona Sports (@AZSports) April 9, 2017
Doan's status for next season is still up in the air, but if he does indeed decide to come back for his 22nd NHL season, he'd likely return to being a 15 to 20-goal scorer if his shooting percentage normalizes.
As was the case with every NHL team, there were players that underperformed for the Arizona Coyotes, and there were players that exceeded expectations as well. Will Jamie McGinn bounce back and return to form? Will Anthony Duclair break out of his sophomore slump and once again become the dangerous player he was during 2015-16? No one knows for sure at this point, but if the Coyotes are going to have success next season, they'll need McGinn, Duclair, and others to return to form.