It was a good old-fashioned blowout on Tuesday that saw the Edmonton Oilers defeated at the hands of the San Jose Sharks by the tune of a 7-0 whooping. The good news is that it's only one game and in the NHL playoffs, victories, goals and points don't carry over to the next game. Thursday, the Oilers will get another kick at the can. The series is now a best-of-three. There are worse places for the Oilers to be.
Going into Game 5, there are five things that are important to remember. For every fan who is down on the team and worried Tuesday's ugliness is a sign of things to come, these five things could provide hope that the loss was an anomaly and not the norm.
#5. Connor McDavid Hasn't Arrived Yet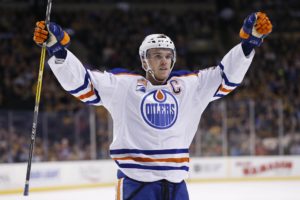 Connor McDavid has two points. One an assist on the power play and one a short-handed goal, but the McDavid that scored 100 points has not shown up yet in this series. It's logical to assume that at some point he will.
In games one and two, the Sharks were good at shutting down his ability to free-wheel through the neutral zone. In games three and four, there was a bit more room. He had opportunities to score but didn't cash. That can't last. While it is the playoffs and different than the regular season, the last two games are the only two game stretch since February that McDavid has gone consecutive games without a point.
[irp]
#4. Leon Draisaitl Will Play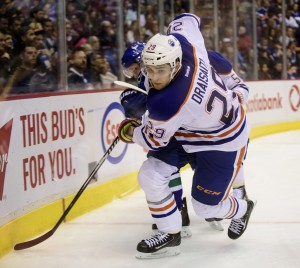 Draisaitl's spear on Chris Tierney could have been a suspension. Fortunately for Leon and the Oilers, he was merely fined $2,569.44, the maximum allowable under the CBA. Like McDavid, fans have not seen the Draisaitl of the regular season. Moreso than McDavid, Draisaitl hasn't been anything close.
Through four games, he has one shot on net. For him to continue on that pace would be shocking and a wake-up call like a 7-0 loss and the embarrassment that comes from letting your team down in that situation has to register. If there was ever a game that Draisaitl would rebound, Game 5 is that game.
#3. The Oilers Would Rather Lose 7-0 Than 1-0
It sounds strange to say it, but in the playoffs, a team like the Oilers would probably rather lose 7-0 than 1-0. A seven-goal loss tells the team they need to be better in all areas of their game. Not a single player in that locker room can look at themselves in the mirror and say they did what they needed to help the team earn a victory. There is no place to lay the blame but at their own respective feet.
A 1-0 loss means the team didn't get the bounce. The game could have gone either way and the Oilers played well enough to win, but simply got unlucky. Clearly, that's not the case and the Oilers will head into Game 5 with something to prove. A 1-0 loss wouldn't have served as a wake-up call. A 7-0 loss sure will.
#2. This Is Now a Best-of-Three Series
Losing 7-0 nothing stings. That said, the reality is, there are much worse places to be. It's easy to forget that the Oilers are now tied in the series at two games apiece. The alternative is a series like Calgary versus Anaheim where some poor play means the Flames are already out of the playoff picture. Edmonton hasn't played their best hockey, with the exception of Game 2.
The truth is, the Oilers have the opportunity to take two of the next three games with home-ice advantage. They don't have to win two in a row, they don't have to do it in the oppositions barn and they don't have to worry that one loss means everything until at the worst Game 6. Game 5 is not a must-win game, it's a must prove to yourself game that if won,  gives the Oilers a distinct advantage.
#1. This Team Has Pride
In year's past, with the version of the Oilers fans had become accustomed to seeing on the ice, it would have been fair to worry that the roster and the players might have folded. If for some miraculous reason, that team would have found themselves in the playoffs, adversity was not their friend. An obstacle like a 7-0 loss would have been hard to overcome and to "park" the loss might have been tricky.
This version of the Oilers seems to have the ability to brush trouble off of their shoulders. Almost every player described Game 4 as a game that happened but is now over. It was embarrassing, but it did not represent how good this team is and that they have something to prove for Game 5. Clearly, they believe what they're saying and it's a whole lot easier pill to swallow when they've bounced back before.
The Oilers played poorly in Game 1 and responded in Game 2. At the start of the season, Edmonton laid an egg against the Buffalo Sabres and came back to win game after game, using that loss as fuel. It's reasonable to expect the Oilers come out strong. They haven't folded all season. There is no reason to expect they'll fold now.
The Oilers have too many players on this roster who likely understand that if there was a time to put together their best effort, Game 5 is it. Rogers Place will be ready to roll and so will the Oilers.