When a superstar speaks up, people listen. For many, respect must be earned. It's not uncommon for people who haven't commanded respect, to suddenly start demanding it. When a second-year pro like Jack Eichel speaks out, then, many are conflicted. The 20-year-old center has only played in a total of 142 NHL games. In that time, however, he's proven himself on and off the ice. On the ice, he's scored 48 goals and 113 points – including 24 goals and 57 points in just 61 games this season and 24 goals and 56 points in his rookie season. Off the ice, Eichel has become one of the leaders of the Buffalo Sabres' locker room.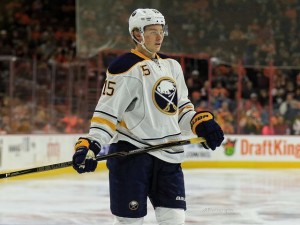 Early Wednesday morning, there were reports that Eichel had taken a definitive stance at his exit meeting with the team. When speaking last among players, Eichel's words were described to indicate that he would not re-sign with the Sabres if head coach Dan Bylsma remained in his current role. These are big words coming from someone with so little NHL experience – but the words shouldn't be confused as Eichel complaining, or whining. Instead, it should be noted that the team shared the sentiments that the team isn't being run the correct way, and felt that Eichel vocalizing this would hold the most weight. This is a sign of respect from his peers – something every NHL player strives to achieve.
Conflicting Report
While it would seem that Eichel's words were clear, the interpretation may not have been quite so clear. As Jeremy White of WGR 550 – Buffalo described it, Eichel stated that he wasn't happy with "how the system handcuffs." When looking past the initial reports of this meaning Eichel wouldn't re-sign with the team if Bylsma was still the head coach, however, this appeared to not be the case.
When speaking to Eichel's agent and representatives, the negotiation for an extension with Eichel didn't hinge whatsoever on the status of Bylsma.
#Sabres Eichel agent: "He is 100% on board" with an extension "assuming negotiations go well." Bylsma status "has nothing to do with it."

— Adam Benigni (@AdamBenigni) April 19, 2017
Whether Eichel re-signs with the team or not, it isn't clear if the head coach of the team has anything to do with that decision. It would be wise for Eichel's agent to shoot down any report that could frame his young client in a negative light. Very few are privy to what happens behind closed doors of professional sports teams. While there are reports floating around saying certain things, it's important to compartmentalize those statements and take them with a grain of salt until all of the information is revealed. This was a major talking point when John Vogl of Buffalo News spoke to Eichel one-on-one to clear up some of the facts.
First, when you see that people are writing these things and saying that you said these things, my first thought is where are they getting this information? If it's not coming out of my mouth and I didn't verbally say it to you or anybody, then where are you getting this information? Second of all, why are you writing it and trying to back yourself up on it?

– Jack Eichel
The entire interview can be found here where Eichel goes into more depth about the situation.
Struggles in Buffalo
The Sabres franchise has struggled for many years now. Since the 2007-08 season, the Sabres have made the playoffs only two times – losing in the first round in both years. The last six seasons have concluded at the end of the regular season with last-place finishes coming in three of the last four seasons – and a seventh-place finish coming in 2015-16. Whether or not this ordeal with Eichel actually occurred as described or not, it isn't hard to sympathize with the team and the fanbase in Buffalo. Things haven't gone well, and with a new ownership team, general managers, coaches and core, a change of fate was expected.
Unfortunately, those changes haven't yet led to success. It becomes even more difficult for the Sabres and their fans when teams like the Edmonton Oilers, Calgary Flames and Toronto Maple Leafs – all of whom were in a similar situation, are experiencing success. All three teams have qualified for the postseason and are being led by a young core of players. The Sabres core looks like it could eventually get to that point, but with conflict hitting the team at seemingly every turn, that end-goal becomes much harder to attain.
Jack Eichel is Only Human
With the Sabres firing both Tim Murray and Dan Bylsma from their role just one day after the reports about Eichel, it's easy to see why people would be creating some sort of link between the two. Still, Eichel is a human being. When a team suffers a loss, it's never a good feeling. When those losses pile up over the course of two seasons with no silver lining apparent, it's easy to lose composure. For Eichel, that was the situation in his end-of-year meeting.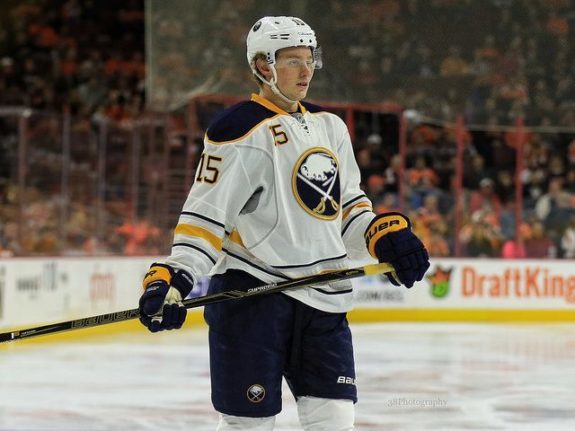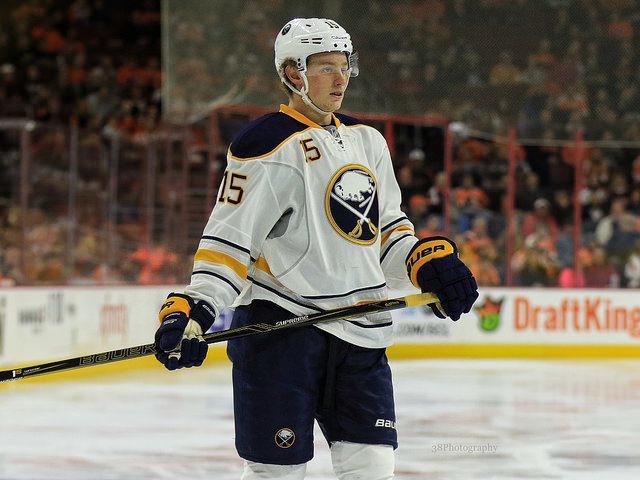 The issue with press conferences and interviews after games stems from the fact that everything is still so raw. There isn't a human being on earth who hasn't uttered something in a heat of passion that wasn't worded as they would have liked. In hindsight, Eichel has admitted that he would have liked the comments to have gone differently. The interesting part of the situation stems from the fact that people would much rather believe a report about something Eichel said than to believe the actual words he stated when speaking to Vogl.
Eichel is only human. He can only contain his emotions so much when prompted to speak so soon after the conclusion of another unsuccessful season. At just 20 years old, Eichel is already significantly more mature than most people his age – a fact that is often glossed over. It isn't always easy being a superstar in the NHL, but that gets harder when a player is so young, a natural-born leader, and expected to never speak out about anything all at the same time.