The Edmonton Oilers have had a plethora of top end, blue chip prospects looking to make the team in each of the last number of years.
Top draft picks like Taylor Hall, Ryan Nugent-Hopkins and Nail Yakupov all had their every training camp shift scrutinized by coaches and media alike before earning their spots with the Oilers.
This year is no different and there are a number of intriguing storylines and players looking to make their mark and impress Dallas Eakins and his staff.
#55 Leon Draisaitl – Centre
The most talked about name in Oilers camp has been the team's top forward prospect and 2014 third overall pick Leon Draisaitl.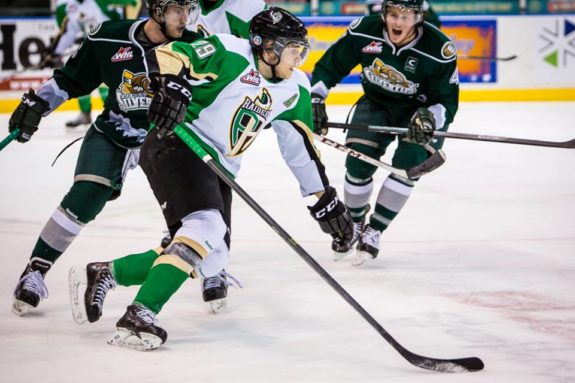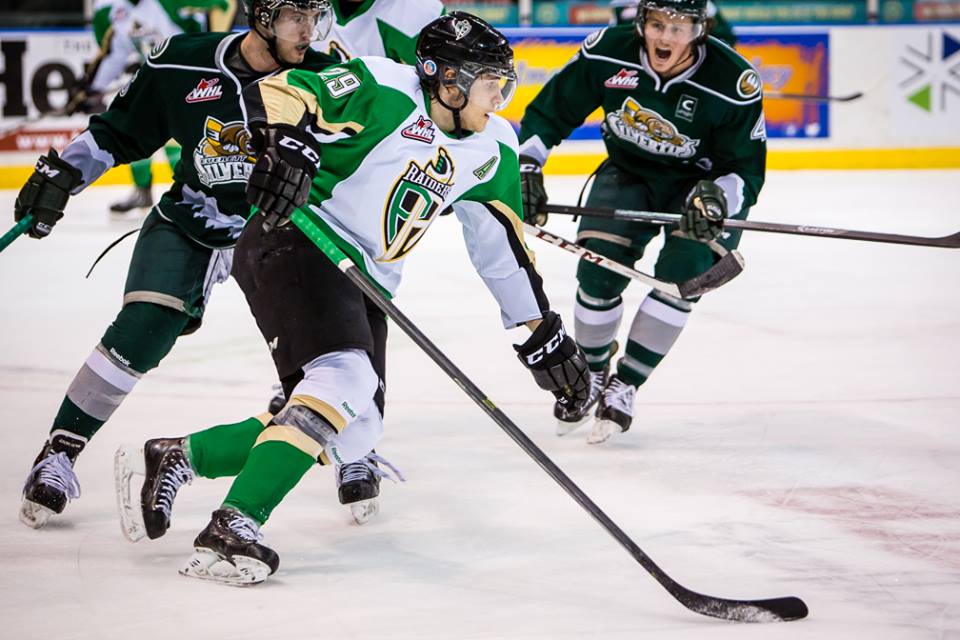 To make the situation even more interesting is that Draisaitl has exactly what the Oilers desperately need. A big bodied centre who, at some point, can fill the No.2 slot after the departure of Sam Gagner.
In a perfect world Draisaitl would play another year in junior, or, if he made the team out of camp would see a more sheltered role.
As it stands the Oilers have only Ryan Nugent-Hopkins and Boyd Gordon locked into centre spots. Draisaitl is battling Mark Arcobello, Anton Lander, Will Acton and Bogdan Yakimov for the remaining two spots. Not exactly filled with NHL experience, which is why Draisaitl's name has been so prominent.
To his credit he has been the best of the group so far through camp. He has shown with each game more and more of his offensive ability and ability to play with skilled players. Last game, against the Arizona Coyotes, he centred Jordan Eberle and David Perron and did not look out of place. The trio was dangerous all night and created plenty of scoring chances.
Draisaitl has drawn comparisons to Joe Thornton for his size, hands and playmaking ability, but also for the need to improve his skating. He has looked good so far, but the real test going forward will be games that feature lineups of legitimate NHLers, not bubble players.
#74 Darnell Nurse – Defense
Nurse is the team's top defensive prospect and based on his size, attitude and skill set alone will be a top pairing defenseman for year's to come.
In his second training camp, the question is will this be the season he starts his NHL journey.
Nurse is in the exact opposite position that Draisaitl is. The Oilers stocked up on defensemen this offseason and there are a number of NHL contracts on the depth chart ahead of him.
Justin Schultz, Jeff Petry, Andrew Ference, Mark Fayne and Nikita Nikitin all appear to be locks on the blueline with Martin Marincin having the inside track on a job based on his play last year.
The Oilers won't keep Nurse up just to be a 7th defenseman, so he will have to soundly outplay someone, namely Marincin, to earn a spot in the top six. Battling in a similar situation is Oscar Klefbom, Keith Aulie and Brad Hunt.
The difference is Nurse is still junior eligible and a trip back that included a spot with Canada at the WJC is not the worst play. The problem is, has he much left to prove in the OHL.
He has played well in camp and arguably outplayed Marincin, Klefbom and Aulie. He's a fluid, effortless skater with great size who also plays with a mean streak. All qualities the Oilers covet in him as a long term member of the organization.
So far he has played well to make the decision uncomfortable for Eakins and his staff but likely will still go back to junior at this point. In the remaining week if he outplays those ahead of him by a large margin, the conversation will change. At this point however, he appears to be caught in a numbers game.
#84 Oscar Klefbom – Defense
Also in a battle for the 6th and 7th positions on the roster, Klefbom finds himself in the same battle as Nurse. The No.2 defense prospect in the system to Nurse, Klefbom also will not be kept up if it means filling a 7th spot.
The organization wants him to play and progress. If he earns a top six spot the brass would be thrilled. The plan, however looks to be to have him play top pairing minutes in Oklahoma City and be ready for a callup.
His competition, like Nurse, is to outplay defensemen like Marincin and Aulie. Marincin impressed in his 44 games with the Oilers last season and still appears poised to start the year in the NHL, however has had a mediocre camp and has struggled to date.
With the thought that Nurse is likely headed back to junior the battle between Marincin and Klefbom is one that could gain more steam as training camp goes on. Eakins on Oilers next game;
 Head coach Dallas Eakins said before the game that he'd be mixing and matching lines, so it doesn't do to read too much into that situation, but Klefbom is perceived to be in a heated battle with Martin Marincin for one of the two vacant jobs and potentially for a spot alongside Schultz on opening night.
Klefbom has played well, likely better than Marincin, but not well enough to warrant a change just yet. He is certainly close enough though that with a strong push in the final exhibition games, he can force the Oilers hand.
Another defenseman with good size and skating ability, Klefbom continues to get better with every appearance. 
#68 Tyler Pitlick – Right Wing
Pitlick has not had the best luck so far in his pro career, one marred by injury and inconsistency so far. He got an audition last season playing in 10 NHL games.
Showed good ability and work ethic and an effectiveness on the forecheck, and also flashes of offensive ability.
Currently battling for a fourth line position, likely to play alongside Boyd Gordon and Matt Hendricks, he has competition in Steve Pinizzotto and Jesse Joensuu.
Pitlick has had a good camp, but so have Pinizzotto and Joensuu, with all three playing their best game most recently against the Arizona Coyotes.
Pitlick certainly has more upside than the other two do, and more offensive ability. Pinizzotto and Joesnsuu both bring more size and bite to their game and since they are auditioning for a defensive role, Eakins may lean that way.
Not one of the three seem to have gained the upper hand, so the remaining training camp games will be worth watching.
__________________________________________________________
Follow Carl on twitter @CarlTHW or Google+ for more articles
Carl covers the Edmonton Oilers for THW as well as providing additional prospect coverage. Follow him on twitter @carlTHW, connect on Facebook or contact at carl.maloney@hotmail.com for questions, comments or if you're interested in him writing for you.