The 2012-13 year was one where Justin Schultz's name was much talked about throughout the league and in many media outlets. From the media circus that surrounded his "decision" to spurn the Anaheim Ducks in the summer of 2012 and sign with the Edmonton Oilers, to his assault on the AHL in his brief time there.
Schultz entered his first NHL season, albeit a shortened one, with much fanfare and even more expectation and scrutiny. He gave the Oilers what they hoped for and, as much as possible, lived up to the hype. He started the year on fire and was logging 25+ minutes a night and among the rookie points leaders. He tailed off in the second have and struggled with consistency, especially in his own end.
The good, he led all Oiler defensemen in points, more than double the totals of the next highest defender. He was a force on the power play and with a bit more experience, could be one of the best in the business with the man advantage.
The bad, he finished with a -17 rating, which was the worst on the Oilers roster. He showed later in the season some deficiences and inconsistency in the defensive zone and saw his ice time drop by a few minutes per night.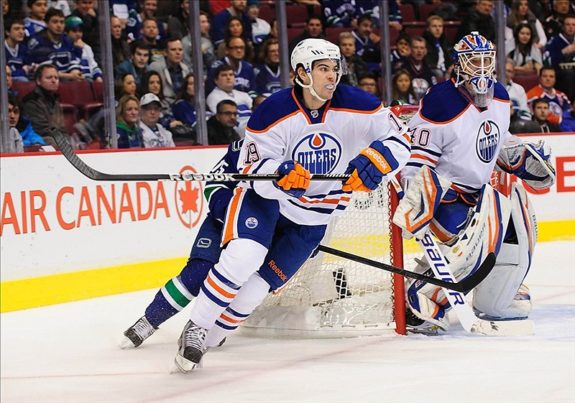 Overall, Schultz performed how the team should have expected him to. He showed flashes of being the elite offensive defenseman he was touted to be, and as with most young blueliners, showed some inconsistency defensively that can be improved upon with experience.
He has gotten some league recognition from less than a full season, be it on his performance or potential, as he was recently ranked #40 in ESPN's player rankings for defensemen.
The question now is, what to expect from Justin Schultz in his second NHL season?
Offensively it should be more of the same and a full season of it. He will be expected to quarterback the powerplay, one that should be near the top of the league with the amount of talent available on it. He will be expected to be a top pairing defenseman and log big minutes. Perhaps not the heavy lifting minutes in his own end and the PK just yet, but certainly 5 on 5 for the most part and on the PP. Ideally the Oilers want to allow the duo of Ladislav Smid and Jeff Petry settle into a second pairing role where they would be most efffective, which means Schultz needs to earn top pairing minutes.
With a year of maturity and now being able to go through a full training camp, there's no reason to think he can't be a top point producer in terms of defensemen league wide. A lofty goal to be sure, but one he has the ability to accomplish.
There should also be improvements defensively and to his overall game. No one is expecting him to be the next great shutdown defenseman, but his positioning and coverage should improve with a year under his belt. It's not that he was a liability last season, but he was overmatched and out of position a lot. He should be able to at least hold his own this season.
There are all indications that he will be paired with newcomer Andrew Ference to start the season as well. That can only help him. Not only can Ference provide a steady defensive presence with him, but he brings leadership and a winning pedigree that Schultz can learn from.
https://twitter.com/Nichols_NHLPool/status/378193103091281920
The Oilers hoped that Nick Schultz could provide the same last year and for the most part he did. He's just not a 20+ minute player in the league and is better suited to a complementary role. It's not that Ference is a top pairing defenseman exactly either, however he is an upgrade to Schultz and is used to playing 20+ nights on a Bruins team that had a deep group.
Schultz won't exactly be able to come into the radar this season, but certainly with less media attention than last year. While expectations for the team are much higher, there are far bigger issues being scrutinized that Schultz in camp.
He has the potential to be one of the next great puck-moving and offensive defensemen in the NHL, he has the skill set and ability to do so, of that there's no question. He also shows a maturity and poise with the puck that belies his young age. However, as with all the young potential stars the Oilers have, fans and management need to be patient and let him develop into that player. Defensemen traditionally take longer to develop in terms of their overall game than forwards do, so no one should expect his rise to stardom overnight. This season however, he will be expected to make that next step forward to being an elite NHL defenseman and continue his progression.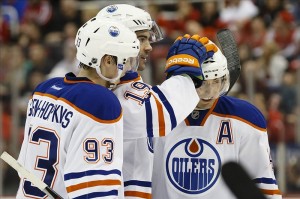 He is in the right environment with players like Hall, Eberle, Nugent-Hopkins and Yakupov all trying to reach their potential and live up to the hype.
They have a great opportunity to all experience their growing pains together and progress as a group. As frustrating early on as it can be for Oiler fans watching a young team with so much talent be so inconsistent, Oilers brass are hoping it pays off and they are a contender for years to come. Hall and Eberle are already locked up long term, with a Nugent-Hopkins extention expected imminently. Schultz is likely next in line and with a good season could also be in line for a big pay day.
In many ways, Schultz could be the key to the group. With such an abundance of forward talent, Schultz could be the straw in the Oilers drink.
What to expect from Justin Schultz in 2013-14? Expect him to put up points and move the puck with the best of them. Expect him to be a focal point in an exciting offence and powerplay unit. There will still be growing pains and work to be done defensively, but he will be better and he will continue to get better. He's just too good not to.
________________________________________________________________________________
Follow Carl on twitter @maloney3383 and Google+ for more articles.  
Carl covers the Edmonton Oilers for THW as well as providing additional prospect coverage. Follow him on twitter @carlTHW, connect on Facebook or contact at carl.maloney@hotmail.com for questions, comments or if you're interested in him writing for you.