The Edmonton Oilers perpetual issues on defense are well documented and seemingly never ending.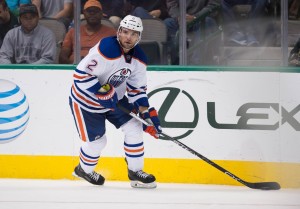 Lacking a legitimate first pairing defenseman since the departure of Chris Pronger following the 2005-06 season, the Oilers blue-line has lacked both consistency and elite skill. Numerous players have come and gone, while yet another overhaul was completed during the most recent off-season of 2015.
Andrej Sekera was signed as a free agent to a massive six-year, $33 Million deal, Eric Gryba was acquired from the Ottawa Senators in exchange for two prospects and Griffin Reinhart was picked up from the New York Islanders in return for two high 2015 NHL Draft picks.
Yet, despite these moves, the latter two completed to add greater depth to the Oilers blue-line, Edmonton's greatest on-ice issue remains the play of their defense. Inconsistency has become the most accurate term used to define the situation, which has failed to improve even after Darnell Nurse was re-called from the Bakersfield Condors.
Third Pairing Problems
Although the Oilers' defense has struggled to attain consistency thus far this season, one particular issue impairing the Oilers 'D' is a lack of depth, especially in their third pairing.
An issue exacerbated by injuries to Justin Schultz and Andrew Ference, the Oilers have yet to receive consistently solid play from either of Gryba or Reinhart, which has led to both defenders spending time in the press box, or in Reinhart's case, the AHL.
On the other hand, Brandon Davidson has been a pleasant surprise, cementing himself in a spot on the Oilers' third pairing. Not only has he been strong defensively in his first taste of NHL action, but he has also been productive offensively.
However, if the Oilers wish to add both experience, as well as offensive up-side, they could, and quite honestly, should consider the services of Brad Hunt, who is currently plying is trade with the Oilers farm team in Bakersfield.
Hunting For Defense
If the Oilers wish to increase their defensive depth, 27 year-old Hunt could be an increasingly attractive option, especially so considering his high level of consistent success in the AHL.
With 14 career NHL games under his belt, Hunt does retain experience at hockey's highest level. In fact, he scored his first career goal with the Oilers in the 2014-15 season on a bomb from the point, an incredible shot which he is well known for.

A four-year defender with Bemidji State University of the Western Collegiate Hockey Association, Hunt has played the vast majority of his post-college career in the American League, first with the Chicago Wolves, then associated with the Vancouver Canucks, before moving to the Oilers organization.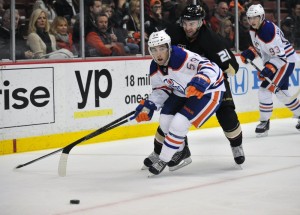 Undrafted, Hunt has carved out an impressive AHL career to date. Prior to the 2015-16 season, Hunt had played in 207 games, recording 35 goals and 139 points, including a 19 goal season in just 62 games with Oklahoma City in 2014-15.
To date this season, Hunt has once again been playing an extremely impressive and productive brand of hockey, notching four goals and 18 points in just 20 games, a team leading total.
Although Hunt is extremely productive offensively, his size, 5 foot 9, 190 pounds, has likely been a primary issue holding him back from a long-term NHL career.
However, if the Oilers wish to improve their blue-line, re-calling Hunt could be an attractive option. He would add an extra offensive punch, while his presence would allow younger Oiler blue-liners extra time to develop their respective games at the AHL level, a number of which have displayed that they are simply not ready for full-time NHL service.
In Hunt, the Oilers could be holding onto an unknown hidden gem, as it appears as though he is simply too good for the AHL, especially so when considering his incredible production, which, most desirably, has been incredibly consistent throughout his career.
Brett Slawson is a four-year veteran of The Hockey Writers who covers the Toronto Maple Leafs, NHL prospects, and the OHL's Mississauga Steelheads.
Contact Brett on Twitter @brettslawson92, or by email at brett_slawson@hotmail.com.