In reality, it has been years, no, decades since the Edmonton Oilers last retained a true, number one goaltender.
In reality, you could argue that Tommy Salo, who played for the Oilers from 1998-2004, was the last goaltender to give Edmonton consistent, definitive stability between the pipes on a nightly basis. Looking for a more sure bet? You have to search even further into Oilers history, where you find Curtis Joseph, who spent three years in Edmonton, from 1995-98.
In the 2015-16 season, the Oilers find themselves mired in the same unfortunate situation.
Despite acquiring Cam Talbot at the 2015 NHL Draft and signing Anders Nilsson, who spent the 2014-15 season in the Kontinental Hockey League (KHL) during this past off-season, the Oilers, similar to seasons passed, have thus far failed to receive consistent, quality goaltending from their two net-minders.
Sure, the Oilers can search the NHL for potential remedies, by why look any further than your own organization, especially when you have a blue-chip prospect who is NHL ready?
Slow and Steady Development Key to Success
Steadily improving his game in the AHL, as well as the East Coast Hockey League (ECHL) for the past two years, Laurent Brossoit has matured into a dependable, high quality goaltender.
In 2013-14, Brossoit's first year of professional hockey following a highly notable career in the Western Hockey league (WHL) with the Edmonton Oil Kings, he, to be honest, had a rough time in limited action in the AHL. As a result, he was made available in trade by his draft team, the Calgary Flames, who swapped he and Roman Horak in exchange for Ladislav Smid.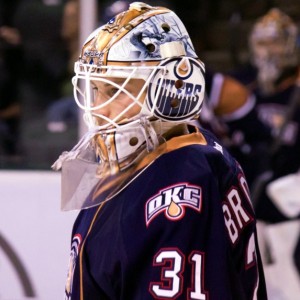 Brossoit finished up the majority of the 2013-14 season in the ECHL with the Bakersfield Condors, where he posted a terrific 2.14 Goals Against Average (GAA) and an equally impressive .923% Save Percentage (SVP%).
The following season, 2014-15, Brossoit played out the majority of the year in the AHL with the Oilers' former team, the Oklahoma City Barons. In 53 games, Brossoit's game showed remarkable improvement, securing a winning record, 2.56 GAA and .918% SVP%.
Brossoit also played in his first career NHL game on April 9th, 2015, taking the loss despite allowing just two goals on 51 shots against the San Jose Sharks.
In the two years following the conclusion of his WHL career, Brossoit made incredible strides in terms of the quality of his individual play. Despite an initial adjustment period to professional hockey, Brossoit has since become a dominant, yet most importantly, dependable and consistent goaltender within the Oilers' organization.
Brossoit Set for Stardom?
In 2015-16, Brossoit's play has continued to follow this trend, progressing in an extremely impressive manner.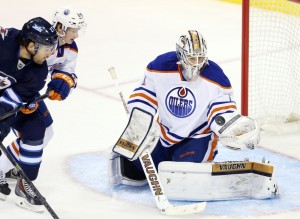 Early on this season, Brossoit has consistently flirted with a sub 2.00 GAA, while his SVP% has been incredible, in the range of .930% and higher.
As a result, following his steady development at various tiers of professional hockey, it appears as though the Edmonton Oilers could finally possess the solution to their perpetual goaltending woes, with the answer lying right within their own organization.
The Oilers have faltered out of the gate yet again despite renewed optimism surrounding the club and its supposedly revamped roster, meaning the time should come, quite possibly sooner rather than later, for Edmonton to give Brossoit an opportunity to seize the NHL crease.
With considerable improvement being displayed by Brossoit year in and year out alongside greater playing time and responsibility, the Oilers would be wise to re-call Brossoit, especially so if their season continues without significant improvement in team play.
Whether they realize it or not, Brossoit is quite likely the Oilers' most valuable prospect. As a result, it will only be a matter of time before he is given the opportunity to prove himself at hockey's highest level.
---
– Click here for Laurent Brossoit's current statistics –