There are lots of things to be thankful for with the San Jose Sharks. Way more than five. But it's the holiday season so we'll keep this list short. Hopefully, you're spending Thanksgiving with friends and family, even if that means avoiding subjects like politics and religion. At least everyone can agree on hockey, right?
I'll skip the more serious stuff, like the Sharks Foundation, which will make this holiday season better for those who are struggling. Of course that is where the true spirit of the holiday lies. There is much to be thankful for on an entirely more meaningful level. But for now, I'll stick to the team on the ice.
It's relatively early in the hockey season, but a lot of good has transpired in the last six months in the world of the Sharks, including the start of a season-long 25th anniversary celebration. So in spirit of the season for both hockey and holidays, let's take a look at some of the things to be thankful for in San Jose.
Home for the Long-Term
In the offseason, Sharks owner Hasso Plattner signed a ten-year lease extension with the city of San Jose. This means the Sharks will remain a tenant at the Shark Tank for another decade. When you have the sort of money Plattner has, you have choices. Plattner made a choice to stay in San Jose. Sharks fans have reason to be pleased.
The Cheaper Seats
The Sharks ticket prices are solidly in the lower half of the league. Even better, those prices aren't climbing, thanks to a dip in attendance. The Sharks are not selling out the venue these days, except for premium match-ups,. This means lots of cheaper tickets are out there. The Sharks are among the best values in Bay Area sports. A quick view over at StubHub shows Golden State Warrior tickets from $293 for their Tuesday night game. Sharks tickets for their Wednesday night game against the defending champion Blackhawks can be had for about $50. The cost of going to a professional sports event in the area can be daunting for many, especially for those with kids. The Sharks provide good value for the dollar.
So whether it's a promotional package or buying from Craigslist, there are deals to be had. And if you want even cheaper tickets, try an AHL San Jose Barracuda game. The chuck-a-puck alone is worth the price of admission.
Joe Thornton, Future Hall Of Famer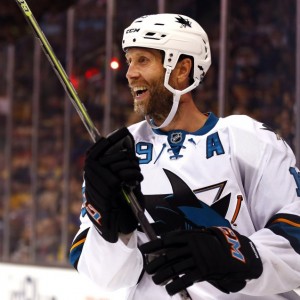 Your very own future hall-of-famer comes to play in San Jose. Joe Thornton may be slowing down a tad, but he is in legendary company in hockey history and still playing the game at a high level. He is 18th all-time in assists, likely to finish the season around 15th and headed into the top 10 over the next few years. Thornton didn't get an assist on this highlight goal, instead he helped set himself up with a savvy first pass. Thornton is the only Sharks player locked in to a hall pass, but he's not the only world-class player wearing teal. Add in Olympic medal winners Marc-Edouard Vlasic (gold), Patrick Marleau (two golds plus membership in the NHL's 1,000 point club) and Joe Pavelski (silver), and one can see San Jose is home to some of the best players in the world. Enjoy.
Brent Burns, MIP, Most Interesting Player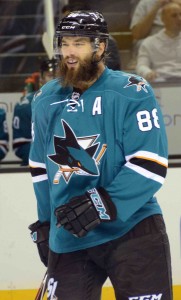 If you're interested in interesting, Brent Burns might be one of the best shows around. Highlights abound with Burns on the ice. The big defenseman with perhaps the wickedest wrister in the game, can cover large amounts of ice and is fully able to deliver big hits. One the flip side, he can be defensively challenged, which leads to highlight goals going the other way, such as the one in this link. Add to that a bigger than life persona and a beard that inspires comparisons to a wookiee, and you've got a natural … something. But whatever it is, its great fun. I'm actually kind of surprised we haven't seen a "the most interesting hockey player in the world" commercial. That just has to happen!
First Place
Yup, the Sharks are in first place in the weak Pacific Division. It has been a tale of three seasons. A four game win streak to start the season, then a precipitous fall when injuries took hold, followed by a sweep during a six game road trip. Alas, a six game win streak barely makes a ripple in Bay Area sports. The local NBA team is 15-0. So whatever good the Sharks are doing, it is under the radar. Just past the quarter mark for the year, there are two things a team hopes to avoid: major injuries and a deep hole they need to dig out of. The Sharks are actually getting healthier. As for that deep hole to dig out of, the Sharks have left that task to a pair of last year's playoff teams: Anaheim and Calgary. Enjoy first place Sharks fans and have a Happy Thanksgiving.