Darnell Nurse was out of position on the game-winning goal. But it was Jordan Eberle's name that was promptly thrown under the bus as the final buzzer sounded. Within reason of course, because Eberle lost his man on the play. However, number 14 isn't the first, and won't be the last forward to look dazed and confused in his own zone. Is this a piece in defence of Jordan Eberle? Not exactly. It's more of a reality check.
Eberle Will Always Be Frustrating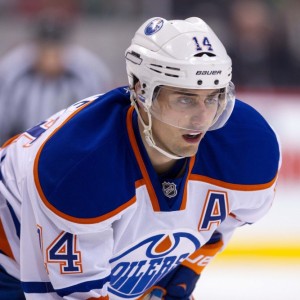 "Lack of defensive recognition." That was the description on Eberle's part in the goal against as described by colour guy Drew Remenda. An accurate assessment. Oilers fans on Twitter lamented Eberle's apparent lack of urgency on the other side of the puck, and the play against the Coyotes was case in point. Is it his body language? Does he not move his feet enough? Does he look like he'd rather flee the zone than the play defence? Perhaps, but we can't read his mind. So to suggest he "isn't trying" is often an unfair accusation.
But make no mistake, Jordan Eberle is not known for being a 200-foot player. A lot of forwards are not. There's a reason why the Selke trophy exists. There are rewards and recognition for players who commit to playing at both ends of the ice. But it's also not a given. Eberle falls into that category of offensive-minded guys whose strength is not playing defensively. If he was scoring 40 goals a season, it would be easy to accept that. Unfortunately, his maddening goalless droughts just make the whole situation worse.
And lastly, if performance matters, Jordan Eberle should be watching Tuesday from the press box. Lazy in his own zone yet again.

— Alex Thomas (@Alex_Thomas14) November 27, 2016
The fans' frustration with Eberle is certainly understandable. And considering his contract, it's often warranted. If you aren't scoring, play well without the puck. If you aren't strong defensively, be sure you're creating offensive chances. And make sure you bury your chances when you get them. Seems simple enough, right? Eberle is who he is. He's going to go on slumps. And he's going to make mistakes in the defensive zone. He's always been that way. If you're waiting for him to evolve into more of a complete player, you may have to wait longer.
Think of your teams worst player and then multiply that by 100. You get Jordan Eberle.

— 12-9-2 (@604hky) November 27, 2016
Does it mean that he can't become a better player defensively? Of course not. Should we assume he doesn't "want" to commit to defence? No, we shouldn't. Maybe that's something he's working on. Maybe the coaching staff doesn't push it on him enough. We don't know what's going on behind the scenes. Changing your game is not as simple as fans make it seem. If Eberle had scored the game-winner rather than be on the ice when it was scored against the Oilers, fans would be loving on him. Until the next game, probably.
How Good of a Player is Eberle?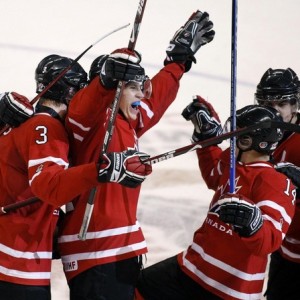 Remember when Jordan Eberle was Canada's hero at the World Junior Championship? He may have raised expectations a little. He was a feisty player with a nose for the net, and there was an assumption that would translate well at the NHL level. But this isn't Junior hockey. Eberle isn't the biggest guy out there (5 feet 11 inches and 180 pounds). He's been labelled as "soft", which isn't how you want to be known as a hockey player, but he certainly doesn't play a particularly physical brand of hockey. Ideally, you want him to use his speed and shiftiness to create space for other players, and clean up the garbage in front of the net.
In terms of production, his career numbers look like this: 448 games played, 152 goals, 196 assists, 348 points. Eberle wasn't rushed to the NHL. He spent time developing in the AHL, and he even went back to the WHL. He was drafted 22nd overall. The overall expectations should have always been tempered. But, compared to other right wingers in the NHL, his production has been pretty decent. Since he broke into the league inm 2010-11, up until now, his points are good for 8th best among right wingers.
He's been relatively durable too, as he ranks 14th in games played. He has more goals over that span than fellow right wingers Bobby Ryan, Blake Wheeler, Marian Gaborik, Patric Hornqvist, and Jakub Voracek. That's pretty good company. He has more points over that span than Marian Hossa, James Neal, and Rick Nash, among others. Is it possible that it "feels" like Jordan Eberle is a bad player but in reality he isn't?
It's okay to feel such things about players when you watch them game in and game out. You see the talent and the flashes of brilliance and you want more. You want to see the player develop and get better, not take a step back. You want to see him be a star, not a whipping boy.
What to Do With Jordan Eberle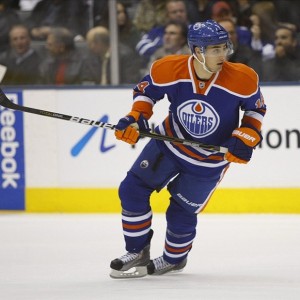 Should Eberle take a seat in the pressbox like Benoit Pouliot did? Does he need some more accountability for his less-than-desirable defensive play? Or do the coaches know what he is more than the fans? Again, from a production standpoint, he isn't as awful as Twitter would suggest. Save for his rookie season (and the lockout-shortened season), Eberle has scored at least 20 goals each year. Is a 20- or 25-goal player worth $6 million?
Loui Eriksson (five goals), Kyle Okposo (six goals) and Brandon Saad (six goals) also make $6 million. Jordan Eberle has the most goals of all them on the season with seven. Does that make his flaws excusable? No of course not. But is there too much expected of him? Maybe. Yes, it's frustrating watching him sometimes. Yes, you want to see more goals, especially if he's making mistakes at the other end of the ice. There are many players who are perceived to be "lazy" at times. That doesn't make it right, but it's part of this game.
Jordan Eberle better start acting like he wants to play the game and put some effort in the defensive zone. Terrible.

— Adam Blabac (@Ablabac15) November 27, 2016
In a perfect world, Eberle would be the kind of player who hustles at one end and scores big goals at the other. But this isn't a perfect world. The Oilers may be hoping to trade him at some point. Or maybe they think he's good in the room (hence the "A"). Jordan Eberle might one day become a complete player. It might be with another team that plays more conservatively and he has no choice. But right now, what you see is what you get. It's annoying, but it's reality.