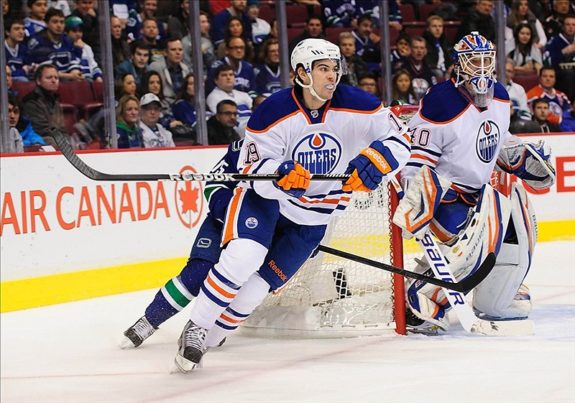 Justin Schultz is the next Oilers young gun ready to cash in on a new contract.
With the trio of Taylor Hall, Jordan Eberle and Ryan Nugent-Hopkins locked up long term to six and seven year deals respectively, what does that mean for Schultz?
The highly touted defenseman is in his second year with the Oilers, and his first full season with last year's lockout. He's a pending restricted free agent and it appears both sides are looking forward to getting a deal done.
Schultz would have no issue with being an Oiler long term;
"I'm pretty open to anything right now," he said. "Obviously I want to stay here and play for a long time. With the young guys they have locked up in a matter of no time we'll be winning. This is where I want to play and if the opportunity presents itself, that's what will happen."
While it seems like a no brainer that he will be kept in the fold, just what kind of deal does he get from GM Craig MacTavish?
Is it a similar long term deal to the three previously mentioned players, or a shorter two or three year bridge deal that has been popular around the league recently. The other issue is cost, will he get the same 6 million per season the other three did, or something in the 4-5 million range like Sam Gagner's deal.
There appears to be some negotiating room depending on what each side expects according to MacTavish;
"It all depends on the number," said MacTavish. "But if you're asking me if I consider Justin Schultz in that skill-level potential, I do. I think he's a terrific talent. His development has taken some steps this year — maybe in the last six weeks, in terms of really establishing himself as a guy who has a very, very high upside."
LONG TERM DEAL
With the Oilers in desperate need of help on their blue line, do they want to risk a short term deal with Schultz, as opposed to more long term security and locking him up for another five or six years. They've already locked up the others pieces of their core that have come out of their entry level contracts to the six and seven year deals for 6 million per year.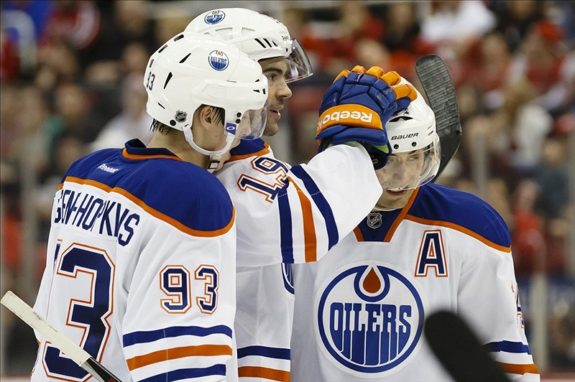 It stands to reason Schultz would also be looking for the same long term commitment as the others, although unlikely he would get a similar 6 million per year, probably something more in the 4-5 range.
Edmonton lacks a No.1 and probably No.2 defenseman on the roster currently. Schultz is not that guy yet, but realistically is the lone member at this point who could be. He is seen as part of the young core going forward and should be locked up accordingly.
He's already shown to have elite offensive ability and is not improbable that if he continues along his current progression that he becomes in the upper echelon of NHL defenders in that area. He may always be somewhat of a work in progress defensively, but if he turns into the Oilers version of Kris Letang, there won't be anyone disappointed in Oil Country.
Talent like that is hard to find, and the Oilers already fought off 29 other teams for his services two years ago, they can't afford to not lock him up long term now.
SHORT TERM DEAL
As with a long term deal, there is certainly an argument for a shorter bridge deal to be made. The Montreal Canadiens did the same with PK Subban, believing that he had to show them more before earning a long term deal with the club. Schultz is even less proven than Subban was when he was in this position.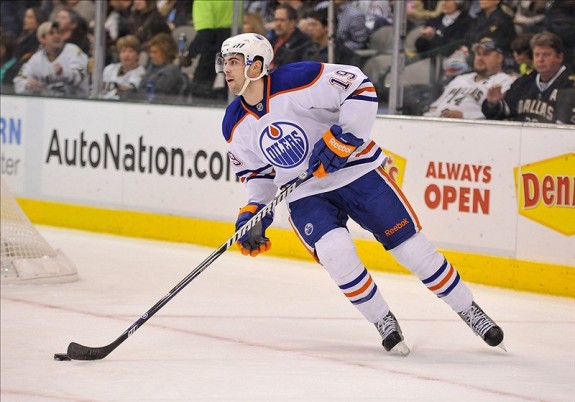 Subban has certainly proven his worth, but not all cases are similar. Schultz does have the ability to be an elite defenseman in the league, but has a very small sample size to prove it, and his progression has been slower than some have expected.
Signing him to a two year deal for 2-3 million dollars a year to prove his worth may be the smart thing to do for MacTavish, as he can't afford too many missed steps with a franchise that is already reeling.
COMPARABLES
Long Term:
Cam Fowler (22) – Anaheim Ducks – 5 years/$20 million
Roman Josi (23) – Nashville Predators – 7 years/$28 million
Travis Hamonic (23) – New York Islanders – 7 years/$27 million
Kevin Shattenkirk (25) – St. Louis Blues – 4 years/$17 million
John Carlson (24) – Washington Capitals – 6 years/$23.8 million
Zach Bogosian (23) – Winnipeg Jets – 7 years/$36 million
Short Term:
P.K. Subban (23) – Montreal Canadiens – 2 years/5.75 million
Michael Del Zotto (22) – Nashville Predators – 2 years/5.1 million
The names here can be debated at length as to how Schultz compares, or doesn't, and how he should measure up to others. 
Many of the names were already more established at a younger age than Schultz when they were in a position to negotiate these deals. Nonetheless, they will be used as comparables by the Schultz camp in terms of establising a number. Especially in the case of a long term deal.
MY TAKE?
As much as I'd like Schultz to prove he is worth a long term deal, the Oilers need to lock up what talent they do have on the backend.
If they can sign him to somewhere in the neighbourhood of 20-25 million over five years, it's a deal both sides can live with and not feel cheated.
https://twitter.com/TheCityOfChamps/status/438386573772861441
A cap hit of 5-5.5 million would likely be higher than the Oilers would like, but it may be the cost of doing business.
Currently their top four consist of Andrew Ference, Jeff Petry, Justin Schultz and then depending on the night it could be Anton Belov, Nick Schultz or Martin Marincin playing in the top four. It's not exactly a confidence inspiring group.
Ference and Petry make a solid second pair, but are playing above their station when asked to be a No.1 duo. Justin Schultz at this point is also better suited to being a No. 3 and at best a No.2. The rest of the group can only be considered depth defensemen.
Schultz even now is arguably their best defenseman and certainly in their top three. Petry is the team's best two way defenseman and a valuable top four blueliner, but he will never be a top pairing guy on a good team. Ference is solid but is 34 and on the downside of his career.
There is some talented prospects in the system, but nothing proven and even though players like Darnell Nurse and Oscar Klefbom are projected to be impact defensemen, the Oilers cannot rely on the fact that they will be ready to assume a regular role in two or three years.
MacTavish is in the unenviable position of having few assets on defense and can't afford to lose the big one he has in just a couple years if the Oilers hope to be a playoff contender at that time.
Which means they need to find a number that works for both parties in terms of salary but make sure it means Schultz is part of the long term future of the club.
________________________________________________________________________
Follow Carl on twitter @maloney3383 and Google+ for more articles
Carl covers the Edmonton Oilers for THW as well as providing additional prospect coverage. Follow him on twitter @carlTHW, connect on Facebook or contact at carl.maloney@hotmail.com for questions, comments or if you're interested in him writing for you.