It may be too early to send Oscar Klefbom's surgeon a gift basket, but perhaps a "thank you" card is in order.
During the first handful of games of the 2018-19 National Hockey League (NHL) season, Klefbom is dancing on the Edmonton Oilers' top pairing.
The fact that he's the No. 1 defenseman on the Oilers is not a surprise, given the lack of depth Edmonton has on the back end, but Klefbom is actually playing like a top blueliner and that is unexpected for a number of reasons.
Heading into the season, there were more question marks attached to the 25-year-old Swede than a Riddler Halloween costume.
Staying With the Oilers
One of those questions focused on whether or not Klefbom would even suit up for the Oilers this season. When the team announced in March that their 2011 first-round selection would undergo season-ending shoulder surgery, it put an end to a disappointing campaign for the defender.
On the heels of a breakout 2016-17 year that saw Klefbom post a career-high 12 goals and 38 points (16 of them on the power play), the 6-foot-3 defenseman was limited to five goals and 21 points in 66 games last season. After missing most of the 2012-13 season to shoulder surgery and being limited to 30 games in 2015-16, when he fell victim to a staph infection, Klefbom developed a reputation as an injury-prone player.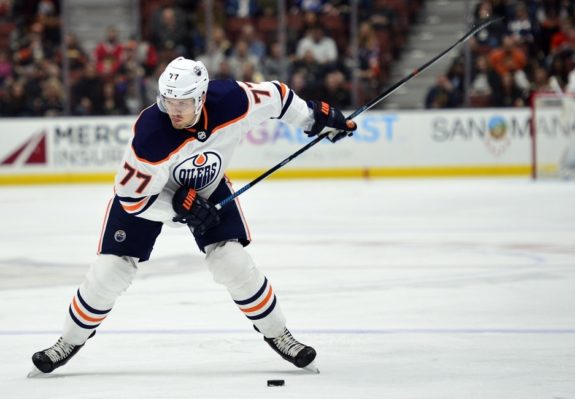 Add in another dismal year of non-playoff hockey in Edmonton and there was internal and external pressure on the team to shake things up. Klefbom's name appeared frequently in trade rumours, including mention of a swap for Boston Bruins blueliner Torey Krug, but Oilers' General Manager Peter Chiarelli ultimately decided to keep his workhorse around. With a contract that pays Klefbom an annual salary of $4.167 million through 2022-23, it's understandable why Chiarelli went with the cap-friendly route.
Return From Injury
Another question surrounding Klefbom was how he would respond after returning from major shoulder surgery. Following his 30-game season that was devastated by a staph infection, No. 77 bounced back with a career year that helped lead the Oilers into the playoffs. In addition to his point production of 2016-17, Klefbom also posted a plus-seven rating. It was the first season that his plus/minus finished on the positive side of the ledger.
With Andrej Sekera expected to miss most, if not all, of the 2018-19 season after he ruptured his achilles tendon during off-season training, the Oilers' defense can ill afford further disappointments on the back end.
It's too early to determine precisely what kind of year Klefbom will turn in, but the early results are positive. Through seven games, Klefbom is showing no signs of injury. He's put up three points, all assists, and two of those have come on an Oilers' power play that is clicking at a rate of 30.4%. He is on pace to score 35 points. That's not elite territory when it comes to offensive NHL defenseman but it is competent and a much-needed return to form.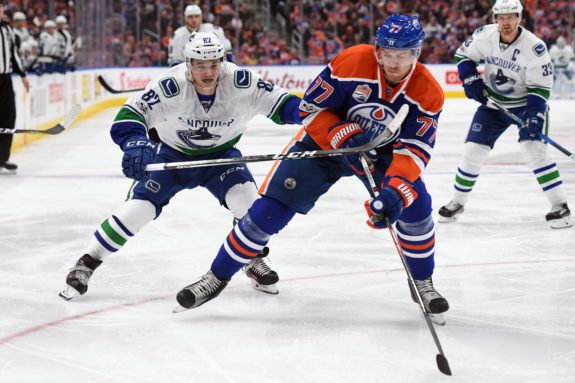 The biggest indicator of a Klefbom's health, however, can be seen in his shift work. He is currently logging an average of 25 minutes and 23 seconds of ice time per game, while putting in 30 shifts a contest. His ice time ranks ninth in the NHL, just below Alex Pietrangelo of the St. Louis Blues and Erik Karlsson of the San Jose Sharks. Klefbom's shifts per game, meanwhile, are 10th in the league, right up there with Los Angeles Kings' star Drew Doughty and Chicago Blackhawks' veteran Duncan Keith. His workload has also increased over the last three games, during which time Klefbom averaged over 28 minutes of ice time against the Penguins, Predators and Bruins.
What the statistics don't reveal, the eyes do. Klefbom has looked at ease defensively and his shoulder is showing no signs of wear and tear on the power play.
Oiler fans may want to look up the name and address of that shoulder surgeon.
Ian Wilson is a life-long hockey fan who was initially drawn to the sport by the Edmonton Oiler dynasty of the 1980s. He brings decades of journalism to the table as a former editor and reporter with the Calgary Sun.