On Tuesday night, the Pittsburgh Penguins took on the Edmonton Oilers and the hockey world's eyes were on Sidney Crosby and Connor McDavid. Arguably the two best players in the world, Crosby got the last laugh after his highlight reel overtime goal. The Penguins are in the midst of a six-game road trip across Canada and have won the first two, and while everyone seems to be talking about Crosby, Jamie Oleksiak has been the guy to emerge in the wake of Justin Schultz's injury.
ANOTHER GOAL FOR OLEKSIAK! He's a BEAST.

5-5 game with with 13:09 left in the 3rd period. pic.twitter.com/1i6GoPaJY3

— Pittsburgh Penguins (@penguins) October 24, 2018
Traded from the Dallas Stars to the Penguins in 2017, Oleksiak has been one of many moves by general manager Jim Rutherford that has really worked out in their favor. After struggling to make the lineup every night in Dallas, Oleksiak has been a staple on the Penguins blue line and has really succeeded in his role as a big, puck-moving defenseman with an absolute cannon for a snapshot.
Filling the Skates of Justin Schultz
When it was announced that Justin Schultz would be out for four months with a lower leg fracture, there were a lot of questions about how the Penguins' defensive core was going to react. Kris Letang has been a stud since the opening puck drop, but Oleksiak has really stepped up his game in Schultz's absence.
Since Schultz went down on Oct. 13, the Penguins have a record of 2-1-0 with wins over the Vegas Golden Knights and the Washington Capitals, and Oleksiak has taken his game to another level. He is averaging 22 shifts per game, has two goals, and is a plus-two rating (he was a minus-one rating before the Schultz injury).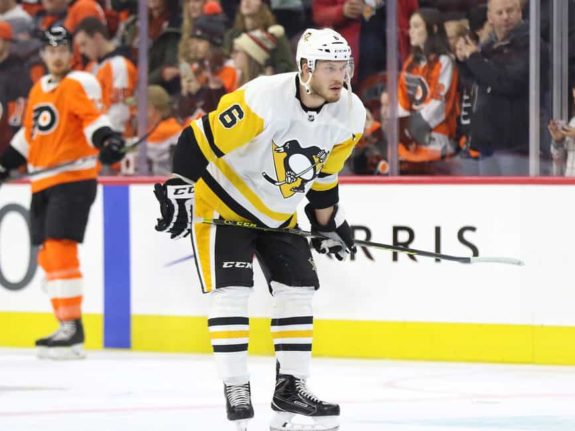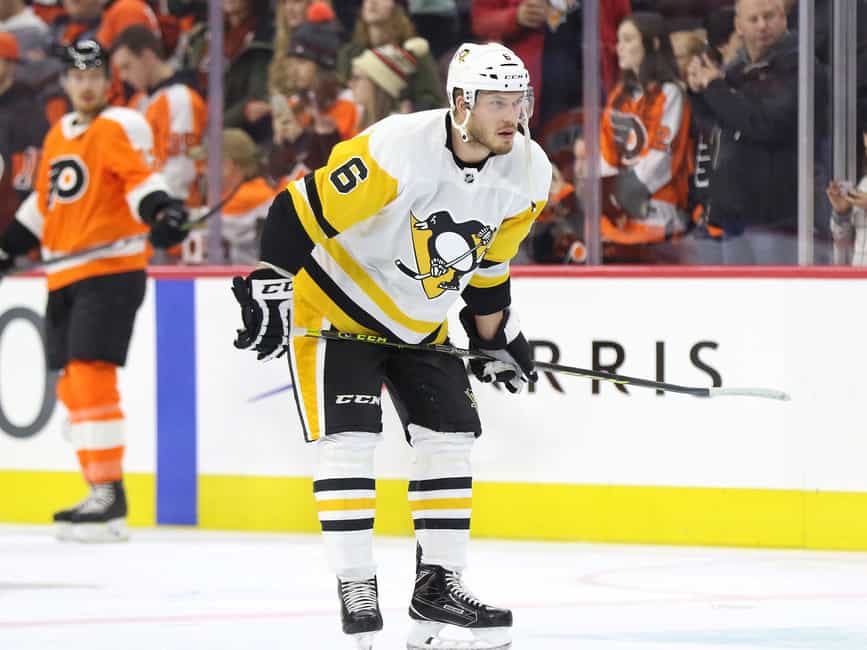 It's unfair to say that Oleksiak is the only one who has stepped up since Schultz went down, but he has arguably been the one to step up the most. Juuso Riikola and Jack Johnson have both seen a huge uptick in ice time and have played solid, but neither has really been a game changer like Oleksiak.
In the Penguins most recent game against the Oilers, with the Pens down 5-4 in the third period, it was Oleksiak who walked in from the point and ripped an absolute bomb of a slapshot by goaltender Cam Talbot. The game-tying goal set up Crosby's overtime winner that will likely be on his highlight reel until the end of time.
Physical Presence
The biggest difference between Oleksiak's stint with the Stars and the Penguins is that he finally understands that he needs to use his size to his advantage. It's no secret that Oleksiak isn't the fastest guy on the ice, but at 6-foot-7, 255 pounds, he is usually the largest guy on the ice. The NHL certainly isn't as physical as it was a decade ago, but Oleksiak needs to throw his body around on a nightly basis in order to set a physical tone for the game.
In his last season with the Stars, Oleksiak was only averaging about three hits every two games, but since getting shipped over to the Penguins for a conditional fourth-round draft pick, he has averaged nearly three hits per game. His physical presence makes a huge difference for guys like Crosby and Evgeni Malkin, who have to feel safer on the ice knowing that Oleksiak is there to protect them if needed.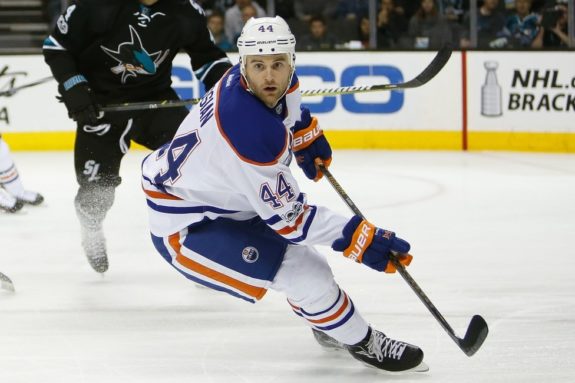 His two goals against the Oilers were a huge reason for the Penguins victory, but Oleksiak also dropped the mitts against Zack Kassian in the first period, which certainly seemed to change the pace of the game. What started as just another regular season game quickly evolved into a game that mirrored the pace of a playoff tilt.
Nobody is asking Oleksiak to be a superstar, it's just not in the cards. All he needs to be is a safe, solid defenseman who can use his size to his advantage. The good news for Penguins fans is that Oleksiak seems to have finally fallen into his role and understand what is expected of him every night. If the Penguins are going to continue their winning ways during the six-game road trip, he will need to consistently play at this new, elevated level.
I am a proud Ohio University graduate, where I got both my bachelor's and master's degree in journalism; I also played on the club hockey team for four years. I have been blogging about the NHL for about the last ten years and am an avid Pittsburgh Penguins fan. I currently live in Columbus, OH with my wife and 2-year-old son, Graham. As a hobby, I compete in strongman competitions and still get on the ice once or twice a week. Hockey is the greatest sport on earth!