On Thursday night, the Pittsburgh Penguins visited the Toronto Maple Leafs for the first game of a four-game road trip across Canada. It wasn't just Penguins goaltender Matt Murray's return to the ice after missing some time with a concussion, but Maple Leafs netminder Frederik Andersen made his first appearance back in the net since suffering a knee injury.
😁 Why are we smiling, you ask?

We're just watching this Matt Murray highlight reel from his 38-save shutout last night. pic.twitter.com/iCcZe1uVaR

— Pittsburgh Penguins (@penguins) October 19, 2018
A game that was supposed to high scoring turned into a goaltending duel as both Murray and Andersen made incredible saves as the game went on. Murray's best save of the night was on new Maple Leafs center, John Tavares who found himself wide open in front of the cage after receiving a pass from Mitch Marner, only to be denied by Murray's right pad. Penguins forward Carl Hagelin stressed how important Murray's performance was to their all-around team game.
He told Jonathan Bombulie of the Pittsburgh Tribune-Review,
"He was good. That's the type of performance we need from him," Hagelin said. "When he's like that, it makes our whole team play better, with more structure. We're not too worried about shots from the outside or any shot that's not a Grade-A scoring chance," (from 'Matt Murray, Evgeni Malkin lead Penguins to win over Maple Leafs, Pittsburgh Trib-Review, 10/18/18).
The Penguins won 3-0 (two empty-net goals) and Murray and Andersen combined for 74 saves. It was a huge statement by the Penguins to hold the Leafs scoreless considering they had been the highest scoring team in the NHL through their first seven games. Before running into Murray, the Maple Leafs were averaging 4.7 goals a game and had scored at least three goals in every contest.
While the win was huge for the Penguins, the night was more special for Murray and defenseman Kris Letang, who both hit significant milestones.
Murray Moving Up Franchise Shutout List
It's crazy to think that at just 24 years old, Murray is already putting himself in elite company, among the best goaltenders to ever wear the Penguins' crest. Already the franchise's all-time leader in save percentage at .916, Murray's shutout against the Maple Leafs was the seventh of his career and tied him with Johan Hedberg for fourth in Penguins history – Pens fans might remember Hedberg, also known as Moose, for his atrocious blue pads back in the early 2000s.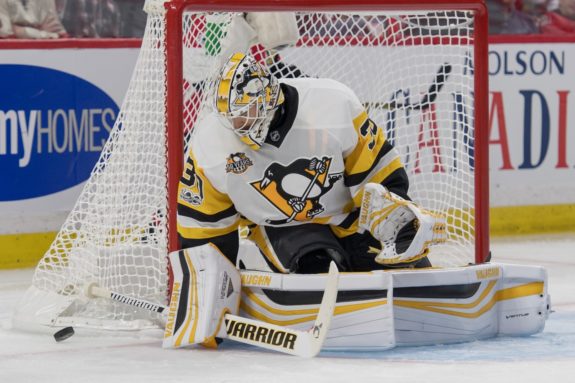 The three goaltenders that are now ahead of Murray are Les Binkley (11), Tom Barrasso (22), and Marc-Andre Fleury (44). By the end of this season, Murray will likely come close to surpassing Binkley for third all-time, and then only time will tell if he can find a way to pass Barrasso and Fleury, who are inarguably the two best Penguins goaltenders in the franchise's 51-year history.
The biggest question for Murray moving forward will be whether or not he can remain healthy. Already with three concussions under his belt, the Penguins' front office will need to be smart about how they utilize him as the season goes on. Penguins backup Casey DeSmith has been average so far this season and will need to improve. He will likely see more starts than your average backup due to Murray's injury history, but Penguins fans had to be excited to see Murray play so well in his return.
Kris Letang Buries His 100th
It wasn't the prettiest goal of his career, but Kris Letang bounced the Penguins' second empty-net goal of the night into the cage for his 100th career goal. Already the franchise's leading scorer among defensemen, Letang's 100th was just another step in the road in what has been a remarkable turnaround since the 2017-18 postseason. Like Murray, Letang has struggled with injuries throughout his career but he has been the Penguins' best player this season through the first six games.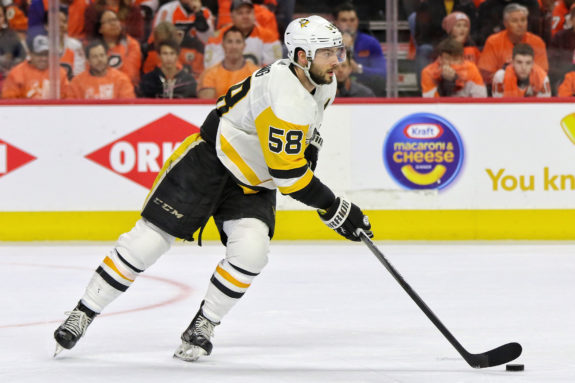 This season, Letang has two goals and six assists – his eight points are good for the third in the NHL among defensemen – but it's how much ice time he is averaging per game that really shows how important he is to the team. After six games, he is averaging 26:08 TOI per game. Only Drew Doughty and John Carlson are averaging more TOI.
The next highest TOI on the team is Brian Dumoulin at 21:54, which means that Letang is on the ice for five or six more shifts per game than any other Penguins player. He is the heart and soul of the defense and while it may be a struggle trying to replace Justin Schultz, who is out for the next four months with a lower leg fracture, the Penguins have a chance to win night in and night out if Letang continues to play at the level he has shown so far this season.
I am a proud Ohio University graduate, where I got both my bachelor's and master's degree in journalism; I also played on the club hockey team for four years. I have been blogging about the NHL for about the last ten years and am an avid Pittsburgh Penguins fan. I currently live in Columbus, OH with my wife and 2-year-old son, Graham. As a hobby, I compete in strongman competitions and still get on the ice once or twice a week. Hockey is the greatest sport on earth!