The Carolina Hurricanes are one of the youngest teams in the NHL. They are young, loaded with talent and writing what many believe will be a new chapter in the team's history. These "young guns", as I glossed them years ago, are the here and now of this franchise and its future.
Taking the Hurricanes' Census
Roughly half of the team is under the age of 25. Some of the young guns have moved on such as Noah Hanifin, 21 and Elias Lindholm, 23. Others have been added like Andrei Svechnikov, 18, Martin Necas, 19, Warren Foegele, 22, Lucas Wallmatrk, 23 and Valentin Zykov, 23. Necas was sent to the Charlotte Checkers earlier this past week.
Then there are the "veteran" young guns like Sebastian Aho, still only 21 years old but already entering his third season with the Hurricanes. Though he is not wearing the captain's "C", Aho is leading his young peers by example.
The point streak continues for @SebastianAho. pic.twitter.com/Xi5HI3eFqx

— NHL GIFs (@NHLGIFs) October 20, 2018
He started this season more offensively productive than he was in the previous two. His potential for an amazing year is just beginning and will likely exceed expectations.
Growing on the Ice
The team is young, yet maturing quickly. Aho has improved every season since entering the NHL in 2016. Though not mentioned in the same sentences as Connor McDavid, nobody who has watched Aho play will deny that he has sky-high potential.
As these young players develop and stop making as many mistakes, the consensus is that the Hurricanes will be a team that others would be wise not to take lightly. But, they are young and they are making mistakes, and head coach Rod Brind'Amour acknowledged that after last Tuesday night's 4-2 loss to the Tampa Bay Lightning. Brind'Amour said,
We know that we can play with them. The difference is we have little, little margin. So, when you self-destruct on certain things, that's going to come back to bite you against these great teams. That's what the lesson is.
It's like having a really fast runner who is skilled in sprint races being asked to run an 800-meter race. The runner has to develop and learn how to run a longer distance. Similarly, the young Hurricanes are having to grow into their games, learning as they play. So far this season, the team has had some success and there is excitement surrounding the Hurricanes that has been absent for quite some time.
With Youth Comes Chaos
I have acknowledged that what the Hurricanes are putting on the ice is a "chaotic brand of hockey." I was reminded by a fan that chaotic means confused or in a state of disorder. At times this season, that's exactly how the 'Canes have looked.
Of course, looks can be deceiving. The team is not confused or in a state of disorder, but rather playing a relentlessly attacking style that can resemble chaos. There is a clear difference between the high-energy style of hockey that Brind'Amour is coaching and the strict positional style of previous head coach Bill Peters.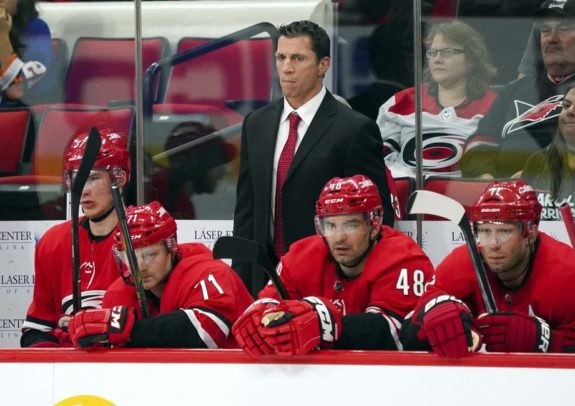 Brind'Amour's style resembles a high-octane approach that is not unlike his personal approach to fitness – go all out. So far his "young guns" have responded well to what resembles the old NCAA basketball of the University of Arkansas. Head coach Nolan Richardson called it "40 minutes of hell" because the opposing team never got a chance to let up or catch their breath.
Richardson took his brand of hoops to an NCAA Men's Basketball Championship in 1994. Perhaps Brind'Amour can take his brand of hockey – 60 minutes of relentless high energy attacking – to the playoffs in his first year as head coach.
That's Entertainment
This year's model of the Hurricanes is entertaining. They play a fast-paced game that is exciting and fun to watch. Owner Tom Dundon has stressed his goal that the folks that come to Raleigh's PNC Arena to watch his Hurricanes be entertained. He is reaching that goal so far.
However, entertainment does not always equal winning, as the Hurricanes have found over the past week. Saturday's loss to the Colorado Avalanche highlighted the reality that Brind'Amour's young team is not always going to win. As Brind'Amour said after the game, the chances for scoring are there, they just need to be buried.
Goaltending continues to be an issue for the 'Canes. If their netminders cannot consistently start hitting a save percentage of .900 or higher, it will be tough for the team to win. Still, so far this young season, the "young guns" are having fun and so are the fans. Being entertained is good for a fan base that has been frustrated for nearly a decade. If the Hurricanes can make the playoffs, the fun will be that much sweeter.
Mark lives in the Raleigh, NC area and covers the Carolina Hurricanes.