Bowen Byram and Kaedan Korczak have become the best of frenemies.
Yes, frenemies — as in friends who also happen to be enemies.
Friends from their time together this summer at the Hlinka Gretzky Cup in Edmonton, forming a defence pairing in helping Canada capture gold.
Enemies from their rivalry in the Western Hockey League, playing for B.C. Division foes with Byram a member of the Vancouver Giants and Korczak the Kelowna Rockets. Both are key cogs for their teams in this their NHL draft year.
"Off the ice we're pretty good buddies now, since the tournament, but once we get on the ice, it's business," said Korczak. "It's a big rivalry here, Kelowna-Vancouver. So we're not friends anymore, we're more enemies on the ice."
In sports, all opponents are considered enemies — figuratively — but these two literally fought as WHL rookies last season.
Reminiscing About Their Fight
That tilt took place on Nov. 24, 2017 in Langley — home of the Giants — with the budding stars surprisingly dropping the gloves in the third period of a one-goal game, which had Kelowna leading 3-2 with less than six minutes remaining.
That score held up for a Rockets' road win, and Korczak also got the decision in what was the first WHL fight for both promising prospects — first-round picks from the 2016 bantam draft and likely first-rounders again at the 2019 NHL draft to be held in Vancouver next June.
Looking back — after admitting he's watched the fight a time or two or 10 since — Korczak wasn't bragging about getting the upper hand on Byram.
"It was the first time for both of us, we just wanted to get that out of the way, so it was nice to get it against him," said Korczak. "It was pretty fun."
Byram echoed those sentiments and admitted to scripting their scrap. It sure looked like a heat-of-the-moment clash — coming together deep in Kelowna's zone after Byram went end to end — but, turns out, there was more than meets the eye.
"I asked him earlier in the second (period) if he wanted to get the first one out of the way and he said 'yeah, sure' . . . so when I saw him (in the third), that happened," recalled Byram.
Korczak confirmed that version of events and the staging of sorts.
"I remember I was skating back for an icing and he just asked if I wanted it and I said 'maybe'. And then the time came, when he rushed in, and I knew that was the time," said Korczak. "It was pretty cool and fun I guess."
Cool story, indeed, but their hands are better served for scoring and defending than fighting. Their bouts will be few and far between, each finishing last season with just two and neither having one to date this season.
That's not a big part of their game and never will be.
Joking About Their Fight
Yet, it was all the rage at Hockey Canada's under-18 camp in Calgary in July ahead of the Hlinka Gretzky Cup in August when they became teammates and eventually defence partners.
"All the guys kind of found out that we fought and it was pretty funny and a joke in the locker room for sure," said Korczak. "It kind of kept us all loose and joking around, so that was good."
"Guys would say 'hopefully you guys aren't fighting in warm-up today' or whatnot," elaborated Byram. "It got a good chuckle from both of us."
There may have been a sense of awkwardness at first, but they laughed it off real quick.
[miptheme_quote author="" style="text-center"]"It's funny, we did fight last year, but we ended up being pretty good buddies and we played together for the whole tournament," said Byram, adding he also did some off-ice training with Korczak. "He's a great guy and it was really fun getting to know him."[/miptheme_quote]
That's behind them now, so don't expect a rematch in the fisticuffs this season, right?
Well, never say never.
"I don't know, we'll have to see what happens on the ice," said Byram, breaking into laughter ahead of their second meeting of the season today in Langley. Byram and the Giants got the better of Korczak in their first encounter of 2018-19, blanking the Rockets 5-0 on Oct. 3 in Kelowna — there was only one fight in that game, Vancouver's Dylan Plouffe against Kelowna's Conner Bruggen-Cate — and spoiling the party at Prospera Place on the same day the Rockets were awarded hosting rights for next season's Memorial Cup in 2020.
The teams will be fierce rivals between now and then, with Byram and Korczak growing into leading roles for their respective clubs.
"You can be whatever you want off the ice, but when you get on the ice, it's game-time," Byram said of putting their friendship aside.
Moving Past Their Fight
Enough about fighting, it's time to highlight their real skill-sets. And who better to provide the scouting reports than each other.
Byram is a projected top-10 pick and an A-lister for the 2019 draft, according to NHL Central Scouting. He's as dynamic as he is explosive, reminding many of Matt Dumba from his WHL days, but perhaps with an even higher ceiling as a pro.
"He's a very good player, a very smart player that thinks the game well," said Korczak, acknowledging that Kelowna has to game-plan specifically for Byram in their head-to-heads. "When he's on the ice, everyone's got to be aware because he can make the plays and go around guys. We just have to make sure we get the body on him."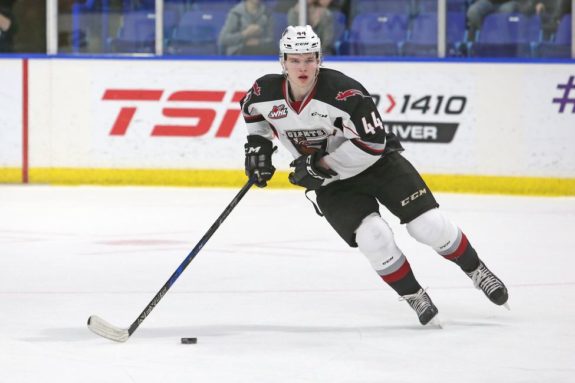 Byram is also an excellent skater, which makes him elusive and harder to hit, but that's not what he prides himself on.
"I think I'm a smart hockey player, that I have good hockey sense," said Byram. "That's the strongest asset I carry and I try to use that to my best advantage every game."
Korczak was listed as a 'B' prospect among Central Scouting's players to watch — suggesting a second- or third-round pick — but many scouts see him as a riser based on his performance at the Hlinka Gretzky Cup and given Kelowna's penchant for producing NHL defencemen. In fact, TSN's Craig Button already has Korczak as a first-rounder, ranked 16th overall on his preseason list.
"He's a great two-way player and he uses his size to his advantage," Byram said of the 6-foot-3, 188-pound Korczak. "He plays a simple game, but super effective."
Reliving Golden Moments
Paired together coming out of that U18 camp, they developed instant chemistry over the course of a short tournament and became Canada's go-to tandem en route to winning the Hlinka Gretzky Cup, defeating Sweden 6-2 in the championship game on Aug. 11.
Byram finished with four points in five games, including one goal, while Korczak contributed three assists.
"We complemented each other well," said Korczak. "When he was in the rush, I was covering back, and vice versa."
Like Batman and Robin, they played to each other's strengths from start to finish.
[miptheme_quote author="" style="text-center"]"We're kind of the types that fit together well," agreed Byram. "I might be a bit more offensive than him and he may be more of a stay-at-home guy, but we gelled well and I think we played good."[/miptheme_quote]
Good enough to win gold, which is the career highlight for both to this point.
"Obviously any time you can play for your country, it's always an honour," said Korczak, who called the experience 'super fun'. "I just tried to go into it and play my game. I just stuck to my game and followed what the coaches wanted there, and it worked out."
"It was great, it was a fun time for sure," added Byram. "Just getting to meet some new guys, like Kaedan, was nice and it was awesome to get that gold medal."
Kelowna Relying on Korczak
As evidenced at that showcase, Korczak isn't as flashy as Byram, but he's an all-situations defender for Kelowna who is eating a lot of the minutes left behind by Cal Foote, who graduated to the pro ranks this fall after captaining the Rockets last season.
"Playing a bigger role this season, it's been good so far," said Korczak. "Playing lots of minutes is something I looked forward to this summer and something I trained for."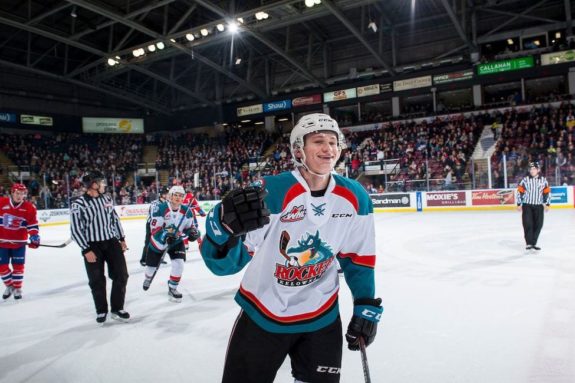 Jason Smith, now in his third campaign as Kelowna's head coach and a former NHL defenceman who was a first-round pick out of the WHL back in 1992, is certainly leaning on Korczak as a sophomore. He's quarterbacking the power play, anchoring the penalty kill, and hopping over the boards whenever the games are on the line — whether the Rockets are attempting to overcome a one-goal deficit or protecting a one-goal lead.
"That's part of a player growing his game. I think he has the skill-set to do it and the will to do it, and now it's about going out and executing," said Smith. "That's what all these guys aspire to be, is the No. 1 or No. 2 guy that plays all aspects of the game and logs big minutes."
Korczak is proving capable of handling it all despite his team's poor start to the season in the midst of retooling their roster.
He's been an absolute work horse for the Rockets in filling Foote's big shoes — Foote wears size 16 skates, for the record — and watching Korczak, as a smooth and effortless skater, you get the sense there is still some untapped offensive upside to his game once he starts green-lighting himself to join the rush more often.
Foote, the 14th overall pick by Tampa Bay in 2017, had six goals and 57 points in 71 games during his draft year, then exploded for 19 goals and 70 points in just 60 games last season while missing a month to help Canada win gold at the 2018 World Juniors.
Korczak has the potential to follow a similar path, with a similar jump in production over the next two seasons — even if they are quite different players in terms of style.
Smith avoided that comparison but heaped praise on Korczak's progression during his still young WHL career.
"You start the year where he was last year, just getting his feet wet and learning the game, and by the end of the year he was playing 20 minutes a night. That's a sign that he's a quality talent," Smith said of Korczak, who worked his way into a top-four role and was one of Kelowna's better blueliners in a first-round playoff loss to Tri-City.
"By the end of the year, he made a big enough impression with enough people to get an opportunity to go to that summer camp with Hockey Canada and then he played in the tournament in Edmonton and he was real good player there," added Smith. "I got a chance to see a couple games at the Hlinka Gretzky Cup and he was poised, he was confident, and he defended really well. He's going to be a guy that we rely on to play more than 20 minutes a night."
Talking Draft Year
As for the draft-year hype and the possibility of being first-round picks, everybody was doing their best to downplay that and ensure it doesn't become a distraction.
"You don't want to put too much pressure and too much extra expectation on these guys, especially in a year like it is for them," said Smith. "It's a big year, it's a draft year, and there's going to be enough outside noise and pressure on them to go out and perform. We need to manage that and give direction, but also allow them to grow and get better as players."
Korczak had a canned answer ready to go as soon as the subject came up. As soon as he heard the words 'draft year' . . .
"I don't really think about it too much," he said, "I just do what I do and control what I can control, and it'll take care of itself."
Byram was a bit more forthcoming on that front, but he wasn't pumping his own tires by any means.
"It's exciting, it's a big year for all the 2001-born prospects, but we just have to play the proper way and hope for the best," said Byram. "I think I've been playing OK so far, but there's always room for improvement, so I'm just working on the small areas of my game. Just my all-around game is the most important thing I can work on, making sure I'm good in both ends of the ice."
They are simply letting their play do the talking — like most prospects try to do — and so far, so good for these two.