Hopes were high all around when the Calgary Flames drafted Sam Bennett at the 2014 NHL Draft. At fourth overall Bennett was the highest-ever pick in Calgary Flames history and the thought was Bennett would be an impact player for years to come.
Unfortunately, Bennett's been the victim of some challenging circumstances and things haven't turned out as intended. Heading into a contract year under a new head coach, Bennett finds himself in a fairly precarious position – whether he plays well or poorly, he might find himself on thin ice with the Flames.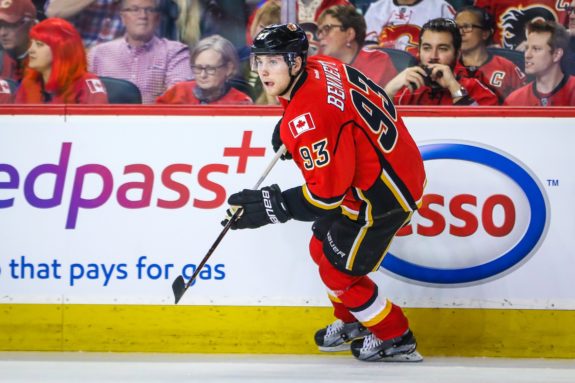 A Brief History of Sam Bennett
Bennett had the attention of NHL scouts from a young age, as he was teammates and occasional linemates with Connor McDavid growing up. He became a star with the Ontario Hockey League's Kingston Frontenacs, earning him the designation as the top North American skater available in the 2014 NHL Draft according to the Central Scouting Service. He famously was unable to do any pull-ups at the NHL's Scouting Combine – though it was later discovered that was because he needed shoulder surgery.
When Bennett was selected at fourth overall, he became the Flames top forward prospect automatically – Sven Baertschi was struggling to adjust to the pro game, Johnny Gaudreau had played a single NHL game, and Sean Monahan had a year of experience under his belt and seemed primed to be a useful middle-six center. Bennett impressed at his first training camp, but needed shoulder surgery and was out until late February. In his absence, Gaudreau and Monahan lit it up.
Since then, Bennett has continued to slide down the depth chart. Mikael Backlund continued his growth and cemented himself as a bonafide Selke contender. Matthew Tkachuk was drafted and made team out of 2016-17 camp. Micheal Ferland had a strong stretch, then was traded to Carolina for Elias Lindholm. Through asset management and improvements from other players, Bennett slid down the depth chart through no fault of his own.
While Brad Treliving's roster moves pushed Bennett down the lineup card, Bennett's own performances didn't do much to halt his movement. After a strong playoff debut in 2015 and a very effective rookie season in 2015-16 on Backlund's wing, he was converted to a center and struggled to adjust. His first NHL season saw him generate 18 goals and 36 points, but his production has since dropped off with two consecutive seasons of 26 points while toiling in the Flames' bottom six forward group.
He'll become a restricted free agent with arbitration rights at the end of the 2018-19 campaign. His options with the Flames are seemingly limited no matter how his season goes.
If This Season Goes Poorly
Arguably the worst-case scenario for Bennett is another season with an ill-defined role and limited offensive production. His best season saw him on Backlund's flank and he was utilized effectively as a crash-and-bang winger – a role that's since been given and expanded upon by Tkachuk – and if he's unable to carve out an effective niche it's difficult to determine where he fits in long-term.
In other words, the worst-case scenario for Bennett is becoming another Curtis Lazar: a smart junior player that just can't find an effective role at the NHL level. Lazar found himself in the AHL this season because the Flames were able to find more attractive, versatile, cost-effective bottom six options on the open market – Austin Czarnik for a $1.25 million cap hit – or within the organization – Dillon Dube on an entry-level contract.
Another so-so season for Bennett could see him priced out of town.
If This Season Goes Well
Here's the most challenging part of Bennett's situation: if he has a breakout season, it's unclear if the Flames have the wiggle room under the salary cap to give him a market value contract. If his production returns to that of his rookie season, in the vicinity of 40 points, he would be due for a raise which would potentially push his 2019-20 compensation closer to the $3 million range.
The problem for the Flames is two-fold:
The Flames need to re-sign Tkachuk to a contract extension – which won't be cheap – when his entry-level deal expires following this season. They also need to either re-sign goaltender Mike Smith or find another starting netminder, which again won't be cheap.
The Flames already have six forwards signed through 2020-21 with cap hits of $3 million or more: Gaudreau ($6.75 million), Monahan ($6.375 million), James Neal ($5.75 million), Backlund ($5.35 million), Lindholm ($4.85 million) and Derek Ryan ($3.125 million). With the team's salary structure, it's difficult to fit in another big or medium-sized deal under the cap.
Even if Bennett has a breakthrough season, his compensation likely won't fit in with the club's long-term structure. He's also unlikely to supplant Gaudreau or Tkachuk for top six left wing time or Monahan or Backlund for top six center time, meaning the Flames would be paying a premium for a third line winger over the long haul.
In other words, it's unclear what the immediate future holds for Bennett regardless of his performance this season. In many ways, he's stuck in hockey's "no man's land" and it's an open question what will happen with him following this season.
Ryan Pike has covered the Calgary Flames and the NHL Draft extensively since 2010 as a Senior Writer for The Hockey Writers and Senior Contributing Editor of FlamesNation.ca. A member of the Professional Hockey Writers Association, he lives in Calgary.