The Curtis Lazar project is the topic du jour these days in Ottawa — and with good reason. The 22-year-old is struggling through the worst season of his young NHL career, prompting demands from fans to trade, demote or release the youngster, or even expose him in the expansion draft.
The only consensus, it seems, is that there is no consensus about what to do with him. This is a player who, in his final two years in junior with the Edmonton Oil Kings, put up 137 points in 130 games and led his team to a Memorial Cup championship in 2014.
But this is also a player who boasts only 36 points in 172 NHL games, including just one point in 29 games this season. Success on the score sheet doesn't always translate from the junior ranks to the show (see: Daigle, Alexandre), but such a profound drop off is a stunning turn.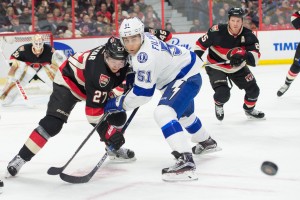 As frustrating as his play was the past two seasons, 2016-17 has been a new low for the suddenly offensively challenged Lazar. If you're into omens, contracting mono and having to sit out until Nov. 19 while recovering is just about as bad as you can get.
No one would have blamed him for getting out to a slow start – and, for the most part, no one did when it inevitably occurred – but as the cold spell stretched beyond just a few games, patience began to wear thin. Rather than waiting for the situation to correct itself, general manager Pierre Dorion pulled the trigger on a deal for Tommy Wingels in January to create some competition.
But the move hasn't exactly had the desired effect, with Lazar still sitting at just the single point while Wingels has already matched him in the scoring race. It's a frustrating situation, but even more so is the fact no one can quite figure out why there has been a sudden drop from Lazar.
Changing Role
One possible reason for the stutter is Lazar is struggling to adapt to his role in Ottawa. With the Oil Kings, Lazar was front and center in his team's offensive scheme, but in Ottawa, he has been placed into an unfamiliar defence-first bump and grind role more associated with power forwards than scorers.
As easy as everyone likes to think it is, not all transitions from scorer to power forward work out as well as that of, say, Sean Couturier. When the Philadelphia Flyers drafted him in 2011, he was coming off back-to-back 96-point seasons in the QMJHL, but since arriving in Philly, he has pivoted to become a defensively responsible and consistent 30-plus point producer.
When the transition works out as well and as quickly as it did for Couturier, it's easy to feel validated, but in the case of Lazar, that validation has been hard to come by and has no doubt affected his confidence. Compounding matters is the fact Lazar has recently found himself in the press box as a healthy scratch, a trip that could become more regular thanks to a crowded roster.
Lazar and Borowiecki are both out. Neil is in.

— Brent Wallace (@tsn_wally) January 31, 2017
Confidence isn't the only thing he's lacking in, as his ice time has also taken a hit: He's averaging just 8:23 TOI per game, down roughly 5:30 from his average last season. He hasn't done much to warrant being given more ice time, but it's tough to ask more of him when he plays so sparingly as is.
Where to Next?
As mentioned, there have been many suggestions as to what avenue the Sens should explore with regards to Lazar's future. As TSN's Darren Dreger reported, teams have been calling on Lazar, but the Sens would do well to hold onto him unless a deal that's too good to pass up falls into Dorion's lap (not likely).
Should they wish to take the risk, the Sens could also attempt to send Lazar down to their AHL affiliate in Binghamton this season and hope no team claims him off waivers. But the odds of him clearing aren't great given his entry-level contract and the fact teams wouldn't have to give up any assets to get him.
Another option that has become increasingly possible is the idea of leaving him exposed in this June's expansion draft. Coming into the season, one of Ottawa's forward protections seemed destined to be Lazar's, but Ryan Dzingel has since played his way into the safe zone at Lazar's expense.
One option that hasn't been discussed with much enthusiasm is the idea of bringing Lazar back in free agency on another two-way deal. It likely won't make Lazar or his agent happy, but at this point, he doesn't have much leverage, and in the long-term, a two-way deal would give him a better chance at success.
Without the risk of losing him on waivers, the Sens could send him to Binghamton, have him work on his game and get comfortable in Guy Boucher's system, then recall him when he's able to contribute consistently. And should things not work out immediately, the Sens could just send him right back down for some more seasoning.
There's no easy fix to the situation, and there's no telling in which direction the Sens are currently leaning, but there is a role for Lazar to play in all this. If he finishes the season strong, he can make the Sens' decision about his future a much more difficult one to make.