The St. Louis Blues can't catch a break.
Their team allows the fourth fewest shots per game in the NHL, but they're somehow allowing 3.11 goals against per game, which ranks 26th. Now, they're losing some of the offense that was helping to counteract their porous net. Forward Robby Fabbri is done for the season.
The team announced Sunday that Fabbri will require season-ending surgery after suffering an ACL injury Saturday against Pittsburgh. Even if the Blues make a run and get into the postseason, they'll be without Fabbri. He's not expected to be back with the team until training camp in September.
That's a tough situation for the Blues and new coach Mike Yeo, who has taken over for the fired Ken Hitchcock. Unless Jake Allen rediscovers his game or GM Doug Armstrong trades for another goaltender before the deadline, the only hope the Blues have is creating a ton of offense. Fabbri has been a good contributor, potting 11 goals and 29 points through 51 games of his sophomore campaign. Now, he'll be joining another forward, Kyle Brodziak, on injured reserve.
In response, the Blues have recalled both Magnus Paajarvi and Kenny Agostino from the AHL's Chicago Wolves. Paajarvi has NHL experience and is capable of creating offense, but Agostino may be the most interesting of the duo. The 24-year-old winger leads the AHL with 60 points (18-42-60) through only 48 games.
After entering the NHL in the 2013-14 season following the conclusion of his senior season at Yale, Agostino grabbed eight NHL games. Since then, he's only had the chance to play two more games in the NHL. The Blues will want to see what they have in the young left wing and hope that his AHL success can translate up to the big leagues.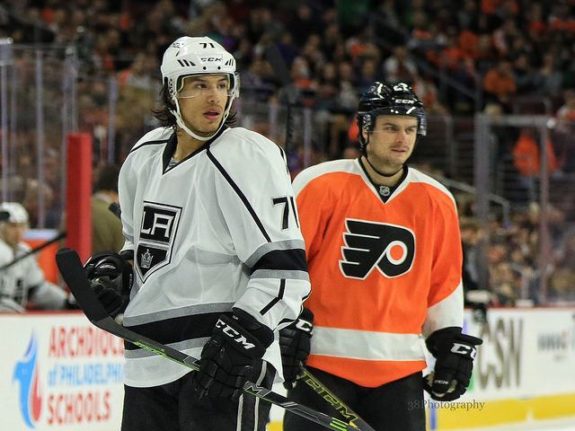 Nolan Goes to IR
The Kings placed center Jordan Nolan on injured reserve Sunday evening. The designation is retroactive to Feb. 1.
The forward has an undisclosed injury dating back to a game against the Avalanche in which he played just 6:55. He has missed two games since going out of the lineup. With no update on his status, it's not clear how long he'll be out.
However, the designation means he'll at least miss Tuesday's game against Tampa, but will technically be eligible to return to the lineup Thursday against Florida.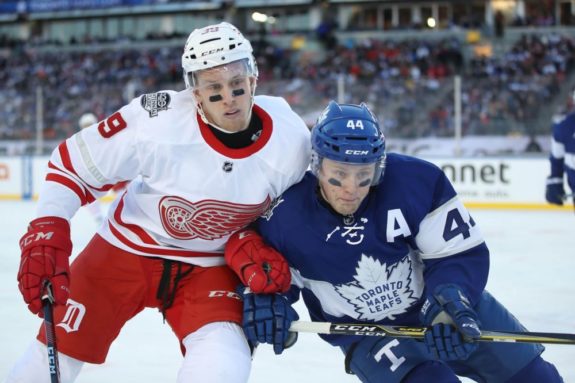 Reilly Dealing With Sprain
The Leafs were dealt a blow in mid-January when they lost Morgan Rielly, their top defender. He returned surprisingly soon, already having appeared in two games since going out in the first period of a Jan. 17 game against Buffalo.
Following Saturday's win over Boston, coach Mike Babcock revealed that Rielly is dealing with a high-ankle sprain, according to The Athletic's David Alter. High ankle sprains tend to require a long recovery and Rielly has not missed much time.
That's why it's not surprising that Babcock revealed Rielly tweaked the injury during Saturday's game. He also said it's just something that's going to happen until Rielly is able to fully recover.
Rielly skated more than 22 minutes Saturday but visibly struggled at times.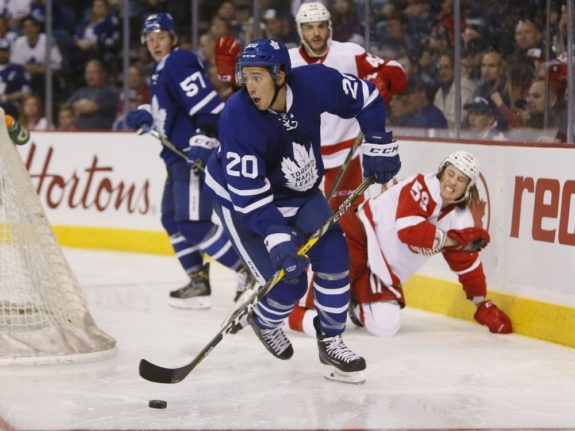 Corrado to Marlies
Following the acquisition of Alexey Marchenko off waivers, the Maple Leafs have sent Frank Corrado to the AHL's Toronto Marlies. Corrado, who has only played two games this season, was waived Saturday and cleared Sunday at noon.
Despite being with the NHL club all season, Corrado hasn't been able to crack the lineup and will finally see some game action in the AHL. He's been an epicenter of attention since being claimed by his hometown Leafs off waivers last season. He was given a 39-game audition last year and has spent almost all of this season watching games from the press box.
Odds & Ends
– The Capitals have reassigned forward Jakub Vrana to the Hersey Bears of the AHL. He has a goal and three points through 12 NHL games this season.
– Kris Versteeg was ejected from Sunday's game against the Rangers after getting in a fight with New York's Pavel Buchnevich. You don't see it often, but his jersey was pulled off because it wasn't tied down and that's an automatic game misconduct.
On his way off the ice he gave a sarcastic wave to the fans at Madison Square Garden.