The Leafs have shaken up their blue line by claiming 25-year-old defenseman Alexey Marchenko off waivers from the Red Wings. That move has also prompted them to waive embattled defenseman Frank Corrado.
Marchenko played his first full NHL season last year, tallying two goals and 11 points in 66 games. This season, he's been called on to play 30 games, posting six assists so far. Over the last two seasons he has put together a -0.51% adjusted CF%Rel with an expected goals for percentage of 49.97%, according to Corsica.
Meanwhile, Corrado, a Toronto native who has garnered more press than any fringe player this season, has been in the doghouse, playing just two games after a 39-game audition with the Leafs last season following a waiver claim from Vancouver. The Leafs have been apprehensive to send him to the AHL for fear of losing him on waivers. With added depth, that's no longer a concern.
Over 41 games in the last two seasons, Corrado has an expected goals for percentage of 47.99% and an adjusted CF%Rel of 1.62%.
Meanwhile, it's yet another player the Red Wings have lost on waivers. It's become a regular thing for them over the last season and a half. Landon Ferraro was claimed by the Bruins. Teemu Pulkkinen was claimed by the Wild. Martin Frk was claimed by Carolina (and later re-claimed by Detroit). Now Marchenko is gone.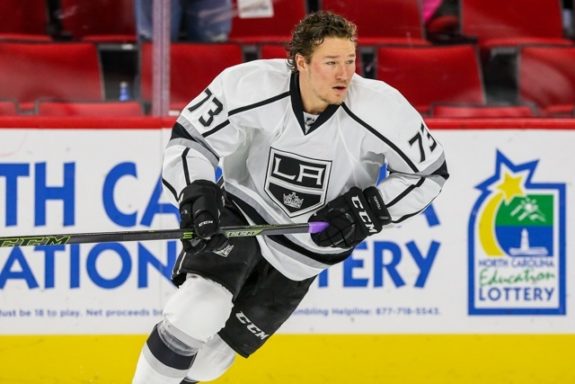 Toffoli Activated
The Kings have activated forward Tyler Toffoli from injured reserve. He's been out of the lineup since Dec. 20 and his return will be welcomed with ecstatic, open arms. The Kings have, as in the past, been a strong possession team, but struggle getting pucks in the net. Their 2.55 goals per game ranks 22nd in the league. Meanwhile, their 54.17% adjusted CF% ranks second.
Toffoli, who cracked 30 goals last season, put up eight goals and 20 points in the first 32 games of this year's campaign before being placed on the shelf. With only Jeff Carter and Tanner Pearson above eight goals, Toffoli's return couldn't come soon enough. He missed all that time and he's somehow tied for third in goals on the team.
The Kings kick off a four-game road trip Saturday against the Flyers.
Elias Retiring?
New Jersey Devils veteran Patrik Elias sounds a bit like a man about to hang up his skates for the last time. He's been skating on his own, as highlighted by Yahoo Sports, but hasn't played this season as he recovers from offseason knee surgery. After playing just 16 games last season, he had surgery in May to replace cartilage in his knee.
"It's very hard after all these years going through injuries like that, for quite a while you kind of re-think everything, what's worth it, if you're still capable of competing at the highest level," Elias said on the Devils pregame radio show Friday. "I gotta make a decision soon, not [just] to be honest with myself, but at the same time for respect to the guys."
Elias indicated over the summer that if he returns he'll play for the Devils or not at all. The 40-year-old has spent his entire 20-season career with the organization. He reportedly spoke with general manager Ray Shero about how he's feeling close to Christmas but has obstacles to overcome before he's able to be at NHL speed. If he was to return, he'd need to pen a new contract because he's an unrestricted free agent.
"You kind of listen to yourself and listen to your body and your mind," Elias said. "If your mind isn't into it anymore 100 percent then obviously the results won't be there. I don't want to go on the ice and play just for the sake of playing. I still want to be capable of accomplishing something [and] help the team."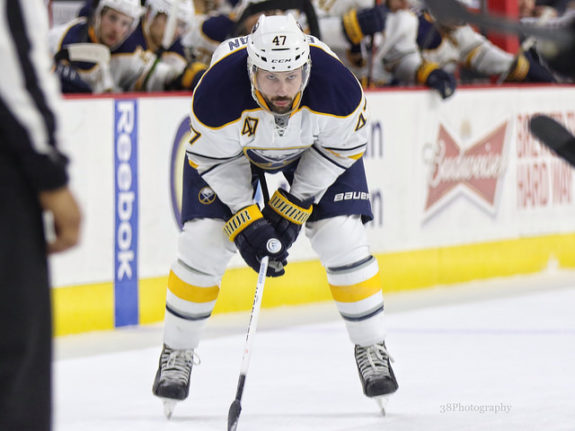 Bogosian Out
Zach Bogosian is considered day-to-day with a rib muscle injury, reports Mike Harrington. The Sabres defenseman is unlikely to play Saturday's game against the Senators.
Bogosian missed significant time earlier in the season when he was diagnosed with a sprained MCL. He went out after playing just 5:45 in a Nov. 1 game against the Wild and didn't return until Dec. 17.
Through 30 games this year, Bogosian has one goal and five points while averaging just slightly north of a shot per game. He hasn't been outstanding, but the Sabres are as good as a moldy each on the blue line (though it's been improving). It creates a situation where any injury feels significant as they claw to at least show some improvement when they're supposed to be rounding the corner on a rebuild. They're currently tied for last place in the Eastern Conference.
No One Claims Ribeiro
Nashville center Mike Ribeiro was placed on waivers Friday and cleared Saturday at noon. That's a big fall for a player who was once a serious offensive threat.
Ribeiro, who has scored 27 goals and more than 80 points previously, has just four goals and 25 points through 46 games this season. The 36-year-old is in the final year of a deal that carries a cap hit of $3.5 million. It'd be awfully sweet for the Predators to get that off the books before the trade deadline with reports that general manager David Poile may be uncharacteristically aggressive at the deadline this year.
The Predators were seen as a preseason force in the Central, but have struggled to assert any kind of dominance. They're sitting in third place in the Central in part because the Blues goaltending situation turned into a pumpkin and three white mice.
Panthers Owner Withdraws From Trump Appointment
Florida Panthers owner Vincent Viola has withdrawn his candidacy for Secretary of the Army under the Trump Administration.
Viola cited an inability to detangle his financial dealings in a sufficient manner to enter public service.
More Arizona Arena Drama? No Way
Arizona State University, a Division I college program, has withdrawn from a potential arena partnership with the Arizona Coyotes that would have put them in a new facility. Officials said Friday the school "has no intention of proceeding to sign a development agreement or an option to lease or any other agreement with the Coyotes," according to azcentral.com.
Coyote CEO Anthony LeBlanc released a statement to ABC15 shortly after the school made their announcement.
While a new Coyotes arena built with ASU would have been a big winner for our fans, taxpayers, the university, and our team, the Coyotes had and continue to have a number of options for a new arena.

Nevertheless, the Coyotes are committed to the Valley for the long term, and we will continue to explore other options that will ensure a successful future for the team and our fans. We're a determined bunch – on the ice and off the ice. We intend to do everything we can to keep NHL hockey here in Arizona.
The proposal unveiled in November revealed a facility with an NHL rink and an attached facility that would be for public use as well as the home of the Sun Devils hockey team.
Odds & Ends
– The Predators have recalled goaltender Marek Mazanec and reassigned Juuse Saros to the AHL. Pekka Rinne remains the starter as the Preds continue to battle for a wild card spot in the West.
– The Lightning have recalled forward Joel Vermin to the NHL as they continue to struggle with depth issues due to injuries, including the ongoing absence of Steven Stamkos.
– The Blue Jackets have added forward Markus Hannikainen to their roster on an emergency basis.
– Here's a smooth goal from San Jose Sharks prospect Nikolay Goldobin in the AHL.
https://twitter.com/zakkthebear/status/827691231782121472
Dustin Nelson is the News Editor for The Hockey Writers. He's a contributor to Hockey Prospectus, Hockey Wilderness, and writes a column for Rotowire. He's also written for Gone Puck Wild, Wild Xtra, InDigest, Electric Literature, The Rumpus, Tiny Mix Tapes, Prefix Magazine & other publications. Have a tip? Email him at dlukenelson[at]gmail[dot]com.