It's hard to find a team more exciting than this year's Winnipeg Jets. There are better defensive teams in the league, and there are teams that score more goals. But few teams match the skill the Jets have on their top two lines (and seeping into the third).
Since the new year, the Jets' offence has reached another level. On many teams, one or two players will provide the bulk of the offence. This year, there are five on the Jets fighting to get points for their team. To get an idea of how good the team has been, let's take a look at some player statistics.
The Jets Unstoppable Offence
We love a good high-scoring game. But to goaltenders facing the Winnipeg Jets, it's been a horror story lately. The Jets have been one of the best offensive teams in the league in 2017. Strangely enough, the only change the Jets have made is on the backend, calling up former starting goaltender Ondrej Pavelec.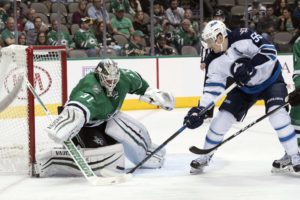 This explosion would be easier to track if just one player was on a hot streak, even two. Since 2017 began, five forwards are averaging a point per game or better. The defence is getting into the scoring as well. Jacob Trouba and Dustin Byfuglien have combined for 22 points in 16 games. Patrik Laine had an eight-game point streak snapped last night, Bryan Little had points in seven straight before last night and Blake Wheeler has found the board for five straight.
Mark Scheifele has been outstanding the past calendar year. Since Feb. 3, 2016, Scheifele is third in league scoring with 89 points in 84 games, trailing only Sidney Crosby and Connor McDavid. He also sits third in goals, his 42 only narrowly trailing Crosby and Alexander Ovechkin. In 2017, he's tied for fourth in league points, with 20 in 16 games.
I still haven't mentioned Nikolaj Ehlers' under the radar play, or Andrew Copp's seemingly perfect addition to the top six. Josh Morrissey is starting to show his offensive upside, with four assists in his past five games. The Jets as a team have scored the second-most goals in the league in 2017, behind only the Washington Capitals.
The Bottom Laine
What's the main cause for this potent offence? I don't think you can necessarily point to one thing in particular so instead, I'll propose two main contributing factors. First, the presence of the young player from Finland.
Considered by many to be the next 'Finnish Flash', he has not disappointed. Laine is second in rookie points, despite an injury that knocked him out of the lineup for a few games. The 2016 2nd overall pick is tied with the 1st overall pick, Auston Matthews, in goals.
Consider that, in his absence, the Jets scored 3.43 goals per game. Since his return, the team has averaged 3.8 goals per game (4.25 before last night's game against Colorado).
This is happening without Laine's goal scoring prowess. Since his return five games ago, he has scored twice and assisted on four. Little and Scheifele have picked up the goal scoring with four each. Laine isn't the best player in the NHL now, but he's on his way to becoming an elite player and a constant All-Star.
The Leadership Group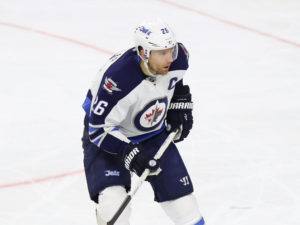 The second contributing factor to the Jets offence is a dedicated leadership group, starting with their top scorer. We can't talk about the Jets' offence without mentioning Scheifele. His impact stretches beyond the score sheet. He was given the 'A' last year, with many arguing he should have been given the 'C'.
The man who did get the 'C'? He's done nothing but work hard day in and day out. Wheeler has 46 points this season, which would lead 19 other teams in points. After the departure of Andrew Ladd, you couldn't ask for a better leader to take over. He's doing this while controlling the shot attempts at a 55.20 percent rate.
The last player in the leadership group is Byfuglien, who plays 27:20 minutes a night, leading the NHL in that category. During that time, he's racked up 34 points.
And while he doesn't have a letter on the front of his jersey, Little is a leader on the team. He ranks third with 0.88 points per game. More importantly are his contributions in the faceoff dot. Little has won 55.7 percent, tied for 10th in the league for centers who've taken over 500 faceoffs.
Is This Sustainable?
The offensive explosion that has seen the Jets score three goals or more in six of their last eight games may seem unsustainable. But six teams in the league average better than three goals per 60 minutes. The Jets are averaging 2.87 this season while the Toronto Maple Leafs and Columbus Blue Jackets are averaging 3.03 and 3.26 goals per 60 minutes, respectively.
Scheifele's scoring explosion may taper once his shooting percentage drops, but he is proving himself to be a top-10 scorer in this league. Laine is already putting himself in that category as well.
Whether this is sustainable depends on the development of the other young players. Will Ehlers continue to click with Laine? Does Copp cement himself in the top six? Has Trouba become the number one defenseman he said he was? Will Morrissey continue to show his offensive side?
While the goaltending remains questionable, the Jets offence isn't. If they aren't already, the Jets will soon be a team every opposing coach fears.