Curtis Lazar had everything going for him coming out of junior hockey. As a member of the Edmonton Oil Kings, Lazar won two WHL Championships and a Memorial Cup, scoring 41 goals in just 58 games in his last season with the team. He was drafted by the Ottawa Senators in the first round of the 2013 NHL draft and made the team as a 19-year-old just a year after being drafted. Lazar was even loaned to Canada's 2015 World Junior team, a team which he captained to the country's first gold medal in six years.
But things took a turn in Ottawa. Before long, the junior star wasn't producing as many expected him to and he couldn't seem to get a grip on his game in his first NHL season. After a disappointing second season which saw Lazar fail to make any major strides forward in his game, there was talk that Lazar might be a bust. Then heading into this year, after getting mono, Lazar was assigned to the AHL for the start of this season. In a 13-game stint in Binghamton, Lazar put up just three goals and an assist before being recalled to Ottawa. But upon returning to the Senators, Lazar was pushed to the background. Averaging under ten minutes per game in ice time he totalled just one assist in 33 games with Ottawa. It was clear Lazar didn't have a long-term future in Ottawa.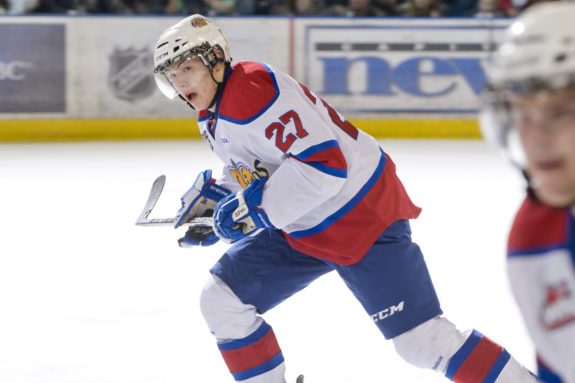 Lazar was dealt to the Calgary Flames and got a much-needed fresh start. Despite not getting a ton of ice time, Lazar looked good in his first two games and then after sitting as a scratch again, Lazar made a big impact playing with Matthew Tkachuk and Michael Frolik. With three points in his first four games with the Flames, Lazar looks to be fitting in and should be part of Calgary's future.
Curtis Lazar, Third-Line Centre
Calgary has a lot of talent up front, a good amount of which will remain with the team for quite some time. Calgary already has a first line in Johnny Gaudreau, Sean Monahan and Michael Ferland, then a reliable second line with Mikael Backlund playing between Tkachuk and Frolik. But with an uncertain bottom-six in the coming years, Lazar may be the answer. Sam Bennett was slated to be a quality third-line centre, but with him failing to produce, bringing in Lazar gives the Flames more options and stability down the middle.
Kris Versteeg is solid and can play top-nine on the right side, so bringing Lazar in allows for the Flames to move Bennett to the wing in the future should they desire. Versteeg may not stick around after season's end and as much as people hate the idea of Troy Brouwer having a future in Calgary, if Brouwer can regain his form from previous years he could even play right wing on the third line.
Keeping the Roster Young
The Flames are in a position where the core part of their team is young and they need to keep it that way. Dennis Wideman's contract expires as soon as Calgary's season does, but signings like Troy Brouwer's are the type of players that the Flames want to avoid in the future. At just 21 years old, Lazar can be part of the Flames' core for a very long time and will fit in well with fellow young talents like Gaudreau, Monahan and Tkachuk.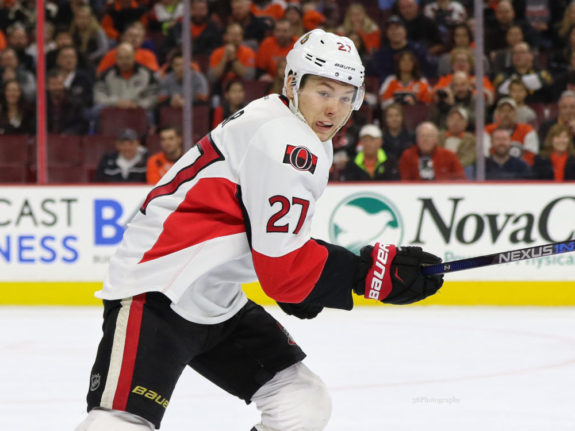 With aging players like Brouwer and Mark Giordano in the lineup, it's important that the Flames continue to find a balance of young stars and veteran leadership on their roster— while not overdoing it on the veteran side. Curtis Lazar will be able to develop at a steady pace in Calgary, a team who undoubtedly has plans for the future, compared to in Ottawa where the Senators are feeling the pressure of entering a win-now mode.
Of course, the Lazar trade came with risk. When a player doesn't pan out like expected in his first two and a half seasons, there's no guarantee he ever will. It's still early and who knows, maybe Lazar won't even work out for the Flames. That being said, for just a second-round pick as the main piece going the other way in the trade, taking a chance to build the Flames for the future with Lazar was worth the risk.