Fans of the Carolina Hurricanes are ecstatic that their team has started the season so well. It is almost impossible to remember a start this exciting but underneath the shiny veneer of winning and scoring goals lies a troublesome reality. The Hurricanes have still not solved their challenge between the pipes.
Hurricanes Hot Start
For some, this observation may seem like a wet blanket on an exciting new season. After all, look at the team's results. The Hurricanes are in first place in the Metropolitan Division and in second place in the league, with the Toronto Maple Leafs leading the way with 10 points to the Hurricanes' 9.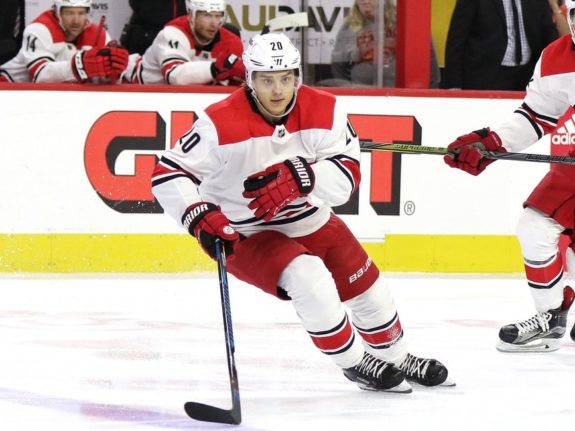 It's been quite a start for the young guns from Raleigh, NC and it doesn't appear likely they will run out of gas. The Hurricanes have yet to finish a game without at least a point, an amazing accomplishment for this team given their recent history.
But, with 77 games ahead, the Hurricanes need to tighten up their goaltending. If this area is not addressed and strengthened, it may come back to – in the words of Forrest Gump – bite the Hurricanes in the buttocks. Any potential for a remarkable season could be derailed.
Hurricanes High Hopes for McElhinney
Curtis McElhinney was picked off waivers by the Hurricanes, from the Maple Leafs, when regular goalie Scott Darling was reported to be out for an indefinite time with a hamstring injury. He has been around the league for a long time and has proven he can play the position. When he was acquired it was thought to be for the short-term, but that has quickly changed.
When he first donned Hurricanes gear, McElhinney wanted to be more than a short-term gap-filler. His play against the Columbus Blue Jackets was exceptional in helping the Hurricanes get a 3-1 win. He showed a lot of class in scooping up the game puck at the final horn and making sure head coach Rod Brind'Amour got it to commemorate his first win as the team's head coach. Hurricanes fans and the occasional talking head raised an eyebrow at the thought of McElhinney's potential.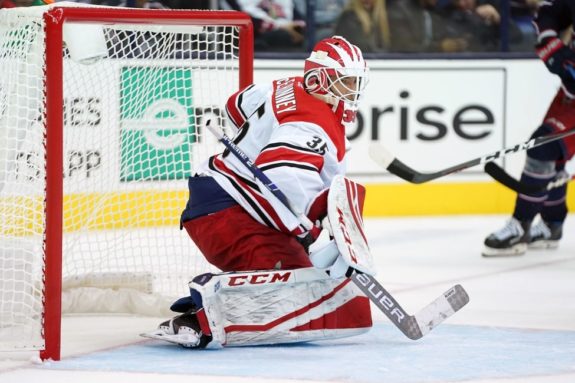 For a team that has been starving for elite goaltending, he seemed to be a welcome bright spot. That has changed a bit. In three starts McElhinney has three wins. He has faced 80 shots on goal and saved 72 of them. Having given up eight goals gives him a .900 save percentage. His goals-against average is 2.64.
Petr Mrázek's numbers for his two starts are disconcerting. He has a win and an overtime loss. But his 3.53 goals-against average and .841 save-percentage need improvement.
Should Giving up Goals Be a Concern?
Mrázek's numbers are not too bad nor are they great. What is cause for concern, however, is the trend in goals against. He has given up one, three and, on Saturday night, four goals. Were they all his fault? Absolutely not. But, it's a problem that needs to be fixed. Whether it's the defense or the goaltender, the Hurricanes' chances of making the playoffs and doing well will only improve by tightening up team defense, goaltending included.
Spurgeon General with the nifty equalizer. #MNWild pic.twitter.com/P3OKVgjtLn

— Ryan Carter 👃 (@Ryan_Carter22) October 14, 2018
After Saturday night's wild win against the Minnesota Wild in overtime, Brind'Amour acknowledged that his group is confident in its ability to score goals. "We're creating a lot of offense so I think they feel like it doesn't matter if we give up one, we'll be able to at least create enough chances to get back."
He also acknowledged that the opposing team is "getting paid, too" and they're also going to have some good shifts and score goals. Brind'Amour also said:
We don't want to give up four goals every night, because we can't count on getting five. They believe in each other right now and we've got to somehow keep that momentum.
That momentum is real right now and Brind'Amour is right, understanding it and capitalizing on it is huge. But, there are ebbs and flows in a season, and even though McElhinney is 3-0, giving up fewer goals would be very beneficial to the Hurricanes' long-term goals this season.
Mark lives in the Raleigh, NC area and covers the Carolina Hurricanes.