The Carolina Hurricanes and their young guns welcomed the New Jersey Devils back to Raleigh's PNC Arena for the second time this December. On December 3rd the Devils pummeled the Hurricanes 5-1 in what was one of the worst efforts Carolina has displayed in a long time. Actually it was more a display of lack of effort that had head coach Bill Peters pretty fired up afterwards.
Peters said, "I didn't think we were engaged emotionally in the game." That was putting it mildly. Peters also said, "We've got to be better than we were there. I think we let each other down as a group here this evening." Again a mild characterization to a mostly effortless showing by the home team. I feel certain Peters was not as mild when the microphones were put away and he was letting his team know how he really felt.
Response
The Hurricanes went out in their next game and beat the powerful Montreal Canadiens 3-2. The team has gone 5-4 in December since the no-show against the Devils and for the most part has played fairly well. As I wrote in my last article, "Hurricanes Teasing Fans," the normal playoff "line in the sand" that is Thanksgiving has been stretched a bit, with Carolina not suitably far enough out of the second wild card position to give up on the season. Yet.
Arguably a far-fetched notion, but the team could get hot and make a legitimate move, but it has to do so now. Including Saturday night's tilt with the Devils, the 'Canes have nine games over the next two weeks. If they are going to make a move, it has to be during that stretch of games.
The Young Guns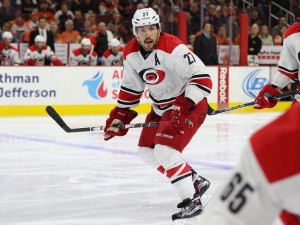 The Hurricanes have assembled quite the group of what I named "the young guns" last season. This year's first round draft pick, Noah Hanifin at age 18 is already living up to the pre-draft hype and proving he belongs in the NHL. 24-year old Andrej Nestrasil is reliable. Last year's darling Elias Lindholm is in a scoring drought this season, but is still just 21-years old, and has a seemingly unlimited upside.
Defenseman Justin Faulk at 23 is already causing the league to take notice and is "Powering Early Norris Whispers." Questioned as an NHL All-Star last season, Faulk has silenced critics with hard work and productivity all season. Mix in Phillip Di Giuseppe, Michal Jordan, Joakim Nordstrom, Victor Rask, Jacob Slavin and the proven-stellar Jeff Skinner and the stable of "young guns" is definitely full in Carolina. Ten players age 25 and younger who are all growing quickly as legitimate NHL players means a bright future for this team.
It was the young guns who got it done against the Devils Saturday night. Brett Pesce scored with assists going to John-Michael Liles and Nordstrom. Nestrasil was not on the score sheet, but his positioning made the goal happen:
Devils goalie Cory Schneider was blocked by Nestrasil and the 'Canes had the all-important first goal of the contest.
The game-winner came from Faulk, his first even-strength goal of the season. Faulk leads the NHL in power play goals scored with 12. His laser past Schneider was beautiful:
The young guns closed the game out with Nordstrom making it 3-1 with an assist from Faulk:
Joakim Nordstrom Goal vs. New Jersey Devils – 12/26/15 #Hurricanes https://t.co/RjJfTMKyQb

— Hurricanes Report (@canes_fanly) December 27, 2015
The 'Canes young guns accounted for five of the team's eight points against the Devils. The guys are hungry and seem to have decided to take the game and have fun and get it done. Hockey is slowly getting exciting again in Carolina, and the team's future is looking better. Distractions such as Eric Staal's contract and Cam Ward's contact don't seem to be clouding these guys' vision. From where I sit I say, "Let 'em play, let 'em have fun. Let the young guns get it done."