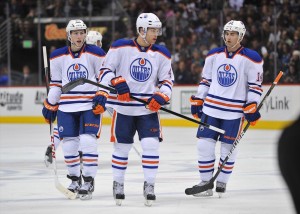 The Edmonton Oilers need a new arena. Their owner, Daryl Katz, has requested that the tax payers of Edmonton fork over millions of dollars to help see that happen. Why would a wealthy owner of a professional sports franchise need all this extra money? That's what the city of Edmonton would like to know. Unfortunately, that information isn't forthcoming at the moment.
Yesterday, the Mayor of Edmonton Steven Mandel revealed that Daryl Katz refused his request to meet with the city councillors to discuss the details of the new arena deal.
"I'm not sure where we go from here," Mandel said. "It's frustrating that for whatever reason he still doesn't want to come to city council to talk about what his issues are. That's an important part of how we move forward."
Katz is obviously on a completely different page.
"We have gone backwards," said Katz in the letter. "We and the city can't even agree on basic assumptions relating to the financial aspects of operating a new arena. The city has approached this negotiation based on narrow political considerations rather than a general desire to strike a deal that is fair and makes economic sense for both sides. Mayor Mandel, this is an opportunity for Edmonton to be bold and forward-looking, and it warrants your support and leadership." (Montreal Gazette)
The Mayors response? To walk away from the deal. The city councillors voted unanimously, and will not revisit the deal until Katz is willing to release the details of his financial request. The original deal that the two sides agreed upon meant that the taxpayers would pay approximately $450 million. Under Katz's new request, that number went up to $700 million, a staggering difference that the Mayor simply cannot justify. Katz claims that the team is losing money – but until he can show documents that accurately relay the financial situation, the city isn't budging.
So what does this mean for the Edmonton Oilers? Well, Katz's recent visit to Seattle means that the possibility of relocation is a reality, despite his claims to the contrary. This situation could become even uglier in a hurry, but moving a team from a hockey-mad city like Edmonton simply cannot enter into the realm of possibility. Of course if  hockey-crazy locales like Winnipeg, Quebec City and Minnesota could all lose a team, there is certainly reason to be concerned.
UPDATE: Today, Daryl Katz released this statement on the Oilers website:
"We are concerned about the implications of the motion passed yesterday by City Council. We do not yet have a view on what comes next, but we remain hopeful that there is a solution that achieves the mutual goal of securing the Oilers' long-term sustainability in Edmonton". (Oilers.com)