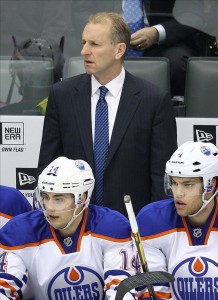 The Edmonton Oilers ended their season on a high with a 7-2 win in game #48 against the Vancouver Canucks.
The win though is small solace to Oiler fans as they are still just one more year without playoff hockey.
Coming into the season, then GM Steve Tambellini stated that the goal for 2013 would be to have the Oilers playing meaningful games coming down the stretch and to be improved enough that they were no longer in the conversation for a top draft pick.
With a dozen games left the Oilers were capping a five game winning streak and sitting in 8th spot in the Western Conference.
Following the NHL draft lottery they will be picking 7th in June. Still a lottery pick, but far from the top three. 
On the surface looks like progression was made and the team is pretty much where management thought they would be.
If that is the case why is Tambellini gone, replaced by Craig MacTavish, and why is there such a sense of disappointment following this season?
The main reason being is that the Oilers showed enough promise and glimpse of the immense team potential and talent that it left fans hungry for more and questioning why the team couldn't do it more consistently.
Inconsistency may be the best way to describe the club this season. They were inconsistent game to game, evidenced by their month of April. They went on a five game winning streak beating some top teams, but then followed it up with a six game losing streak where they looked listless on some nights.
For management, there are almost just as many question marks now as there were after last season.
A few things were learned. Taylor Hall is a legitimate top winger in the league and when healthy one of the more dangerous. Despite some inconsistency, both Justin Schultz and Nail Yakupov have the potential to be future stars. Sam Gagner proved to be a valuable top six forward and Magnus Paajarvi can play regularly in the top nine.
They also learned that Ryan Smyth is not the player he used to be and that Ales Hemsky's frustratingly inconsistent play is not improving with age.
Certain players, like Jordan Eberle and Ryan Nugent-Hopkins had down years by their standards, but there isn't much cause for concern with those two.
They also have the same question marks from before around goaltending, defence and team toughness.
Dubnyk played well, but still hasn't proven to be an upper echelon goaltender. Schultz makes the defence dramatically better, but they still need more. Team toughness is somethings that will take work and some new acquisitions. Too often the team played without enough fire and grit.
The difference between last year and this year is that there are far more expectations and Craig MacTavish and Kevin Lowe will have to be active this off-season.
A look at some of the individuals that stood out:
MVP: Taylor Hall
Runner up: Sam Gagner
Hall was the best player for the Oilers by a significant margin. Finally healthy he showed what kind of damage he can do when in the lineup each game. He lead the Oilers with 50 points in 45 games and more importantly used his exceptional speed to be a terror against the opposition and tilt the ice in the Oilers favour when he was on it.
Gagner was the early season MVP and was the leading scorer for a large stretch. He also showed his value in playing in all situations including power play and penalty kill.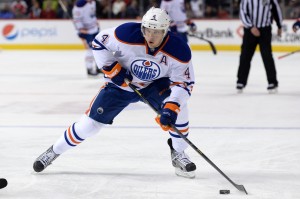 Top Forward: Hall
Runner up: Gagner
see above
Top Defenceman: Jeff Petry
Runner up: Justin Schultz
Tough call between Petry and Schultz, but in the end Petry was the best overall defender on the team. Schultz lead the D in scoring and was the best blueliner early on, but faltered in the second half and was a team worst -17. Petry was the Oilers ice time leader, played in all situations and on a team full of minuses, managed a +1 rating.
Top Rookie: Nail Yakupov
Runner up: Justin Schultz 
Again a tough call and again Schultz is narrowly edged out. Both rookies struggled at times with Schultz sensational early and Yakupov late.
Yakupov's torrid April put him as the NHL rookie leader in goals and points. He showed the aggressiveness and confidence to go with his dynamic offensive skillset that few players have.
Biggest Surprise: Sam Gagner
Runner up: Magnus Paajarvi
Gagner finally showed he could be a legitimate top two centre and produce in that role. He was the Oilers top scorer for a large portion of the year and averaged a point per game until the last month. He finished second on the team in scoring and as a RFA is set to cash in.
Paajarvi went from a question mark and a fringe NHL/AHL player to an integral part of the Oilers offence and showed a more aggressive approach that brought with it a more confident game.
Biggest Disappointment: Ryan Nugent-Hopkins
Runner up: Ryan Smyth
There is speculation that RNH lack in production was due to a shoulder injury that nagged him throughout the year. The fact is that he only managed 4 goals and 24 points as the team's top centre. While is overall game showed signs of progression, there is more offensive production needed from a No. 1 centre. He very well will be in team MVP conversations for years down the road, but it's not this year.
Smyth was not expected to be a front line player, but more was expected than a 2 goal season where he played primarily on the fourth line.
Unsung Hero: Ladislav Smid
Runner up: Lennart Petrell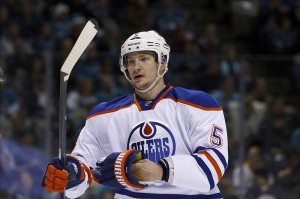 Smid does not get a lot of recognition for the work he does. He put up just 4 points on the year, but his game is far more than that. He is the Oilers leader in hits and blocked shots and arguably its best penalty killer. He goes up against the other team's best player every night. He's the type of foot soldier every good team needs and the Oilers made a smart decision signing him to a new contract.
Petrell is the Smid of the forward group. He doesn't put up a lot of offense, but is excellent on the PK, blocks shots and plays a solid fourth line role.
Biggest Question Mark Going Forward: Goaltending
It seems not a lot has changed in a year. Dubnyk and the Oilers goaltending was the question mark going into this season and it remains the same. Dubnyk had a stronger year than he did last and early on was showing some potential of being a legitimate No. 1 goaltender. The problem, as it is with the team as a whole, is there was just too much inconsistency in his game to anoint him the unquestioned starter of the future.
He certainly shouldered more of the workload and showed flashes, and will once again come into next season as the starter. However, the Oilers need to provide more depth and talent at the position as a whole. Whether it is a new No. 1 or a competent running mate for Dubnyk, past him the cupboard is pretty bare.