Nobody is 100% certain why the Edmonton Oilers traded Ryan Strome to the New York Rangers for Ryan Spooner. My theory is that Todd McLellan wouldn't use Strome on the wing, where he was originally slotted to play when he was acquired from the Islanders, and Oilers general manager Peter Chiarelli, in Billy Beane-like fashion, traded Strome for a more offensively inclined and faster Spooner.
Was it a smart move? At this moment, it isn't looking that way as Spooner only has one goal, but we should remember that Strome's start as an Oiler wasn't all that amazing either. With hard work and dedication, he eventually turned himself into a very serviceable third-line center though.
If we look at Spooner's five-on-five numbers since Ken Hitchcock started coaching Edmonton, I think we'll find a player who's keeping his head above water possession-wise, but not shooting enough.
PDO – .952 (fifth worst on the team)
CF% rel – 7.33 (third best on the team)
FF% rel – 5.01 (seventh best on the team)
Pts/60 rel – .92 (seventh best on the team)
G/60 rel – .84 (fourth best on the team)
Shots/60 rel – 4.21 (third worst on the team)
I like to use the relative form of the stat because it separates the player from his teammates and gives us a clearer idea as to what the numbers are telling us.
Since Nov. 20, Spooner has the 43rd best CF% Rel. That's among 321 forwards in the league and it puts him in the company of such players as Nik Ehlers, Sebastian Aho, and his teammate Leon Draisaitl. I'm not saying that Spooner is as good as or better than those players — I'm just saying there might be something there with him. In addition to that, the Ottawa-native has been a more positive influence on his teammate's CF% than not. Meaning, his linemates in Edmonton have been better with him than without.
In any case, we should take these numbers with a small grain of salt given the small sample size. Nevertheless, the puck possession arrows are pointing north and that's a good thing.
Is Spooner Going the Same Way Strome Did?
On the Nov. 30 edition of Oilers Now, host Bob Stauffer had this to say about Spooner,
Spooner, don't know if he was originally purposely picked up to play fourth-line center and you wonder if there might be another move or two down the road?
Stauffer travels with the team and talks to the pro scouts of the Oilers and their opponents enough to get an idea of what might be going on roster-wise. Every so often he telegraphs deals or transactions, so he's a good person to listen to in this regard.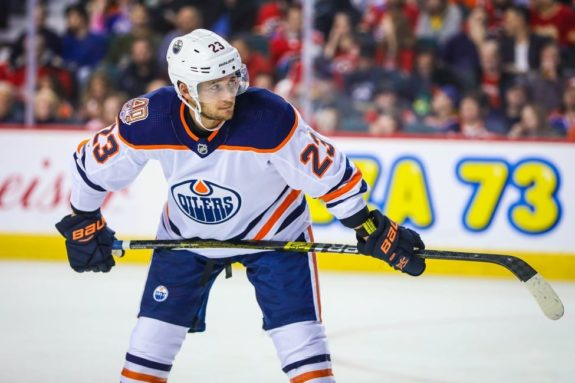 His comments above can be read a multitude of ways,
Is Stauffer talking about Spooner being moved?
Does this mean other players apart from Spooner might be traded?
Why was he originally picked up? What role did the GM have in mind for him?
My thinking is that Chiarelli had eyes for Spooner in the top-six as a winger due to his speed and offensive creativity. Chiarelli might not have a sterling reputation for large trades, but he's got an excellent batting average for the little ones.
On the other hand, I could see the Oilers moving Spooner sooner rather than later. It's a bit of a harsh move though if you ask me.
This is a team that is having some troubles scoring when Connor McDavid isn't on the ice — no sugar coating that — but is Spooner even getting a proper opportunity to showcase his talents? He has a history of producing well from his time in Boston and I believe you must give a player the chance to show you what he's got. To that point, he didn't look out of place playing left-wing with McDavid and Draisaitl vs. LA.
Too Many Oiler Wingers?
The Oilers have themselves a bit of a festering predicament at the moment. What I mean by that is, they've got 10 natural wingers and a choice is going to have to be made on at least two of them once Tobias Rieder returns to the lineup.
Left Wing: Drake Caggiula, Tobias Rieder*, Milan Lucic, Jujhar Khaira, Valentin Zykov
Right Wing: Alex Chiasson, Jesse Puljujarvi, Zack Kassian, Ty Rattie, Patrick Russell
*Injured
Do we need to add Ryan Nugent-Hopkins and Leon Draisaitl to that list as well?
Players I don't see Chiarelli trading are, Caggiula, Chiasson, Rieder, Puljujarvi, Lucic, and Kassian. That leaves Khaira, Rattie, Zykov, and Russell as movable options from the available wingers.
I think the most apparent move would be to send Patrick Russell back to the AHL, but after that things get a bit blurry. They have the option to send Puljujarvi down as he's still on his ELC, but I think he's playing well and he seems to be a bit of a private project for Hitchcock.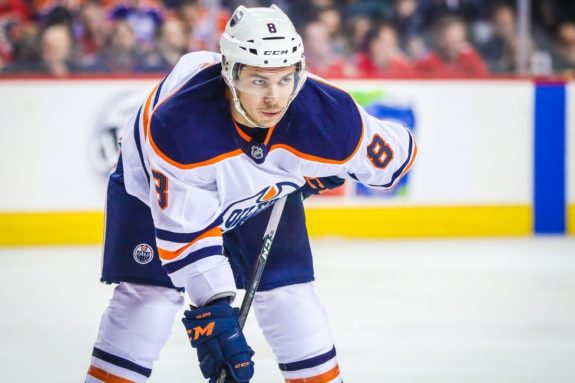 Another option would be to put someone on waivers. Rattie immediately comes to mind. His contract is easily absorbed if he plays in Bakersfield, but even he's played well these last couple of games. To add to that, he has a short history of playing productively alongside Nugent-Hopkins and McDavid — but can he shed that skin he had while playing under Hitchcock in St. Louis? Depending on how Valentin Zykov performs, he could be thrown on waivers as well.
The last option would be to make a trade, but what team would want the Oilers' fringe NHLers? If Edmonton wants to make a splash and acquire a scoring winger that will make a difference night-in, night-out, they'll have to trade a player of value.
So what do you do if you're the Oilers GM? You have this glut of borderline forwards and you know you need to upgrade the roster. There's also the pending return of Tobias Rieder and Andrej Sekera to complicate things even more.
My thinking is that you sit on the roster, see how Rieder and Sekera do and then make a decision as to who gets moved out. By then, the Pacific Division picture should become more clear and other teams will be making the calls on their rosters too. You can only hope that this team can continue on its 5-2-1 pace until then.
Stats courtesy of Natural Stat Trick