The Edmonton Oilers have snatched some offensive potential from the Carolina Hurricanes, claiming recently waived forward Valentin Zykov according to Elliotte Friedman of Sportsnet. The Oilers then confirmed the claim.
The #Oilers have claimed left-winger Valentin Zykov via waivers from the Hurricanes. The 23-year-old was selected 37th overall by the Kings in 2013. Zykov has scored 4 goals & 7 assists in 25 career @NHL games. pic.twitter.com/bGdGQhSLWO

— Edmonton Oilers (@EdmontonOilers) November 30, 2018
For those that don't know much about Zykov, he's a 23-year-old left-winger who comes in at 6'1 and 225 pounds. He was originally drafted by Los Angeles Kings in the second round of the 2013 NHL Entry Draft at No. 37 overall.
Zykov is a right-shot winger who has a bit of a history as a scorer. Not long ago, he led the AHL with 33 goals and added 21 assists in 63 games, then posted three goals with seven points in 10 games for the Hurricanes in 2017-18. This season, he's gotten off to a bit of a rougher start, has only appeared in 13 games for the Hurricanes and has three assists. He currently playing out a two-year NHL contract that will see him make $650,000 this season and $700,000 next.
Related: Oilers Should Think Hard About Moving Talbot
Is Zykov a Good Pickup?
This waiver claim by the Oilers is a bit of a risk but a low risk at that. Zykov may turn out to be a great get who can come in an add some offense in the bottom six and potentially jump up if he starts to produce. At the same time, he may do very little and the Oilers just gave up one of their 50 available contracts.
Elite Prospects scouting profile suggests he's "A highly skilled offensive minded player. Zykov is strong, skates very well and has impressive hands and creativity. Good scorer and potential to become a high scoring player in the future." He has a good shot, quick release, and doesn't mind going to the front of the net.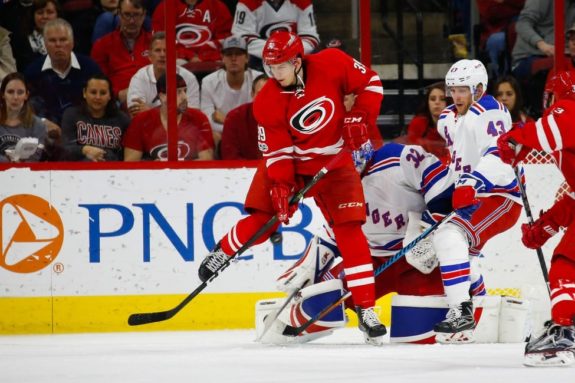 One interesting stat, that may not mean anything now, Zykov beat out Connor McDavid for CHL Rookie of the Year honors in 2013.
What's Next For Zykov in an Oilers Uniform?
At his salary, Zykov could be a huge addition for Bakersfield but the expectation is the Oilers will find room for him, potentially moving out Patrick Russell to provide a spot on the fourth line. From there, he might see some power play time or get an opportunity here are there if he shows well. While it might be premature, there are already fans salivating at the idea of him on Connor McDavid's left wing.
Others are viewing this signing as an indication something else might be coming. With Alex Chiasson, Drake Caggiula, Jesse Puljujarvi, Milan Lucic, Zack Kassian, Ryan Spooner, Ty Rattie, Tobias Reider and now Zykov among them, the Oilers have as many as 10 NHL quality wingers. Not all of them are producing which is why Zykov has an opportunity, but that's too many to continue forward with. Is a trade in the works?
Related: If the Oilers Won't Play Ty Rattie, Trade Ty Rattie
So Long Ty Rattie
If nothing else, this pickup suggests Ty Ratties days as an Oiler might be coming to an end. A healthy scratch for Edmonton in the previous two games, it was already going to be a rough road for the winger who'd had a strong preseason but couldn't find himself a spot in Ken Hitchcock's new vision of this team. With Zykov now in the fold, things got that much trickier.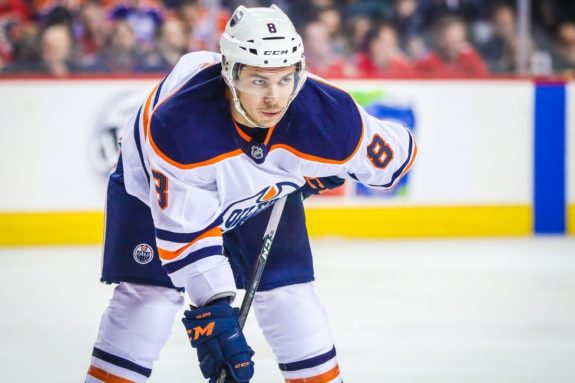 Potentially, Rattie will go down to the AHL until a trade, if one is possible, presents itself. This also lends to the notion that Zykov offers a bit more of a rugged game than Rattie does and Hitchcock will expect the Russian winger to lean on players, park himself in front of the net and play a sound defensive style. Rattie didn't necessarily offer those things and if Zykov doesn't as well, his success under the new coach may be short-lived.
This is a low-risk move by an Oilers team that needs some secondary scoring. Whether or not Zykov adds that remains to be seen but he seems to have the pedigree and experience to produce at the NHL level and in the right circumstances.