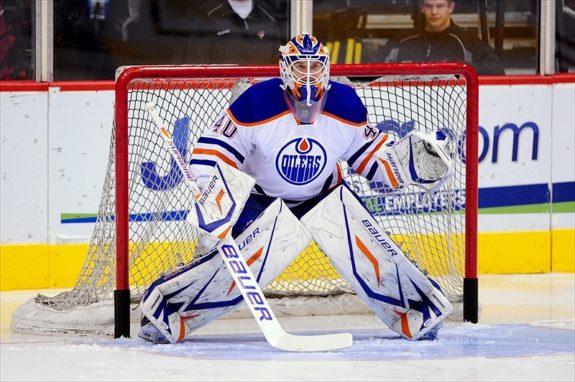 How quickly perception can change.
Following the Oilers home opener against the Sharks, there were cries for new goaltending and a replacement for Devan Dubnyk was needed.
It is of course one game and with the rust from the lockout and abbreviated training camp, Dubnyk can be forgiven for essentially a bad period.
He got some measure of redemption two days later with a solid performance in a 2-1 overtime victory vs the defending Cup champs in the LA Kings.
That doesn't necessarily stop many fans from thinking change should be made unfortunately.
The issue for Dubnyk this season is the goaltending position is coming under far more scrutiny than previous years with the elevated expectations that have been placed on the team
The Oilers once again have been bombarded by the same question they've had over the last couple years; is Devan Dubnyk the goaltender of the future or is he just holding that guy's spot.
This 48 game season should be a perfect opportunity for Dubnyk to put forward his case.  This is the first season that he has entered training camp (as brief as it was) as the undisputed number one.  Last year he eventually gained that title, but it was a back and forth with Nikolai Khabibulin for half the year.
The problem is that if the Oilers decide that Dubnyk is not the guy they want between the pipes night in and night out, they will likely have to look elsewhere for the man they do want.
Currently the goaltenders behind Dubnyk on the depth chart are:
2. Nikolai Khabibulin
3. Yann Danis
4. Olivier Roy
5. Tyler Bunz
Khabibulin will not be with the organization past this year once his contract expires and he is 40 after all. Danis is a good AHL goaltender but he's a depth guy not a frontline starter.
The two top prospects in the system, Roy and Bunz, could have the potential to be but they're still years away, if ever, and haven't exactly set the world on fire in their pro careers to date.  They were both extremely successful junior goaltenders and time will tell which direction their development takes.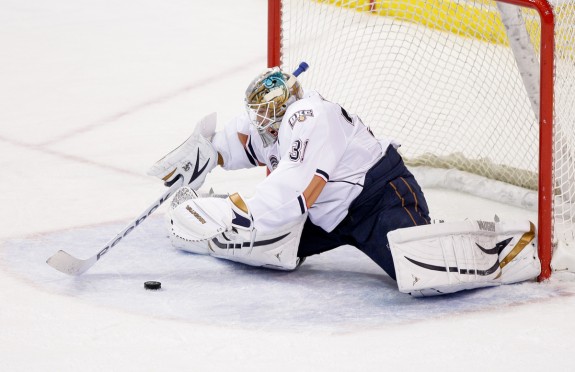 So that leaves trades or signings to bring in their number one.
If one looks at the potential trade market, there are a few names that jump out.
Roberto Luongo:  very unlikely Luongo would agree to go to Edmonton, nor would the Oilers want to take on his contract.  If Luongo wants the sunshine of Florida, the cold winters of Edmonton probably won't be on his wish list.
Jonathan Bernier:  probably the most enticing out there.  No doubt the Oilers would love to add a top prospect like Bernier to their stable of young stars.  Bernier however is still unproven and may or may not turn out to be an upgrade.  The price would likely be steep.  Also interesting to note is that Bernier and Dubnyk were the two goaltenders for Canada at the Spengler Cup with Dubnyk winning the number one spot over Bernier.
Ben Bishop:  again unproven and may or may not be an upgrade, Bishop could provide a good tandem with one eventually earning top spot.  Bishop's sample size is pretty small and he hasn't had a great start to this season in the AHL.  He has paid his dues in the AHL, with a good track record prior to this year, and could be an excellent complement to Dubnyk.
If they are looking to the free agent market next season, names like Nik Backstrom, Jose Theodore, Mike Smith or Evgeni Nabokov could possibly be available.  Backstrom would be an upgrade and the others could potentially be a slight upgrade, but in the case of Backstrom and Nabokov, both are in their mid to late 30's and the Oilers would likely want someone with a few more years of service left.  Not to mention the amount of suitors Backstrom would command.
The verdict, at least so far, would be to let Dubnyk play night after night this season and prove his worthiness of top spot long term.  The Oilers can then re-evaluate at the end of the year where their need is.
Devan Dubnyk has done nothing to suggest that he does not deserve a chance at the number one spot.  He has been solid in two of his three outings this year and aside from one bad period has been solid behind a team that has played inconsistent defence so far this year.
He has all the tools, he's got great size, is positionally sound and has a great mindset and work ethic.  People also forget that he is just 26 years old and a former 1st round pick.
Goaltenders take longer to develop and the Oilers are hoping Dubnyk is just coming into realizing his potential and can grow into a top goaltender just as players like Eberle, Hall etc. are growing into stardom in their own right.
The bigger concern is the depth behind Dubnyk. If anything happens to him they are woefully thin past this season.  Nikolai Khabibulin is no longer able to carry the load, but in a shortened season he could have good value if pressed into service.  After this season, however there's not much left in the cupboard.  At this point both Khabibulin and Danis are free agents, but even if Danis is re-signed, it's still a poor situation.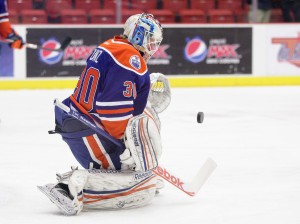 Roy and Bunz are not going to be ready by next season to backstop a team that in another season will have massive expectations on them.  Not even as a backup.  Roy is in his first full AHL season, with mixed results so far.
Bunz was called up from Stockton (ECHL) when Danis went up to the big club but has yet to get into a game and has been mediocre for the Thunder this season.
Regardless if the Oilers want to bring in another number one or not, they at least need to look at bringing in some NHL calibre depth.  It has become obvious around the league just how valuable a good one-two punch can be.
One only has to look at some of last year's top teams and look at the tandems there.  Luongo and Schnieder in Vancouver, Thomas and Rask in Boston or the Blues duo of Jaroslav Halak.
It not only provides depth, but options for the coaching staff and insurance in case of injury.
Steve Tambellini and the Oilers management will have to do their homework and see what is out there in terms of upgrading the position for their hockey club.  While they will definitely be looking to add, it will be up to Devan Dubnyk whether they look to add a frontline starter or more depth in the organization.
The ball is in his court.