Who would have thought that after three games, the Montreal Canadiens' leading scorer would be sophomore defenseman Raphael Diaz? That's right, nobody!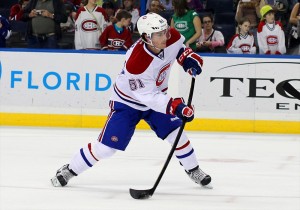 Diaz is currently leading the team in scoring with five points (five assists), three of which came with the man advantage. He also has eight blocked shots and a +1 plus/minus rating in three contests so far. The native of Baar, Switzerland, who turned 27 on January 9th, has been dynamic at the point on the power play, feeding great passes to a healthy and confident Andrei Markov who leads the team with three goals, all on the man advantage.
The right-handed rearguard is the player who has benefited the most from P.K. Subban's absence due to a contract stalemate with new Canadiens' GM Marc Bergevin and after playing only 14:49 minutes in the home opener against the Toronto Maple Leafs, Diaz played 18:06 minutes Tuesday against the Florida Panthers and 20:28 minutes yesterday against the uninspired Washington Capitals.
This increase in ice time shows that new head coach Michel Therrien is getting to know Diaz and has decided to rely more on him at the expense of veteran Tomas Kaberle, who is now relegated to the second power play unit and plays under 15 minutes per game on average.
The 5'11", 195-lb blue liner made his NHL debut last season after playing several years for EV Zug of the Swiss A League. The Canadiens have a knack for finding untapped talent in this league after drafting Mark Streit in the 9th round of the 2004 NHL Entry Draft and Yannick Weber in the 3rd round of the 2007 draft. Diaz signed with the Habs as a free agent in May 2011 to finally make the jump from his homeland.
During his rookie campaign, Diaz managed to record 3 goals and 13 assists for 16 points in 59 games after being made a healthy scratch on more than one occasion. Now he is back in Montreal with more confidence and experience after playing 32 games in Switzerland during the unnecessary NHL lockout. In Europe, Diaz notched 7 goals and added 22 assists for 29 points during his stay with his former team. He was the fourth-leading scorer on his club when he came back to North America. NHL all-star Henrik Zetterberg, fellow countryman Damian Brunner and inconsistent, but talented, Linus Omark all played with him in EV Zug.
Raphael Diaz – Just Play (in German)
Back with the Habs, Diaz is currently paired with gritty veteran Francis Bouillon, who's physical and sound defensive play has allowed Diaz to make solid passes and jump into the attack on numerous occasions. Averaging 4:40 minutes per game on the power play, second only to Markov's 5:08 minutes, Diaz is taking full advantage of Subban's absence by contributing to the team's rejuvenated power play, which is currently clicking at a 29.4% rate (5 for 17) through three games. The same power play that finished 28th in the league last year, and produced at a dismal 14.3% rate!
With improving skating and decision making, Diaz has been able to make the key plays in his own zone, whether clearing the puck along the boards or finding his wingers for a quick transition out of the Habs' defensive zone. As a result of a tight defensive system under Michel Therrien, the Canadiens have only allowed one even-strength goal this season.
So who sits when/if PK Subban re-signs with the Canadiens in the near future?
The defensive pairings are currently the following:
A. Markov-A. Emelin
F. Bouillon-R. Diaz
T. Kaberle-J. Gorges
Extra: Y. Weber
My bet is that Kaberle is the odd man out especially since Subban was Gorges' defensive partner last season. Kaberle is currently the team's sixth defenseman and with Subban in the line-up, his presence becomes moot as both Markov and Diaz are manning the point on the team's first power play unit. Subban would simply slide along Frankie "the Cube" Bouillon on the second unit and get ice time on the penalty kill as well.
As for fellow countryman Yannick Weber, he is the team's insurance policy until Subban returns, but when he does, look for Marc Bergevin to trade Weber to a desperate team in dire need of defensive help. Hello Detroit!
Buenos Dia(z)!
A long-time Joe Sakic fan, Fred, 35, is a freelance sports writer and translator. Fred earned a Bachelor of Translation in 2002 at Laval University in Quebec City. He also writes on the Montreal Canadiens for HabsAddict.com and he is an associate editor and a baseball columnist on Dobberbaseball.com. He is also fluent in English, French and Spanish.