The 2013 NHL draft class saw eight players make their NHL debuts with six of them playing at least 40 games for their teams. The Carolina Hurricanes took center Elias Lindholm with the fifth overall pick and so far he's seen 44 games of NHL action.
How does he stack up to the other five players that have played greater than 40 games for their teams?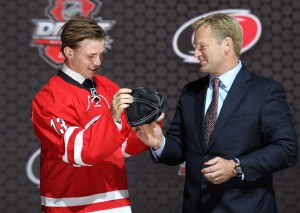 The other five players from the 2013 draft class that have played more than 40 NHL games are as follows:
1st overall – Nathan MacKinnon – Center, Colorado Avalanche
2nd overall – Aleksander Barkov – Center, Florida Panthers
4th overall – Seth Jones – Defenseman, Nashville Predators
6th overall – Sean Monahan – Center, Calgary Flames
10th overall – Val Nichushkin – Right Wing, Dallas Stars
Talent Analysis Prior To Draft 
Before the draft, scouts raved about Lindholm's two-way ability. A majority of young offensive players often lack a solid two-way game, but for Lindholm that was his strength. Many felt that he could one day be a #1 center that plays a strong two-way game, similar to his Swedish countryman Henrik Zetterberg. Scouts also felt that Lindholm possessed an above average hockey IQ and strong positioning skills. Ultimately, Lindholm was ranked as the fifth best player by TSN.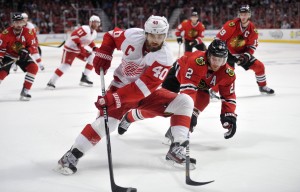 Lindholm's Story 
Through 44 games, Lindholm has performed like a rookie. His campaign got off to a rough start as he was injured during rookie conditioning camp, but still impressed enough to make the team. The season arrived, but after just a few games, Lindholm was injured again. The 'Canes decided to send him down to the AHL for conditioning and then when the Worl4d Junior Championships rolled around at the end of December, the 'Canes decided to let Lindholm play for his native Sweden. Lindholm returned with confidence and impressed initially, tallying a goal and two assists in his first game back. However, of late, Lindholm has been struggling, even serving as a healthy scratch against Buffalo last month. Ultimately it's been a season of ups-and-downs for the rookie, but he has shown flashes of brilliance. Let's take a look at his numbers compared to the other draft picks.
Lindholm's Numbers And How He Stacks Up 
Below are the basic and advanced stats for each of the six players that have played at least 40 games (all stats accumulated prior to evening games on March 15th – advanced numbers taken from Extra Skater):
| Player | Games Played | Goals | Assists | Points | Plus/Minus | Penalty Minutes | Shots on Goal | Faceoff Percentage | 5-on-5 Corsi For% | 5-on-5 Fenwick For% |
| --- | --- | --- | --- | --- | --- | --- | --- | --- | --- | --- |
| Elias Lindholm | 44 | 6 | 10 | 16 | -13 | 4 | 43 | 46.2% | 50.9% | 48.5% |
| Nathan MacKinnon | 67 | 22 | 29 | 51 | 18 | 22 | 192 | 43.5% | 46.1% | 45.7% |
| Aleksander Barkov | 54 | 8 | 16 | 24 | -3 | 10 | 87 | 48.8% | 52.1% | 52.1% |
| Seth Jones | 67 | 6 | 17 | 23 | -21 | 22 | 94 | N/A | 49.4% | 50.1% |
| Sean Monahan | 60 | 19 | 10 | 29 | -11 | 6 | 106 | 44.8% | 44.7% | 45.8% |
| Val Nichushkin | 63 | 13 | 16 | 29 | 18 | 6 | 101 | N/A | 52.2% | 53.1% |
First, let's throw out Seth Jones. Comparing a defenseman to a center is far too difficult. Even comparing Nichushkin, a winger, to a center is difficult because centers have far more defensive responsibilities so we won't look at him too much. I'd like to focus on the comparison between Lindholm, MacKinnon, Barkov, and Monahan. In terms of the basic numbers, Lindholm doesn't really stack up. He has the fewest goals, assists, and points and has generated just 43 shots on goal. However, when we take a look at his possession numbers (Corsi For% and Fenwick For%), the story is a bit different. Lindholm's Corsi numbers are decent for an 18-year old rookie. Lindholm compares favorably to the other rookies when we look at those possession numbers, especially when you consider that Lindholm has not had steady linemates throughout the course of the season. This may be a sign of future development for the youngster and it is something that 'Canes fans should hang their hats on. Too many 'Canes fans will get caught up in the fact that Lindholm's basic stats don't compare to the other forwards from the 2013 draft, especially Monahan and Nichushkin who were drafted after him. That brings me to the moral of the story.
The Moral of the Story 
Just three years ago, another 18-year old whiz kid suited up for the Carolina Hurricanes immediately after he was drafted and he was a revelation. The kid tallied 31 goals, 63 points, was an NHL All-Star, and won the Calder Trophy as the top rookie in the NHL. That kid was Jeff Skinner. I think that too many 'Canes fans are placing higher expectations on Lindholm after the way Skinner turned out. However, it's very important not to place such high expectations on these kids at such a young age. For example, Skinner tallied just 33 goals in the following two seasons after he tallied 31 as a rookie. The pressure and expectations can make it difficult for these young players to play freely in the manner that they need to. Lindholm will develop. You can see the flashes of talent with this play here.
Check out the pass here. On the road, in overtime, against one of the best teams in the NHL, you can see Lindholm's skills. He hangs onto the puck despite the strong back-pressure and then he whirls a no-look pass right on the tape to Jay Harrison for the game winning goal. You can tell the kid has a high hockey IQ by his ability to read plays. If 'Canes fans and management can be patient with Lindholm for the next three years, he will blossom into a great two-way player. The most important thing for Lindholm is to get consistent playing time. If the coaches don't feel that he's ready to play full-time in the NHL, then he needs to spend time in the AHL. Consistent playing time will do wonders for Lindholm's confidence and he will give the 'Canes lethal depth at the center position, something that is crucial for playoff success.