It seems like a distant memory now, doesn't it?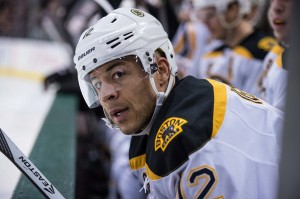 No goals in his first eight games, and then just five goals spread over his next 21. For a guy who was brought in to be the top line winger and goal scorer for the Bruins, it seemed like Jarome Iginla would take awhile to get started.
You probably heard about him being a slow-starter and that generally turned out to be pretty true. Now, Iginla's 23 goals lead the Bruins as the top line of he, David Krejci, and Milan Lucic are proving to be Boston's most dominant.
While Iginla tallied two goals in Saturday's 5-1 win over the Carolina Hurricanes, his linemates registered three points apiece with Lucic scoring a goal and adding two assists, while Krejci picked up three helpers on his own. The Bruins' first line have had some impressive individual successes during the team's eight-game winning streak. Iginla has six goals and three assists in the stretch, with four goals and an assist coming in the last four consecutive games.
"It's been fun playing with them all year," said Iginla. "They have a great chemistry with each other and they have been great to join. Krejci can pass it anywhere. You know he has his sauce, and he can shoot, he can score. Looch competes and works as hard as anybody, and he's fast.
"We've been building chemistry throughout the year, and it's been fun as a group."
His first goal of the game came after Lucic won a battle behind the Hurricanes net and found
Iginla open in the high slot where he roofed it past Carolina netminder Cam Ward. Late in the third, the Bruins saw it again after a great rush from Kevan Miller led to a scoring chance. It's the same release Iginla has been working on all season.
"Tonight right before Looch gave me my first goal, I had a great pass from him for a one-timer and I probably tried to shoot it a little too hard and just missed the net," said Iginla. "I've been working at it, and just trying to have better chemistry as a group, as a line, and just trying to feed off each other by getting some good looks and good chances."
Krejci's wingers have been exchanging goal totals all season, with the extra two by Iginla giving him the advantage over Lucic's 21 goals this season. Signed to a one-year contract this past offseason, the addition of Iginla to the Bruins' top line has opened up the ice a bit more, giving Krejci another option to pass to a shoot-first winger while creating more space for Lucic.
"It's been great having him here," said Lucic. "You can see he's obviously come to his own here and starting to feel good about himself as he has the last I'd say ten, twenty games. We all know what he can do from what he's done in the past, and you know he's definitely a confident guy that's always pushing for more."
Although his status after the end of the season is in flux, Iginla is making a solid case for the Bruins to resign him when his contract is up. After diminishing doubts during his slow start to the season, Iginla's leadership and offensive skills have helped to push the Bruins to the next level.
"He's exactly what he was advertised as a good team player, a hard-worker, competitive guy," said Bruins coach Claude Julien. "I can see why he had a letter in Calgary because he's got that leadership quality in him. As I mentioned before, we have a lot of guys here that could easily wear that letter, but he's part of our, what we call, our core group. When there's some decisions to be made between coaches and players he's part of that group. It's been around a long time."