Former NHL player Gino Odjick once said, "If you want to play hockey, learn to score goals. Otherwise your hands get so sore."  Coming from a man who played in 605 career games and accumulated 2567 penalty minutes, but only 64 goals, it seems as though he did not take his own advice during his NHL tenure.
The Oshawa Generals' Emerson Clark has contrarily decided to take this advice to heart, especially during the 2011-12 OHL season.
It has been an interesting trip from scrapper to sniper.  Standing only 5'9″ and weighing 187 pounds, Clark has been a feisty player ever since his introduction to junior hockey.  A native of Whitby, he was given an opportunity to play for his hometown OJHL team, the Fury, in December of 2008 as an affiliate player out of midget.  He had not been drafted in the 2008 OHL Priority Selection but he wished to show that he belonged at the next level.  In the three games he played for the Fury, he did manage to show both his offensive talents and his truculence.  Clark got 11 penalty minutes in his first OJHL career game on December 4, 2008, against the Pickering Panthers, including a major for checking from behind and getting into a fight, which warranted two game misconducts; a week later, against the Ajax Attack, he scored two goals and an assist in a 10-4 Whitby victory.  He was sent back to midget hockey and, remarkably, was not chosen in the 2009 OHL Priority Selection either.
That did not seem to affect Clark.  In the summer of 2009, he was invited to the training camp of another team close to home, the Oshawa Generals of the OHL.  Through hard work, Clark made the team and he easily became their new enforcer.  The Generals already had some players who could drop the gloves and play physically, including Conor Stokes, Jeff Brown, Alex Dzielski and Scott Valentine.  Playing on the fourth forward line, Clark appeared in 51 games as a rookie; he got into 26 fights during the regular season, recording a total of 159 penalty minutes.  There were even a couple of games where he got into two fights during the same game.  His penalty minute total was seventh overall in the OHL that season, tops among league rookies.  Clark did, however, find himself on the points side of the scoresheet three times in 2009-10.  He tallied an assist on November 29, 2009, against the Niagara IceDogs; he scored his first OHL career goal on Jason Missiaen against the Peterborough Petes on January 8, 2010; and he registered another assist on February 26, 2010, against the Barrie Colts.  Sometimes, however, he would find himself a healthy scratch, mostly if then-head coach Chris DePiero found his shenanigans too much to handle.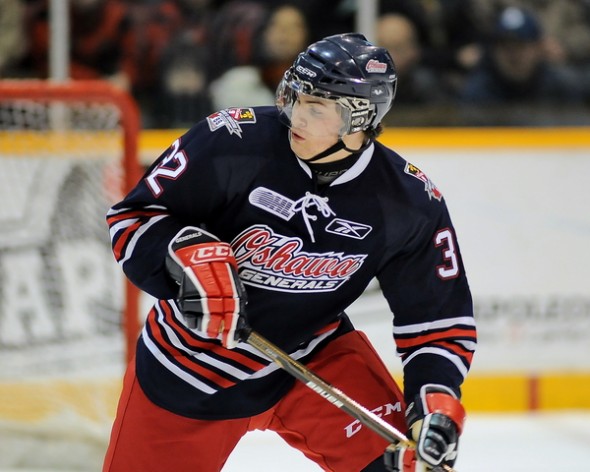 Going into the 2010-11 season, Clark found himself higher up on the depth chart in Oshawa.  Former Generals antagonist Conor Stokes was traded to the Kingston Frontenacs.  Cody Alcock, a player brought in from the Belleville Bulls the season before, was sent to the Whitby Fury.  The Generals, however, also brought in Danish import Nicklas Jensen and made a deal with Niagara to acquire Lucas Lessio; it became apparent that Clark would have to start the season on one of the bottom two lines yet again.  Clark did not change his style of play much in the beginning of the new campaign, which saw him accumulate 14 penalty minutes in only his second game of the year against the Kingston Frontenacs, highlighted by fights with Michal Čajkovský and Alex Gudbranson.  His offensive game, though, also began to develop; in his fourth game of the season, he tallied an assist; in his eighth game of the year — October 29, 2009 against the Belleville Bulls — he scored his first goal of the year.  Almost a month later, he scored another goal, this one against the Barrie Colts.  He did manage to behave himself in December, getting only one fighting major, his only penalty of the month.
January 2011, however, was to be the good, the bad and the ugly for Clark.  Statistically, it was one of his better months in terms of point production.  He scored two goals and one assist in seven games that month.  One incident against the Frontenacs, however, put him yet again in head coach DePiero's bad books.  On January 14, 2011, a game at the K-Rock Centre in Kingston, Clark skated in on Frontenacs goalie Philipp Grubauer and was tripped by the German netminder.  The diminutive pugilist took offence and he started throwing punches.  The incident got him a double minor for roughing and a misconduct; upon his return to the bench after serving his penalties, he saw only one more shift before being sat down for the rest of the evening.
February saw some promise for Clark, as well.  He scored goals in back-to-back home games, on the 4th against the Barrie Colts and on the 6th against the Sudbury Wolves.  He did also manage to get into three fights during that month but he was saving his energy for March.  Clark also found himself in trouble yet again in that month.  During a game against the Mississauga St. Michael's Majors, he got himself a misconduct for being the instigator in a fight against Michael D'Orazio and, due to him being deemed the aggressor, he was also given a game misconduct.
Clark finished the 2010-11 season with nine points (six goals, three assists) in 46 games, missing more time as a healthy scratch; he also accumulated 106 penalty minutes, with 18 fights during the regular season.  He found himself drop 26 spots in the OHL penalty minute leaderboard, falling all the way to 33rd overall.  Clark also managed to elevate his plus-minus from a -11 in 2009-10 to a +3.  Despite missing time as a healthy scratch, Clark did find himself able to participate in seven playoff games for the Generals in 2011, three of which were against Kingston, including one where he ragdolled Frontenacs overager Nathan Moon; again, he was assessed a game misconduct for his actions.  He also dressed for four games against the Niagara IceDogs.
When 2011-12 came around, Clark came in with a different mentality.  A talented yet truculent lacrosse player during the offseason, Clark helped the Whitby Warriors junior A lacrosse team win the Minto Cup as league champions.  This victory gave him a new team mindset.  As well, with the graduation of some key players in the Generals lineup, he found himself even higher on the depth chart, a role he was about to relish.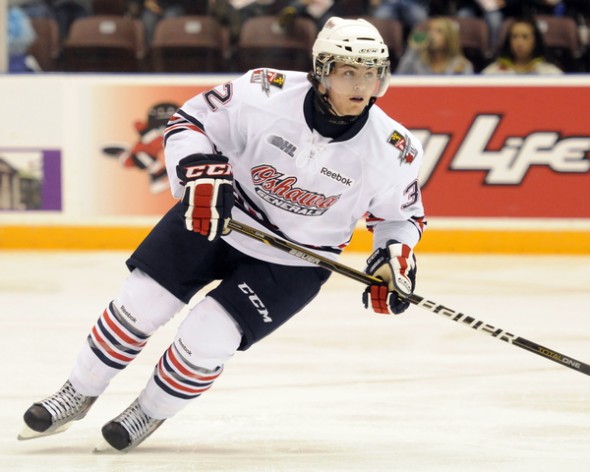 The Oshawa Generals' season opener was on the road in Kingston and, in that first game, Clark scored his first goal of the season.  A welcome relief from the usual pugnacity, Clark managed to record only seven penalty minutes in the first three games of the season.  He was, however, up to his old tricks again in October, tallying 26 PIM, but he also found himself more frequently on the scoresheet.  He had a four-game point streak from October 22-29, 2011, including a three-game goal-scoring streak, despite missing some time with an ankle injury.
In October, he even showed how height does not matter in a fight.  On October 8, 2011, in a game against the Windsor Spitfires, Clark challenged 6'5″, 241-pound winger Nick Czinder, his biggest combatant to date, and proceeded to win the fight.
Clark's renaissance was only just beginning.
In November, he scored another two goals, giving him six on the year, already equaling his season total from the year before.  His first goal of November came one day after Chris DePiero was relieved of his head coaching duties with the Generals; while DePiero remained the team's general manager, Gary Agnew was named head coach.  In December, Clark found himself getting into two fights but also scoring another goal.  He set out to start 2012 on a positive note, using his hands for both scoring and fighting.
He did, however, have to wait.  Shortly before his 19th birthday, Clark was injured yet again and he missed nearly a month of action; the team already had Boone Jenner, Nicklas Jensen and Sebastian Uvira at the World Junior Hockey Championships by this time, representing Canada, Denmark and Germany respectively.
Upon his return in mid-January, Clark showed all aspects of his game yet again.  He got an assist, only his second of the season, and got into a fight during a game on January 21 against Kingston.  He was in three more fights in four more games that month.  January, however, ended on a positive note on the offensive side of the scoresheet for Clark.  On January 29, he scored two goals against the Peterborough Petes, including the game winner, as well as recording a fight against Philadelphia Flyers draft pick Derek Mathers; he was named the game's third star.
February 2012 was a rather uneventful month for Clark, though.  He was in only two fights in ten games but he did also manage to score his tenth goal of the season, the first time in his OHL career he had reached the double-digit plateau.  March was also very tedious, going pointless in all but one game; that game in which he did manage to put up points was another two-goal game against Peterborough, a contest in which he was named second star.  His 12 penalty minutes in March also gave him an even 100 on the season, his lowest in the OHL to date.
March did give Clark one good memory: His first OHL career playoff goal.  He scored the first of Oshawa's only two goals in an 8-2 loss against Niagara.
Looking at the big picture, though, Clark did have quite a successful regular season in 2011-12.  His twelve goals were eighth-best on the Generals.  His +6 rating was among the tops on the team as well, third-best among all forwards, better than offensive talents such as Christian Thomas and Andy Andreoff.
The Oshawa Generals are going to have a surplus of overagers to worry about in 2012-13, Clark being one of them.  With Christian Thomas and Geoffrey Schemitsch graduating to the organizations of the New York Rangers and the Tampa Bay Lightning, respectively, the fate of the other 1992-born players (forwards JP Labardo, Scott Sabourin and Josh Graves; defencemen Matt Petgrave and Nick Quinn; and goaltender Kevin Bailie) is in the hands of team management.
What if the little pepperpot comes back?  What can Generals fans expect?  Maybe Clark might get his first OHL career hat trick.  Maybe even a Gordie Howe hat trick.  Maybe he might get a letter on his jersey.  Maybe he might even score 20 goals.
Maybe Emerson Clark will just play his style and take the season on a game-by-game basis.  It finally seems to be working.