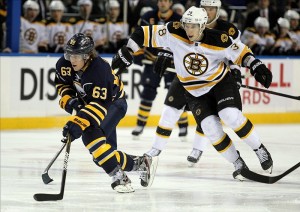 After missing 30 games with a lingering groin injury, Tyler Ennis needed all of 19 seconds to make an impact in his return to the Buffalo Sabres lineup.
Ennis, the team's first-round pick, 26th overall, at the 2008 NHL draft, is a three-time 20-goal scorer and his reinsertion into the lineup paid immediate dividends for the Sabres in their 3-1 triumph over the Dallas Stars in Monday's matinee at KeyBank Center in Buffalo.
"It was nice. It was a good feeling out there," Ennis said of his return to the lineup. "I felt great. I was pretty rusty, to be honest. Warm-ups, got to get used everything so a couple days before I was just making sure I was reading up on the systems so as soon as the game happened I was a quick learner — I was fortunate to get a quick one."
A quick one to be sure.
Check out Ennis' twisted wrister past Stars' goalie Kari Lehtonen just 19 seconds into the game:
What a shot. #Enzo ? pic.twitter.com/7Nctd1NOzv

— Buffalo Sabres (@BuffaloSabres) January 16, 2017
Listen to Hall of Fame broadcaster Rick Jeanneret's call of the action:
Well, that escalated quickly.

Take a look behind-the-scenes as Rick Jeanneret calls Tyler Ennis' goal just 19 seconds in! #RJCam pic.twitter.com/Iw58y9E3nc

— Buffalo Sabres (@BuffaloSabres) January 16, 2017
"I saw Ryan (O'Reilly) going back door," Ennis said. "Initially I wanted to pass it to him, it got taken away but I got back the puck and found the net.
"We talked about it before, I just want to be confident with the puck and make my reads and be creative," Ennis continued. "When I'm confident that's when I'm at my best. I got a goal early but I'm still a little rusty. There's still that extra step, a little more jump, a little more pop in my skating. I think I just need to hang on to it and make some plays. Things move quickly out there. Just got to keep it simple with the guys I'm playing with and good things are going to happen."
"That's how I planned it." -Tyler Ennis on his goal 19 seconds in.
? More: https://t.co/PIZyP9y4vF pic.twitter.com/t7kmwTZHL4

— Buffalo Sabres (@BuffaloSabres) January 17, 2017
Ennis, who was lined up with Ryan O'Reilly and Kyle Okposo for most of the contest, finished plus-1 with two shots on goal over 19 shifts and 12:52 of ice time. His first-period goal was followed up by Jake McCabe's first goal of the season 12:15 later. Jack Eichel converted on the power-play in the second period before icing it with his second of the game into an empty-net as Buffalo prevailed, 4-1.
"They're great two-way players, real easy to play with," Ennis said of his two new linemates in O'Reilly and Okposo. "We just got to build our chemistry and keep rolling here. You know I was actually feeling pretty good. Wind was good. Energy-wise I felt really pretty good. Just got to get back in the full mix."
Ennis very nearly potted his second goal of the game with this lacrosse-style attempt from behind the net later in the tilt:
Lacrosse-style trickery from Ennis ? Nearly connected! pic.twitter.com/IoRQv6MUd6

— Buffalo Sabres (@BuffaloSabres) January 16, 2017
Ennis Re-Energized
Clearly, the healthy return of Ennis has provided a nice offensive spark for the Sabres (17-18-9) which are mired in mediocrity with a rather pedestrian 4-4 record to start the new year. In eighth place in the Atlantic Division and seven points back of the Ottawa Senators for the final Wild Card spot in the Eastern Conference, he knows the team faces an uphill battle.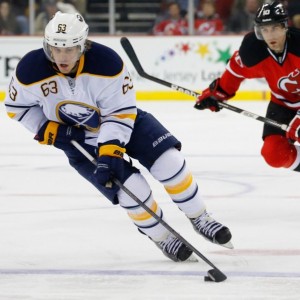 Still, Sabres' head coach Dan Bylsma has to be thrilled to get the playmaker back into his lineup. The fan favorite can only help as Buffalo ranks 27th in total offense with 103 goals scored despite having the eighth-best power-play unit in the National Hockey League connecting at a 22.1% clip.
"You count nine seconds or whatever it was — yeah that was nice," Bylsma said. "He benefited from the forecheck of Ryan and Kyle. He got the loose puck there and I thought for sure he was going to pass that puck but it was a great step on the ice for him.
"I think he's just getting his feet underneath him," Bylsma continued. "You see it right off the hop — and that was not the only one — there were a couple other plays that line made together that they were dangerous on. They could have had a couple more goals, more opportunities to score. You hope that's just another arrow in the quiver to have in your team's offense and one we haven't had most of the year."
Handle With Care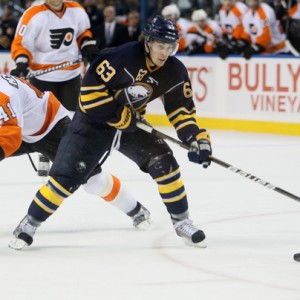 Clearly managing Ennis' reps, the team curiously but understandably held Ennis out of the second game of back-to-back nights against the Toronto Maple Leafs on Tuesday. And after appearing in just 23 games last season and being limited to just 13 so far in 2016-17, it would be wise to handle their diminutive forward with caution.
It's important to temper expectations. While he made a splash in his first game back, the team cannot expect Ennis to immediately return to the form that saw the Edmonton, Alberta native notch a career-high 49 points in 2011. But when the five foot nine, 175-pound winger is at the top of his game he is a game-changer having nearly matched his career numbers as recently as 2014-15 with 20 goals and 26 assists for 49 points two seasons ago.
"He's been skating a lot — for quite a long time trying to work his way back from this injury," Bylsma added.
"We're just trying to win every hockey game we can right now. You stick the two points in your pocket. But they're gonna keep coming at ya and coming at ya with aggressiveness."
New Jersey Devils One Jersey Grass Roots Writer; 13 years writer/reporter for The Star-Ledger and NJ.com; 1st-year with The Hockey Writers; Previously covered the Boston Bruins, Boston Red Sox and New England Patriots for The Casco Bay Weekly; Portland Pirates (AHL) 2002-'03; Director of Media Relations The Eastern League (AA) 2000-'02; Great Skate 1997-2000; Buffalo Sabres 1994-'97; Buffalo boy, Maine grad; International hockey player and coach; #Buffalove #OneBuffalo