It has been a long season for both the Erie Otters and Flint Firebirds.
Both teams will see their season's end next weekend without a trip to the OHL playoffs. The Otters have won just 22 of 66 games while the Firebirds have won just 19 times in 65 games.
Despite the way their seasons have gone, both teams can't wait to get next season started. Each team will pick somewhere in the top four with Flint owning no worse than the second-overall pick and Erie picking no worse than fourth overall. Add that to the high import pick they have and you can see why there is reason for optimism in both markets.
I caught up with both the Otters and Firebirds over the past week to see why they're excited for their futures. Each team might be down now. But starting next year and beyond, they have the framework in place for winning hockey.
This is the story of two teams who took their lumps and learned valuable lessons this season to position themselves for success later. As you will see, the reason for excitement in both markets is the culture they're establishing, starting with their respective leaders.
FINAL OT: @SpitsHockey (3) – @ErieOtters (4)
ER – @FowlerHayden2 2G
ER – @KMaksi9 1G 2A
VIDEO: https://t.co/8pXGKzqsr5 pic.twitter.com/yRy8Yqu0pW

— OntarioHockeyLeague (@OHLHockey) March 11, 2018
The Erie Otters
Kyle Maksimovich's Leadership
Saturday night was Kyle Maksimovich's 20th birthday. He and his Otters' teammates celebrated in style with an improbable come-from-behind win over the Windsor Spitfires. The Otters tied the game with 7.7 seconds left in regulation and then won it in overtime.
Maksimovich started the comeback down 3-1 by scoring his 30th goal of the season. His goal energized a crowd of 5,262 and got the building rocking. Maksimovich's leadership has been on full display ever since he was named the captain of the Otters.
Although the season hasn't gone the way the Otters have wanted, Maksimovich goes out of his way to make sure the culture in the room is right for anyone on the team.
"We're a pretty welcoming team.", Maksimovich said. "We're a no judgment team. When guys come in, we just want to make them feel like they fit in."
Maksimovich lives near one of the newest Otters Hayden Fowler. When Fowler first arrived in Erie, Maksimovich would drive him around to help him get comfortable with his new surroundings. It's little things like this that show you the culture of the team. Coach Chris Hartsburg likes the direction the team is going as this season is winding down.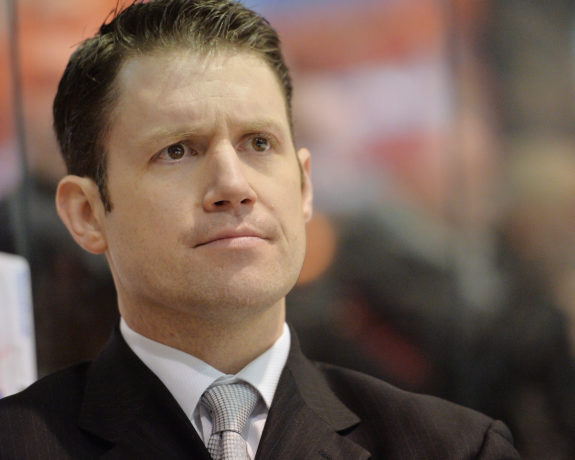 "You've seen what we've done here in the last month and a half.", Hartsburg said. "It speaks volumes to where we're gonna be and what we're doing. We do that with our leading scorer going through a long stretch with really only having one point. I like where we're heading. We've been short for a lot of this stretch as well. With a full lineup, our team is starting to figure it out."
The Otters figured it out on Saturday thanks in large part to Fowler, who scored the tying and winning goal. Seems the Otters have a star in the making.
Fowler's Immense Upside
Both Maksimovich and Troy Lajuenesse said the same thing after Saturday night's game. They both believe Fowler will eventually top 100 points in the OHL. It's easy to see why in the early going.
Fowler has been one of the Otters' best players since the trade that saw Taylor Raddysh and Jordan Sambrook go to the Sault Ste. Marie Greyhounds. He's just 16 years old. Thanks to a late birthday, he is not eligible for the NHL Draft until 2020. The skill he has is impressive for someone so young.
"He's going to be a star in this league.", Maksimovich said of Fowler. "He and Emmett Sproule will both be 100-point players in this league one day."
Maksimovich said that during intermission on Saturday. It's a bold statement about two of the Otters' youngest players but you see the reason for optimism in Erie. They have a talented young core who will add a top-four pick and more in this offseason. Thanks to a good culture and leadership, the Erie Otters are on the way up.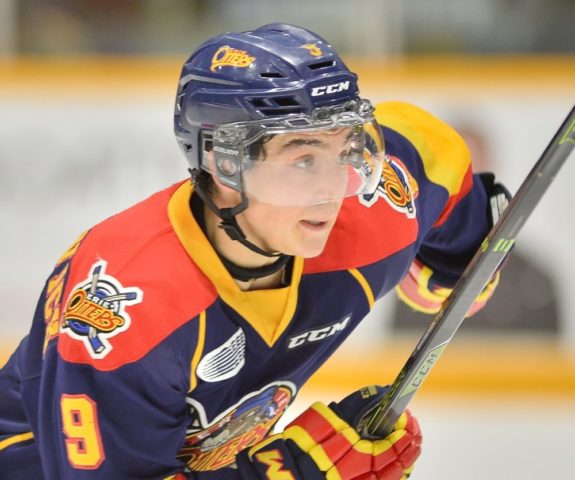 The Flint Firebirds
Ty Dellandrea Leading by Example
The Flint Firebirds have been looking for good news for the franchise for a few seasons now. Thanks to a young leader who goes out of his way to make his teammates feel comfortable, the Firebirds are trending in the right direction.
Ty Dellandrea has been Mr. Everything for Flint this season especially after the early trades that saw Ryan Moore and Nick Caamano go to Hamilton. He produces offensively with 59 points in 64 games. He takes pride playing defense as he can play a 200-foot game and both special teams units. He's doing it all in his draft year and getting noticed.
Ty Dellandrea (2018) with one of the best goals I've seen all season.

— Corey Pronman (@coreypronman) March 4, 2018
How is Dellandrea able to shoulder this burden at a young age? I asked him this week what was the best piece of advice anyone has ever given him.
"To not get too high or too low on yourself.", Dellandrea said.
He's been able to stay even keel about the season while managing to have fun. That is the sign of a good leader. He's helping change the narrative in Flint to one of a desired destination. His linemate and roommate Connor Roberts agrees.
Roberts went out of his way to praise Dellandrea for his leadership including how he made Roberts feel comfortable right after the trade from Hamilton to Flint. It's this kind of culture that players want to be a part of. It bodes well for incoming players as well.
The Firebirds own no worse than the second pick in the OHL Draft. They're going to get a really good player to add to this young core. Like the Otters, the Firebirds can't wait for next season to see what the exciting future holds.
These teams may be down now, but they're certainly not out. Thanks to the leadership of Maksimovich and Dellandrea, their respective teams are developing a culture that helps stabilize franchises for many years. It's no wonder the future is brighter than ever in Erie and Flint.