Ottawa Senators fans have been hoping to see some semblance of a plan from management since last month's trade deadline saga unfolded, and the team has been sending out mixed messages ever since.
However, there's one thing the organization has kept talking about: youth. In a letter to season ticket holders, owner and CEO Eugene Melnyk said that the team needs to change its identity to become contenders again. Melnyk writes:
As a team, we need to get younger, faster and more skilled. We have already announced several key steps to making that happen. I remain committed to investing what is needed to identify, draft and develop the players that embody what it means to be an Ottawa Senator.
Sens coach Guy Boucher, who famously leans on his veteran players, has even talked about giving bigger roles to younger guys. However, the team hasn't fully embraced this philosophy, despite what Melnyk might say.
On the surface, the Senators are following the typical formula for a rebuild. They've traded veterans like Dion Phaneuf and Derick Brassard to presumably give more ice time to the kids. On the blueline, Thomas Chabot has thrived offensively in his new role, and Ben Harpur is being groomed as a shutdown defenceman. This shows that Boucher could be willing to adapt to embrace a youth movement next season.
Sens Still Leaning on Veteran Forwards
However, the Senators' forward group is a different story. While Ottawa's top six forward group is mostly set, there is some room for rookies on the bottom two lines. Despite this, Boucher has been reluctant to take veterans out of the lineup.
Even after the team parted ways with Gabriel Dumont, Chris Didomenico and Nate Thompson, the Senators' bottom six is still not very young—especially for a supposedly rebuilding team.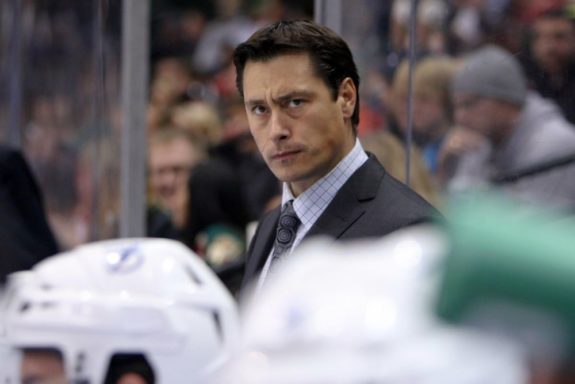 While Alex Burrows was put on waivers, the veteran winger never got claimed and did not get assigned to the AHL. Once his suspension ended, he once again became a mainstay in the team's lineup.
GM Pierre Dorion said that putting Burrows on waivers was meant to be a "wake-up call" for the underachieving forward. However, with him still under contract for next season, Burrows doesn't have much to worry about.
Marian Gaborik, another 36-year-old, has dealt with nagging injuries for the entire season and the better part of his career. Gaborik is at a point in his career where his scoring ability is not quite strong enough to make up for his lack of foot speed, and this is clear when he is forced to backcheck.
Of course, the Senators added Gaborik for purely financial reasons, so it's no surprise that he is a bit of a strange fit on the roster. Despite this, Gaborik has been given a roster spot on the team when he's able to play.
Filling out the bottom six are Zack Smith and Tom Pyatt, two regulars in the lineup. There's also Magnus Paajarvi, who has proven to be a competent fourth liner, and 25-year-old Max McCormick, who will have a one-way contract next season.
Problems Go Deeper Than Boucher
Boucher has tried a few different combinations in his bottom six, but Ottawa hasn't given young forwards like Filip Chlapik and AHL All-Star Gabriel Gagne extended looks at the NHL level. Even Nick Paul, who has the right skillset to be a useful fourth-liner, hasn't seen any NHL action in the new year.
While rookie forward Colin White found some success in his time with the Sens this season, he was sent back down to Belleville to get more ice time.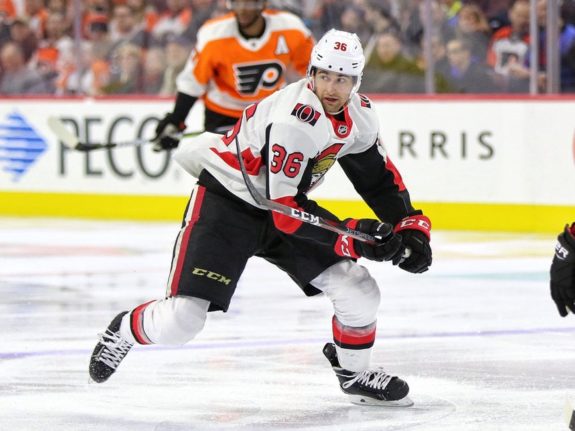 This raises a few questions since a rebuilding team would normally be willing to give big minutes to a 21-year-old with high potential. Ottawa's handling of White is particularly surprising, as he showed some chemistry with Matt Duchene and Mike Hoffman on Ottawa's first line.
Of course, it isn't just Boucher who thinks the Senators' young forwards belong in the AHL. Everyone from Dorion to Belleville coach Kurt Kleinendorst agrees that the team should not be rushing their prospects. However, this doesn't exactly line up with the youth movement that Melnyk seemingly promised in his statement, so it's no surprise that fans are frustrated by the franchise's lack of direction.
Even if Boucher is willing to change his coaching style to be more accommodating to young players, the Senators aren't going to improve until the whole organization sticks to a concrete plan.
A Carleton University journalism graduate, Jacob joined The Hockey Writers in 2017. As an Ottawa native, Jacob has been following the Senators since the days of Radek Bonk. You can also find Jacob at ComicBookMovie.com.