On this week's edition of the OHL Sunday Seven, I present my case as to why I feel Ty Dellandrea is a first rounder in this June's NHL Draft. We also revisit my current top-10 OHL draft prospects as there is quite a race heating up. We also discuss the current playoff format, Dmitry Sokolov, Liam Foudy and Mario Culina. 
Meet Ty Dellandrea
Generally when you are a member of the media and you walk into the dressing room of a last place team, it's quiet. It's somber. No one has fun. When I walked into the Flint Firebirds' room after their recent game against Erie, I didn't have very high hopes.
The Firebirds just lost to the Otters in a shootout after having a 2-0 lead. Coach Ryan Oulahan was not pleased of course. He said his team needs to learn how to win. I got what I expected from him.
Then while waiting for a player to emerge from the locker room, this ray of sunshine came out and greeted me. My first impression was woah. I expected some downtrodden player who was going to give a quick interview.
Instead I got someone who says they are having fun despite their place in the standings. At that moment I knew there was something different about this player. Ty Dellandrea is wise beyond his years.
Not only is Dellandrea wise beyond his years, he's really good at ice hockey. Don't let him being on a last place team fool you. He is the reason that Flint is competitive. Just ask the Sault Ste. Marie Greyhounds how good Dellandrea is. He scored twice to help the Firebirds defeat the Greyhounds on Saturday night.
Here's where some of you are going to give me funny looks. Dellandrea in my mind is one of the five best draft prospects in the entire OHL. Want some proof? I'm glad you asked.
Dellandrea has 17-18-35 on the season going into Sunday's game against Windsor in 43 games. Again this is on a last place team. He has goals in three straight games and 14 points in his last 11 games. This includes a hat trick and two game vs. powerhouse Sarnia. His best games of the season have come against Sault Ste. Marie and Sarnia.
Dellandrea is the complete package. He can score, take faceoffs and play both special teams units. He's also one of the hardest working players in the league. He also has one of the best attitudes you will ever see.
Given the amount of attention given to other players, many will let Dellandrea slip down their draft list. Don't make that mistake. You want someone who knows how to handle difficult situations on top of being good. For my money, he is a top-20 overall player and should hear his name on night one of the draft.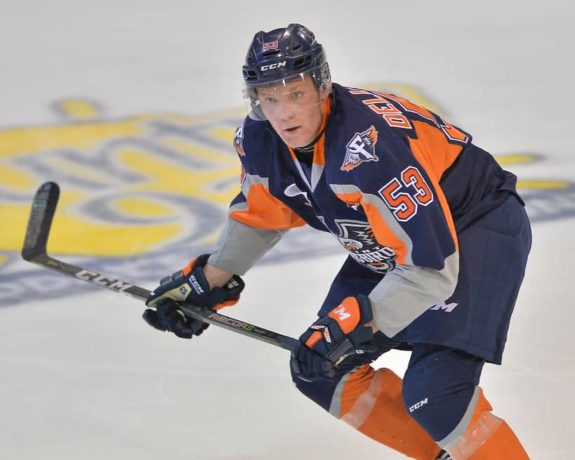 Don't Worry About Sault Ste. Marie
Yeah this one is a complete non-story. Even the great teams lose once in a while. If you are a Greyhounds fan, you have nothing to worry about. Your team is so far ahead of the pack that they can afford to conserve themselves for when the playoffs begin.
Think of it this way. The opposing team will see they're playing against you. They will want to show everyone that they can compete with you. This is especially true if you are the number-one team in the country. It's a couple of regular season games in January. It's all good, for now.
It's Time For 1-16 Playoff Seeding
Yes it's time. The OHL needs to look at going to a 1-16 playoff seeding system. Josh Brown recently wrote about this topic and how the league needs to adapt it.
I'll say this. If the playoffs were to start today, the Greyhounds would play Owen Sound and Hamilton would play Peterborough. Mississauga sits just two points back. Imagine a Hamilton/Mississauga first-round matchup. Some reward for winning your conference in the regular season.
The best team should get the chance to play the worst team and so on. Going to a 1-16 format ensures this happens. Hopefully this change is just a matter of time.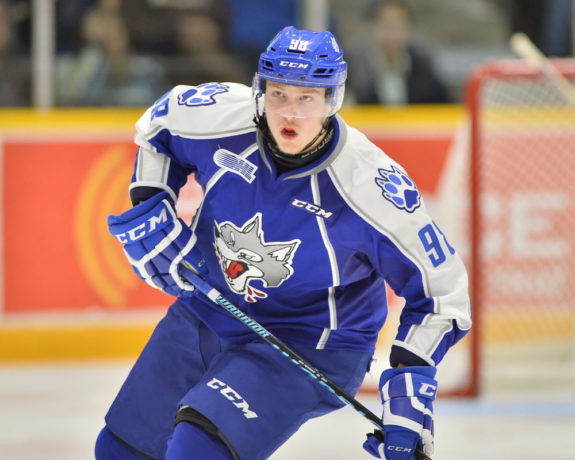 Dmitry Sokolov Shining
After adding Aaron Luchuk to the fold, the Barrie Colts needed to make another move to give themselves a shot in the loaded Eastern Conference. They did just that by adding Dmitry Sokolov.
The early results are positive. Sokolov has six goals and six assists in his six games with the Colts since the trade. He is one of the best goal scorers in this league as he is tied with Jason Robertson for seventh overall in the OHL with his 26 goals.
Somehow Sokolov slipped to the seventh round of the NHL draft. Now that he gets to play on a better team on a bigger stage, we're finally starting to see the potential he's always had. His acquisition could become one of the best acquisitions of the trade deadline if the Colts make a deep run.
Liam Foudy Added to Top Prospects Game
One of my favorite day two picks of the upcoming NHL draft, Liam Foudy will now get a chance to show his stuff in the upcoming CHL/NHL Top Prospects Game. He replaces the injured Milos Roman on the Team Orr roster.
Now that Foudy isn't caught behind many players on the depth chart, he's starting to show why he could end up as one of the better value picks of this draft. The game will be played in Guelph on January 25th. Hear what he had to say about his inclusion on the team.
Revisiting My Top-10 Draft Eligibles
Brock Otten always does wonderful work with these lists at different times of the year. It's always interesting to see the differences of opinion between other media and scouts. It'll especially be true this year with so many "similar" type players eligible for this draft.
We all know Andrei Svechnikov will hear his name first on draft night from the OHL. There is no debating that. But who's second? According to Brock's piece last time, Ryan McLeod was second. He was second on my personal list and still is but not by much.
I had defenseman Ryan Merkley third on my list, then Evan Bouchard, then Barrett Hayton fifth. Nope, I have a new third place contender. It's Dellandrea.
So here is my current top-10 OHL draft-eligible prospects.
Andrei Svechnikov
Ryan McLeod
Ty Dellandrea
Ryan Merkley
Evan Bouchard
Barrett Hayton
Akil Thomas
Rasmus Sandin
Blade Jenkins
Serron Noel
(Next up) Allan McShane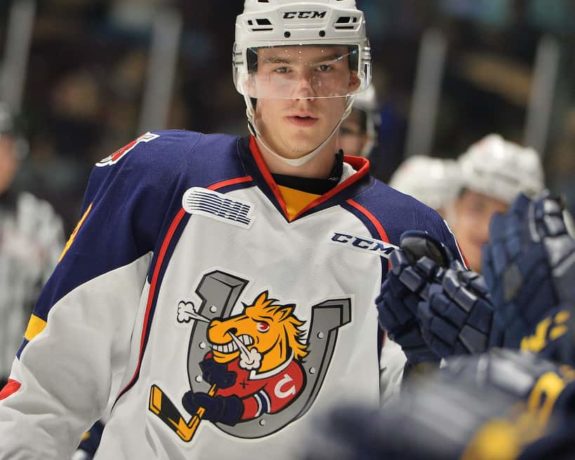 I know this likely doesn't happen, but my top-9 all have first-round grades for the NHL Draft. I have Svechnikov third overall. I have McLeod in the 13-15 range. Dellandrea is ranked 20th. I keep going back and forth on Merkley/Bouchard but given that Merkley is younger, I give him the edge with both players in the 24-26 range. The other four players in Hayton, Thomas, Sandin and Jenkins are late first rounders on my list.
The early theme I'm noticing is that teams will get really solid players in rounds two and three. Teams who can get those extra picks could have an advantage. We'll see how the rest of the season shakes out.
Rangers Hopes Rest on Culina's Performance
If the Kitchener Rangers hope to make a deep playoff run, goaltender Mario Culina must answer the call. To this point, he's done just that.
Kitchener goalie Mario Culina makes 36 saves and collects his second consecutive shutout for the Rangers in the team's 3-0 win over Erie. #ohl

— Josh Brown (@BrownRecord) January 20, 2018
Culina has pitched two consecutive shutouts and looks for a third one Sunday against Guelph. After finishing last season with the Windsor Spitfires, Culina has played on three teams this season, including Ryerson University, the Sudbury Wolves and now Kitchener.
Culina is 4-0-0 with a 1.00 GAA and a .965 save percentage. It only cost them an eighth rounder to acquire him. He never got the chance to play in Windsor much thanks to Michael DiPietro. Now he gets the net to himself for the Rangers. Is he good enough to get past the West's powerhouses? The Rangers sure hope so.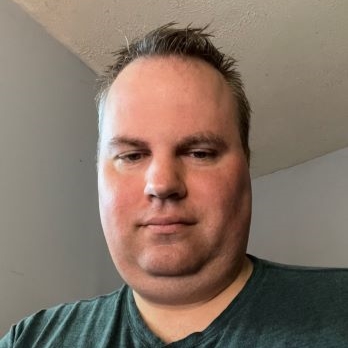 I am a fully credentialed writer who covers the Columbus Blue Jackets, Cleveland Monsters and Erie Otters as well as the Ontario Hockey League and NHL Draft. The 2022-23 season will mark nine seasons with the Hockey Writers. I am also the site's Credentials Manager. Please take note of the updated Twitter handle: @mark_scheig.